The State Bank of India is one of the oldest and most reputed banks in India. It has been following RBI's norms for several years and is the best Indian originated banks present out there. SBI, therefore, has several policies, facilities, and services that their account holder enjoys and has to follow. One such benefit is the transfer of money and funds internationally to other foreign bank accounts.
SBI provides its customers to send money to their friends, family, or others living abroad. This service has been extremely helpful to a lot of people. SBI works and operated different foreign offices that deal and makes arrangements with approximately six hundred banks around the world.
SBI International Transfer Limit
It allows people to use the online SBI money transfer facility to transfer money internationally. But a person can only send a maximum of USD 2,000 abroad in a single transaction. The bank will reject any more than that.
You can a maximum of 4 transactions per month and USD 96000 per calendar year to retail customers. There is a restriction on initial remittance to the overseas beneficiary within 5 days of new Beneficiary activation is INR 50,000.
SBI International Transfer Charges
In SBI, the money enters your account internationally can be done in different ways. These different methods have different charges, and here we shall talk about them.
Express remit: The charge for express remit is about Rs 250.
Demand Draft: The charge is about 0.30 percent, also limiting a minimum of Rs 300.
Wire Transfer: The charge for wire transfer is T.T.'s current buying rate plus the exchange margin and the interest rate.
Western Union: Western Union does not imply any charges for the receiver.
Personal Cheque: The charge for a personal cheque is T.T.'s current buying rate plus the exchange margin and the interest rate.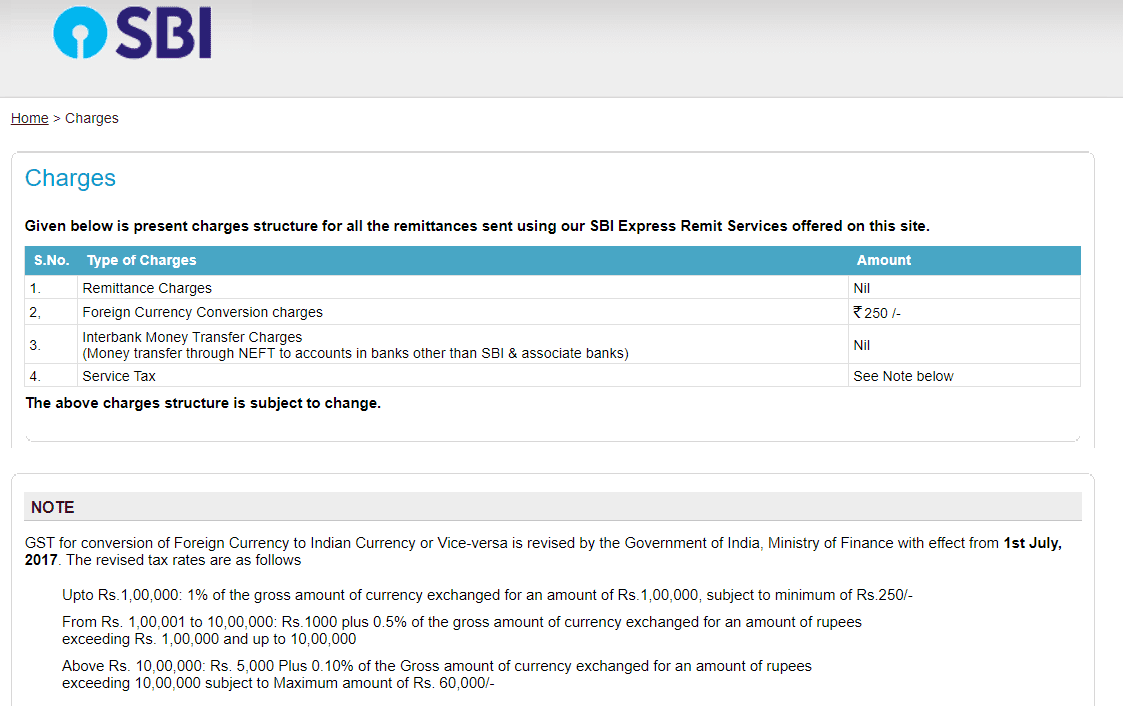 Similarly, there are different ways of sending money abroad. These different methods imply different charges.
Through NRE or FCNR: There is no charge implied when sending money through NRE or FCNR account through swift or wire transfer.
Through NRO: THE charge is Rs 100 plus the extra cost of sending the money.
Rupee outward remittance: The charge of this method is about 0.125 percent of the whole remittance amount. It also limits the minimum amount to be Rs 125.
SBI International Transfer Time
Different methods of receiving money from international banks take different times.
Express Remit: It takes around 1 – 3 business days.
Demand Draft: It takes around 7 – 28 days.
Wire Transfer: It takes around 1 – 2 business days.
Western Union: It takes around 1 – 2 business days.
Personal Cheque: It takes around 10 – 60 days.
But in the case of sending money abroad, all the methods of sending money more or less take the same time frame, i.e., 2 to 7 working days.
Conclusion
SBI is one of the oldest and most respected banks in India. However, SBI's international money transfer facility is one of the finest. This article gives you are perfect detail about this international facility of SBI. It tells you about the money transfer limits, charges, and the time it takes to compete for the transactions.