State Bank of India is one of the most popular banks in the country. Almost all the people in the country either have an account in India's state bank or at the least heard about the bank. It is an RBI registered bank and has been there to satisfy their customers for a long time.
SBI is one of the most well-received banks in the country, and this is because of the large variety of offers and services they provide. So, one such service is adding an international beneficiary to your SBI bank account.
A beneficiary is a person to whom you can send money or funds just by providing their beneficiary's name, phone number, and address to the bank. This is extremely helpful in the case of transferring money internationally. The international beneficiary is one of the best services that SBI provides. Here, they do not need to specify the international bank name and the person's name, address, and phone number.
In SBI, only ask their customers to register these beneficiary details once or while transferring funds to them for the first time. This allows them to find the beneficiary and eases the customer's work as they do not have to add these details again and again.
There are also other ways to send money without adding beneficiaries, like an SBI quick transfer service that uses the NEFT services. But since it is instead a new service and not many people know about this, it is less likely used.
SBI, though have a restriction for adding beneficiaries. However, they only allow a person to add one beneficiary to their account on a particular calendar day. There is a cooldown of about 4 hrs for an approved beneficiary to get activated. But other than these, there are no other restrictions.
Steps to Add international beneficiary in SBI Online
Adding an international beneficiary to the SBI account is fast and straightforward. Step by step process is given below:
Step 1: Log in using your SBI net banking account using a username and password.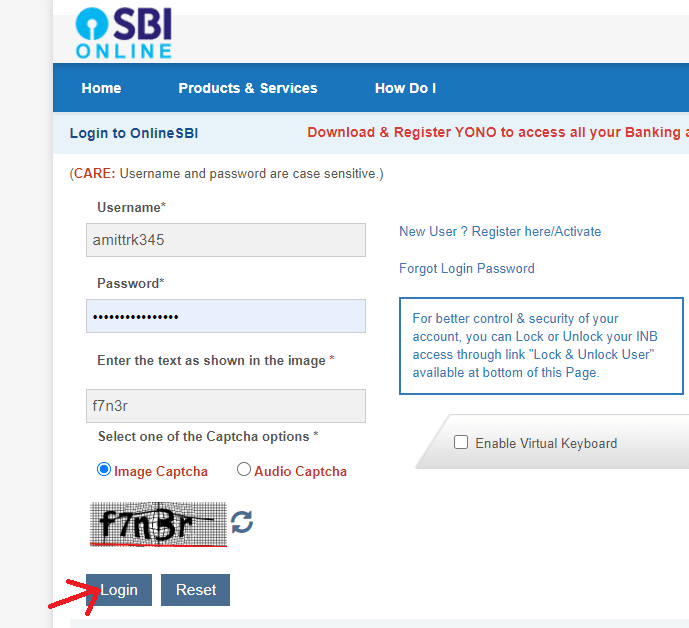 Step 2: Under the 'Payments/Transfers' tab, Click on 'ADD & manage beneficiary'.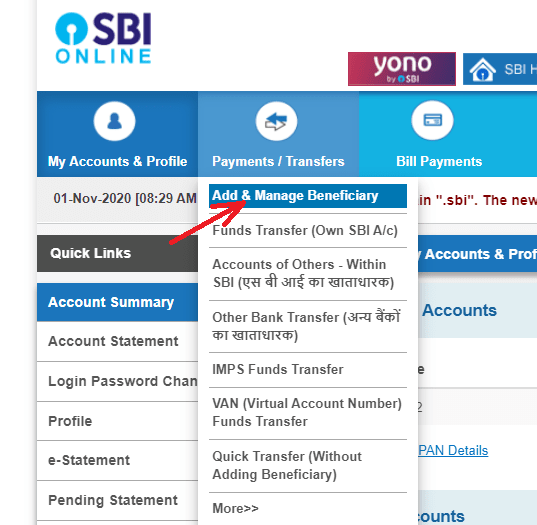 Step 3: Now you will be asked to enter the 'profile password'. Enter the profile password and click the submit button.
Step 4: On the next page, Click on 'Foreign outward remittance beneficiary'.

Step 5: A form will appear on the screen. It will ask you to enter the beneficiary's name, phone number, and address. There will also be a slot for adding the SWIFT code. Enter the data according and fill the form. Check minutely after filling.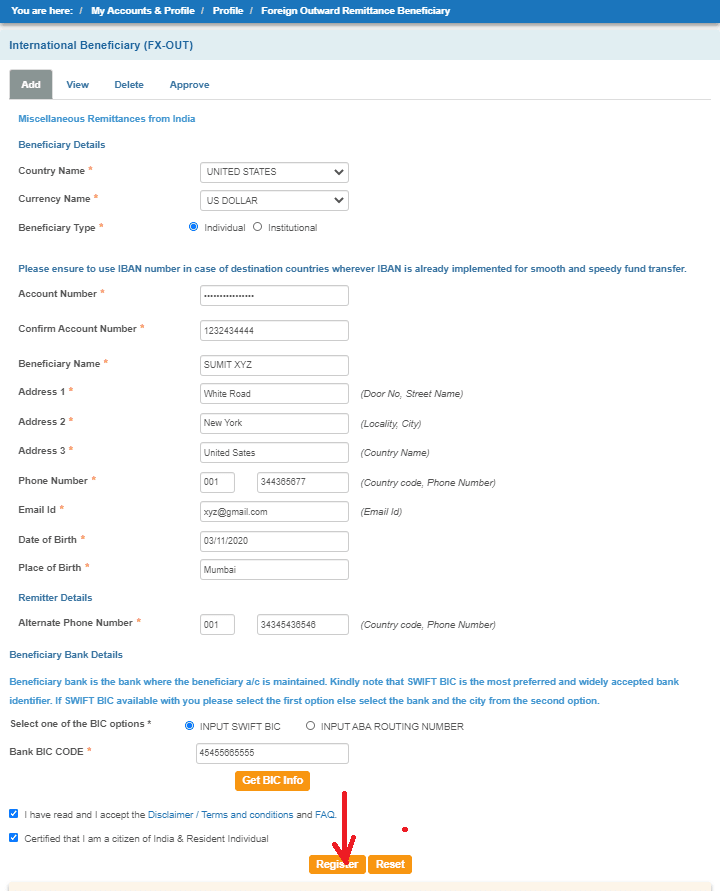 Click on register.
Step 6:  Now you have to approve your added beneficiary. Select the beneficiary and click the show details, you will see the approve button. Just click on that Approve button. You will receive an OTP at your registered mobile number.

On the screen, there will be two options. One stating Approve via ATM and the other stating Approve via OTP. Click on Approve via OTP. Enter the OTP that you receive in your registered mobile number. Click on Submit.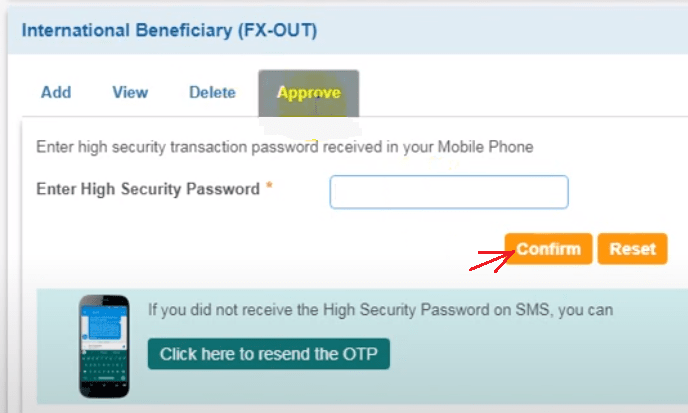 Note: Approval may take a few hours or a day.
In Conclusion
SBI is one of the finest banks in all of India. It provides a lot of services. One such service is the chance of adding an international beneficiary for transferring money abroad. So, one can add beneficiary to their SBI account by following easy and simple steps online. But they can only add one beneficiary per day.