A country can flourish and proper only when the citizens pay their income tax on time and the same also applies for the financial institutions. These days if you try to fill up a home loan interest certificate online, you will find a new option that says Lender's PAN number.
You need to enter the PAN number of your bank that's providing you the home loan or any other type of loan. If you are looking for the PAN number of your bank then you have come to the right place because here you will find pan number of all Indian Banks in one place.
Why do you need the PAN number of all banks?
If you want to claim for your tax exemption on your home loan then you need to provide the details of your bank's PAN number. This should be specifically the financial institution that has given you a loan.
To streamline the income tax procedure, the loan providers have made certain changes to their home loan payment certificate. As per the requirements of the new system, you are not required to fill in the PAN Number of the bank.
You don't need to worry about finding the PAN numbers of banks as this is not a difficult thing at all. Today Internet has shrunk the world and brought information on your finger tips.
SBI PAN Number – AAACS8577K
HDFC PAN Number – AAACH2702H
PNB PAN Nmber – AAACP0165G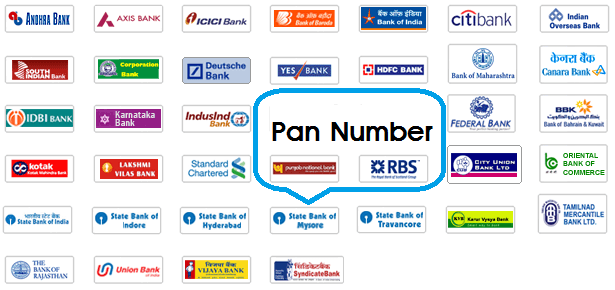 Take a look at the list below to find pan number of all banks listed for you. You will find information related to public as well as private banks provided in the list for your convenience.
Pan number of Public Sector Banks:
| Name Of Bank | PAN Number |
| --- | --- |
| Allahabad Bank | AACCA8464F |
| Andhra Bank | AABCA7375C |
| Bank of Baroda | AAACB1534F |
| Bank of India | AAACB0472C |
| Bank of Maharashtra | AACCB0774B |
| Canara Bank | AAACC6106G |
| Central Bank of India | AAACC2498P |
| Corporation Bank | AAACC7245E |
| Dena Bank | AAACD4249B |
| IDBI Bank | AABCI8842G |
| Indian Bank | AAACI1607G |
| Indian Overseas Bank | AAACI1223J |
| Oriental Bank of Commerce | AAACO0191M |
| Punjab & Sind Bank | AAACP1206G |
| Punjab National Bank | AAACP0165G |
| State Bank of India | AAACS8577K |
| Syndicate Bank | AACCS4699E |
| UCO Bank | AAACU3561B |
| Union Bank of India | AAACU0564G |
| United Bank of India | AAACU5624P |
| Vijaya Bank | AAACV4791J |
Pan number of Private Sector Banks:
| Name of Bank | PAN Number |
| --- | --- |
| Axis Bank | AAACU2414K |
| CITI Bank | AAACC0462F |
| City Union Bank | AAACC1287E |
| DCB Bank | AAACD1461F |
| Deutsche Bank | AAACD1390F |
| FEDERAL BANK | AABCT0020H |
| HDFC Bank | AAACH2702H |
| ICICI Bank | AAACI1195H |
| Indusind Bank | AAACI1314G |
| Karur Vysya Bank | AAACH3962K |
| Kotak Mahindra Bank | AAACK4409J |
| RBL Bank | AABCT3335M |
| UCO Bank | AAACU3561B |
| Yes Bank | AAACY2068D |
Pan Numbers of other Financial institutions:
| Finacial Services | PAN Number |
| --- | --- |
| Aadhar Housing Finance | AAICA4667N |
| BMW India Financial Services | AADCB8986G |
| Canfin Homes Limited | AAACC7241A |
| DHFL | AAACD1977A |
| GIC Housing Finance Limited | AAACG2755R |
| GRUH FINANCE LTD. | AAACG7010K |
| Housing & Urban Development Corporation Ltd. | AAACH0632A |
| ICICI Home Finance Company Ltd | AAACI6285N |
| India bulls | AABCI3612A |
| India Infoline Housing Finance Ltd | AABCI6154K |
| L&T FinCorp Limited | AAACI4598Q |
| L&T Infrastructure Finance Company | AABCL2283L |
| LIC Housing Finance Limited | AAACL1799C |
| PNB Housing Finance Limited | AAACP3682N |
| Power Finance Corporation Limited | AAACP1570H |
| Reliance Home Loan Finance Limited | AAECR0305E |
| TATA Capital Housing Finance Ltd | AADCT0491L |
| TATA Capital Ltd | AADCP9147P |
| TATA Motors Finance Limited | AACCT4644A |