We are well aware about the different banks that we are dealing with everyday. However, there are very few people who are actually aware about the names of the banks. Majority of the banks use the abbreviation of their names for business purpose and here are full forms/names and few details of such banks. Full names of ICICI, HDFC, Axis and IDBI bank are given below.
ICICI
Full name of this bank is Industrial Credit and Investment Corporation of India Limited (ICICI) which was established in 1955. It was established to promote business and housing in India by the Government of India in association with the World Bank.
However, it was established as a Financial Institution that took care of the small and middle scale business investment. However, the ICICI Bank joined the banking in 1994 as the RBI liberalization took over India. It is a global bank and has branches across the world.
HDFC
The full name of this bank is Housing Development Finance Corporation (HDFC) that was incorporated in 1977. Even though the company was set up for the housing finance but became a bank in 1994 after the private bank liberalizations took place in India. It is the second largest private sector banks in India and is one of the best in the world.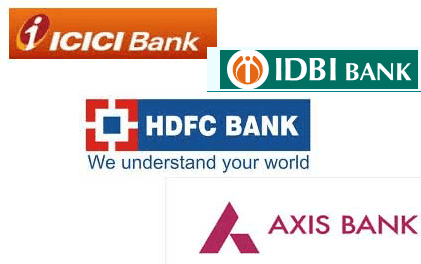 AXIS
Basically, AXIS Bank does not have a full form. However, the bank was earlier known as the UTI Bank that was established as a Bank in 1994. The United Trust of India (UTI) is considered one of the largest private banks in India. However, the bank later changed the name to AXIS that has no full form and is simply a name.
IDBI
This is a government owned bank and the Full name is Industrial Development Bank of India (IDBI). It was incorporated in 1964 and the purpose was to provide the momentum in the business development in the country.
It is a development bank and is the 10th largest in the world. It is commercial bank that is owned by the Government of India.