Today almost everyone has a savings bank account. Still, a question arises in my mind. The question is, "How many of you gave it a real thought before opening your savings account?" Although, the banks in India are different in their own terms seldom does anybody give it a real thought while choosing a bank to open their savings account?
Before opening a savings bank account you must be aware of the facts that there are many banks entering the market with attractive offers to the new customers. Most of these offers are short-term while some are really worth it.
With so many popular Banks out there, it is very likely to get confused while choosing the right one. To clear all your confusions you must consider the following factors before selecting a bank to open your savings account.
Factors That May Help You Choose the best Bank for a Savings Bank Account:
The bank must have a good brand name in the industry. You're going to deposit your savings in the bank and hence it is very important to make sure that it's safe in the bank. Reputation is the key element while choosing a bank.
The Internet revolution has been tremendous in the past few decades. Today, most of the banks offer Net Banking facility. With Net Banking, you can make cash transactions, NEFT transactions, online shopping from the premises of your own home. Hence, the bank must have Net Banking facility.
Customer Support is the 3rd factor that must be considered while choosing the bank. Although the Public Sector banks or nationalized banks are not at par with Private-sector banks when it comes to customer support, some nationalized banks have improved their customer support greatly in the last decade. Hence, choose a bank with good customer support.
The last but not the least factor to be considered is the Branch Network of the bank. It would not be wise to open a savings account in a bank which has no branch at all in your city or town. So, choose a bank with a great branch network nationwide as well as worldwide.
Today, I have compiled a list of top 5 banks in India where you can open a savings account to save your hard-earned money.
Best 5 Banks to Open Savings Account in 2018
The list includes both Public Sector and Private Sector banks. All these banks are highly popular in India as well as being in the industry for so many years, they are also highly reputed. The banks are included in the list of various different aspects such as reliability, usability and security measures.
We have also considered the Branch Networks, ATM counters as well as several other factors to determine the ultimate list of top 5 banks to open a savings account in India for 2018.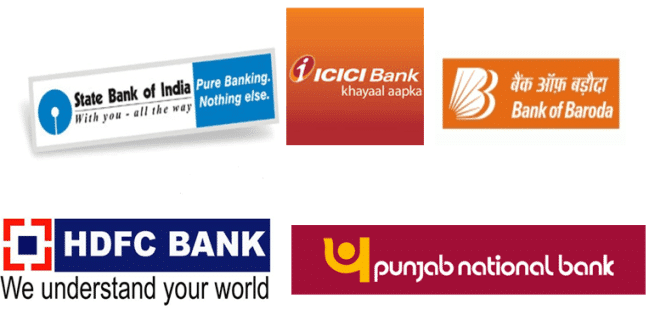 Let's look at the list:
1. State Bank of India (SBI)
Undoubtedly, State Bank of India (SBI) is the No.1 bank in India. It's a multi-national bank owned by the Government of India. Being the largest banking network in India with over 16,000 branches and over 9,000 ATM counters, SBI is one of the highly reliable and trustworthy banks in India.
On the basis of Customer Support too, SBI although being a Public Sector bank offers great service and support to their customers. Opening a savings bank account in SBI would be the wisest option today in India as it has the 2nd largest ATM counters in India.
It also has 5 associate banks that include State Bank of Patiala (SBP) and State Bank of Travancore (SBT). SBI offers all the basic facilities required by the customers such as ATM-cum-debit card, Net Banking, and Mobile Banking features.
2. ICICI Bank
ICICI Bank is 2nd on the list as it's the 2nd largest bank in India as well as largest Private Sector bank in India when considering its assets. As a multi-national bank, ICICI Bank provides all the basic amenities to its customers such as ATM-cum-debit card, Net Banking, and Mobile Banking facilities.
The customer support at ICICI Bank is considered to be highly organized as well as the best in the industry and if you are ready to pay some extra bucks then you can also get privileged services where you won't have to wait or stand in queue for any banking related concerns.
The bank also has a good network of branches all over India as well as ICICI ATM centres are found in almost every city and town in India.
3. Punjab National Bank (PNB)
Though it may be a surprise to many, the Punjab National Bank (PNB) is currently the 3rd largest banking network in India with over 5,000 branches. The late Lala Lajpat Rai founded PNB in 1895 as a private firm which as of today is owned by the State Government of Punjab.
This makes PNB one of the oldest banks in India too. PNB doesn't have the same brand name or popularity as other banks in the list but it is one of the most reputed banking institutes in the Northern part of India. Just recently, the Bankers' Almanac has ranked the PNB as the 248th biggest bank in the world.
Like all the other banks on the list, PNB also provides all the basic necessary services such as ATM-cum-debit card, Net Banking and Mobile Banking facilities for its customers. The only flaw with PNB is the lack of enough ATM counters all over India but it can be easily ignored as today you can use any bank's ATM centre to withdraw money.
4. Bank of Baroda (BoB)
Yet another State Government-owned bank that makes it to the list is Bank of Baroda (BoB). BOB is one of the top 5 banks in India owned by the Government of Gujarat. With over 4000 branches and over 2000 ATM counters, BoB is also one of the largest banking networks in India.
BOB offers all the basic amenities such as ATM-cum-debit card, Net Banking and Mobile Banking facilities to its customers. Bank of Baroda has also left its footprints outside India in more than 10 foreign countries as well that includes the likes of the USA, UK, and UAE.
5. HDFC Bank
The 2nd Private Bank which makes it to the list is HDFC that stands for Housing Development Finance Corporation. HDFC is the 5th largest banking network in India and tops the list of the largest network of ATM counters in India with more than 11,000 ATM centres.
In the year 2012, the HDFC Bank was also awarded the Best Domestic Bank in India by Asiamoney. With a huge network of ATM counters, HDFC Bank is found in almost every corner of India including small towns too.
Being a private sector bank, the customer support at HDFC is great. HDFC Bank also provides a neat and clean website for Net Banking facilities without any cluttering and is undoubtedly the best among the other 4 banks above.
So that's it. This is our list of top 5 banks in India where you can open a savings account to get the maximum advantage for 2016. You can also use the official website of each of the banks listed above to apply for a savings account online.
Good Luck and Happy Saving!