If there's one thing, I must pick that defined Prime Minister Narendra Modi's vision is the Startup India initiative. The drive pushed India towards the goal of becoming a nation of Job Creators rather than Job Seekers. The Startup India initiative also encouraged top banks in India to come up with current accounts designed for aspirant entrepreneurs and new startups. Today, I will share the list of best banks where startups can open current accounts in India.
However, before we move on to the list of best banks to open a current account, let's understand a bit about the current account in India.
What is a Current Account?
In India, there are multiple types of bank accounts where you can deposit your money. Besides the Savings Account, there's also Current Account, which is quite popular. Unlike Savings Account, you get a massive number of transactions per day. Hence, a Current Account is vital for businesses which indulge in a lot of deals.
While it offers the benefit of a higher number of transactions, the Current Account doesn't provide any savings or investment benefits in the form of interest or returns. A Current Account is specifically to help you make lump sum transactions while closing crucial deals.
All the major banks in India offer Current Account service. You can deposit and withdraw funds at any given time without any notice. It's the best option in India to handle money transactions for business operations.
Benefits of Current Account
It is not advisable to open a current account for individuals who are just expecting a regular interest in their savings. Current Account is a viable solution for businesses, both established and startups.
Here are some of the excellent benefits of having a current account:
Offers quick business transactions
There are no limits on withdrawals and deposits in the home branch
Allows entrepreneurs to issue direct payments via cheques, demand drafts, or pay orders
Internet banking and phone banking enables business on the go
Overdraft facility in current account helps you overdraw your account up to an absolute limit
Top Banks to Open Current Account in India
Well, if you have read it till here, we believe that you are looking for a reliable and secure bank to open a current account in India. Don't worry as we have sorted some of the top banks for current account in India.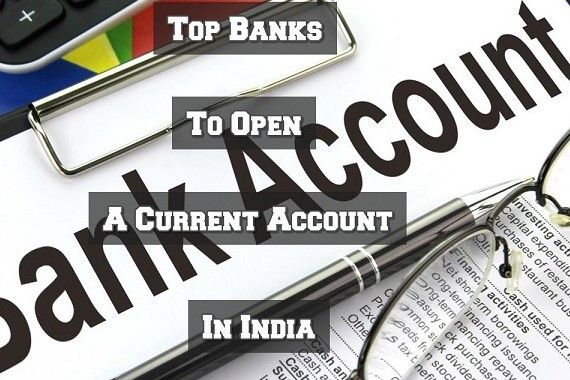 So, without any further ado, let's check out the list.
1. HDFC Bank – Smart up Solution for Start-Ups
HDFC Bank began its operation to fund the Housing sector and eventually began banking operations. Today, it is the first choice for entrepreneurs as well as corporate firms for current accounts. HDFC Bank offers a wide range of current accounts to choose. You can opt for the one that suits your business.
The bank offers a tailor-made current account for professionals including bloggers and internet entrepreneurs. There's Smart up Solution for Start-Ups which is designed understanding the challenges and requirements of a new business venture.
2. ICICI Bank – New Start-Up / Shubhaarambh Current Account
ICICI Bank is the No.1 private sector bank in India and one of the most sought after the bank for commercial needs. ICICI Bank provides excellent solutions for both Start-Ups and established corporate firms when it comes to current account.
Currently, ICICI Bank offers three different types of current account types based on your business type. For Start-Up companies, ICICI Bank offers New Start-Up Current Account as well as Shubhaarambh Current Account. Both the accounts provide benefits of zero Average Monthly Balance for first six months which is a boon to new entrepreneurs.
3. Kotak Bank – Startup Regular
Kotak Bank offers a wide range of different current accounts for Individuals, Corporate firms, Private and Public Limited Firms, Partnership Firms, etc. Based on your startup or an established business entity, you can just begin with either a Startup Regular plan or open an Elite plus account with Kotak.
Kotak understands the demand for current accounts today after the Government of India getting stricter on transaction charges and the introduction of GST. Hence, it offers a wide range of different current account types for its clients.
4. State Bank India – Basic Current Account
One of the most elite and most popular banks in India, SBI is not very far behind on the list of best banks to open a current account. State Bank of India is a nationalized bank and given the service rating of a national bank compared to a private bank; it is not at the top beside the likes of ICICI and HDFC.
However, after a revamp of the bank with modernization everywhere, State Bank of India is giving tougher competition to its customer support. You can visit their official site and check the features of the current account offered at SBI. You can also take advantage of corporate banking for your needs while you are opening a new current account.
5. Yes Bank – Edge Business
Yes Bank is not as popular as the other banks in the list of top banks for current accounts in India. However, the bank offers a tailor-made current account for startups and established ventures.
Yes Bank offers a three-tier proposition for current accounts. Based on your turnover and preferences, you can choose any of the three current account types. For startups, the Edge Business account at Yes Bank is ideal as you get a lot of startup benefits at minimum average quarterly balance. To gain better advantages and features, you can always upgrade to Prime Business or Exclusive Business account.
6. Axis Bank – Normal Current Account
Axis Bank is a well-known private bank in India primarily known for its financial services. The bank offers a wide range of current accounts to the clients. You can choose from the pool of different account types and open a current account that suits your business needs.
For a startup, the ideal account type is the Normal Current Account, where you get all the basic facilities necessary for a new venture. In addition to that, you just have to maintain an average monthly balance of 10,000 INR, and you're good to go.
7. Punjab National Bank – Smart Banking Current Account
Punjab National Bank offers two basic types of current account. Although begun as a local bank, PNB is now nationwide and provides centers across India. With such a wider range, PNB becomes an ideal choice for business accounts in India.
While you can always go for the typical current account, we recommend PNB Smart Banking Current Account for your startup. You can start a PNB Smart Banking Current account with a minimum deposit of 5000 INR. Based on the variants, you just need to maintain a quarterly average balance starting from 100,000 INR for the basic PNB Silver package.
8. IndusInd Bank – Made 2 Order Current Account
IndusInd Bank is yet another prominent bank that we recommend for current account in India. The bank offers a good range of current accounts with specific criteria. Startup owners can open a current account with IndusInd under the Indus Edge Account.
However, you can also opt for IndusInd's Made 2 Order scheme to customize your current account as per your needs. With Made 2 Order, you get the benefits of setting the limits of the transactions per day, the flexibility of maintaining minimum balance across accounts and hassle-free minimum transactions cost.
Over to you!
Current Account is not the same as Savings Account. Considering the business aspect of such accounts, you need to ensure that you open a current account at a bank that offers the best benefits and service. In short, you should save both time and money with your current account.
Go through each of the top banks to open a current account in India listed above and choose wisely.