Banking has been around for a long time and off late most of the banking transactions have become online. Whether it is sending or receiving money, making bill payments and transferring money from one account to another, it can be done with ease online without having to visit the bank branch. However demand draft is one feature that follows the traditional method. In this article I will tell you how to find DD number in demand draft SBI.
If you want to create a demand draft, you will need to visit the nearest State Bank of India branch or you can also apply for a demand draft online. Many online forms and other applications for banking exams ask you enter the DD number of your demand draft. So, where can you find this DD number?
You don't have to worry because it is actually very simple. The DD number is right there in your demand draft, at the bottom of the check. At the bottom left hand side you will see a long number, however you don't need to enter the entire number when asked for the DD number. This is only a small part of that big number.
Check the bottom of the DD and take only the first 6 digits from the beginning, just like explained in the example below:
" ' 876439 ' " 0000 50090 ' : 58

So, in this case the DD number will be 876439.
Image Sample of Demand draft with DD Number is given Below: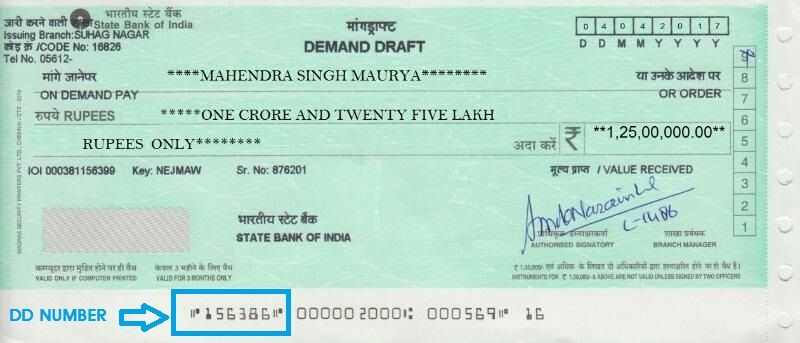 In this age of paperless transaction, there's a reason why the demand drafts are still so popular. They are a reliable and safe mode of payment. These demand drafts stay valid for a long time from the date they are issued. In case a DD is lost, no one can encash the check without your permission.
Many times bank may ask you for the DD number before confirming the payment to the payee, hence you must keep a photo copy of the DD with you until the payment has been confirmed.
I hope the above information help you in finding the dd number without any hassle.