If you hold a savings account in SBI or any other bank in India, you would be aware that you need to maintain a minimum balance. When a minimum balance is not maintained, or your balance in the account gets lower than the specific amount, he bank will charge you a fee for not maintaining the balance.
In some banks, the minimum balance is calculated monthly while in some it is calculated quarterly but taking the average of each month in that quarter. In this article we will tell you about the minimum balance in SBI savings account.

Change in minimum balance in SBI savings account 2018
Recently there has been a change in the minimum balance maintenance charge for the millions of account holders across the country. Apart from charging a fee for not maintaining the minimum balance, the banks also charge fee for additional services such as lockers and cheque books.
The decision taken by SBI to raise the maintenance charge on bank accounts will not only apply to the SBI customers but also to those banks that have merged with SBI, thereby increasing the customer count to 37 crore.
As per the recent change, the minimum monthly average balance for customers in the metro cities has been raised to Rs 3,000. Those who hold an SBI savings account in any of the branches in the metro cities must maintain the minimum balance, or else they will be fined with a penalty. The penalty charge may range anything between Rs 20 for the rural branches to Rs 50 for the branches located in the metro cities.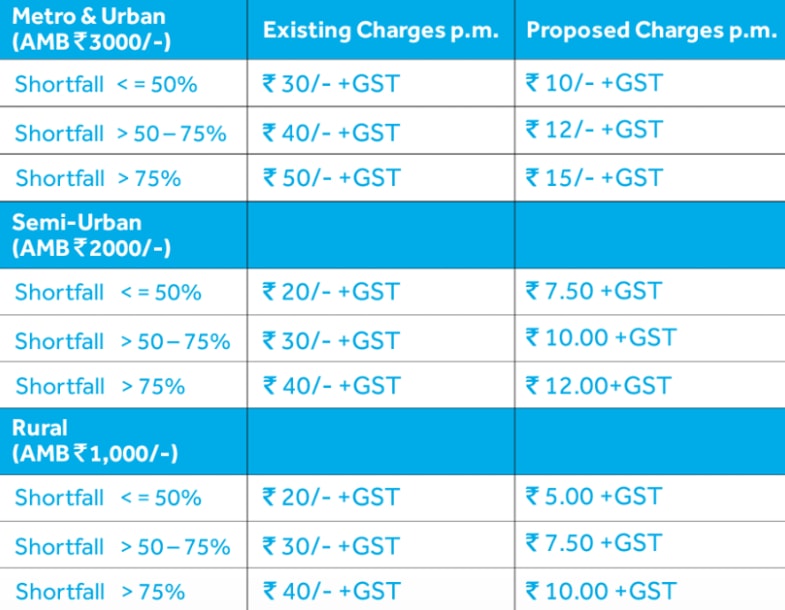 Until 31st March of this year, the monthly average balance or MAB for savings bank account was only Rs. 500 (without cheque book facility) and Rs. 1000 (with cheque book). Following the change, SBI has now decided to fix different charges for customers living in metro, urban, semi urban or rural areas.
Minimum balance requirement and Penalty Charges for SBI savings acoount:
|  Region | Monthly Average Balance | Penalty Charges |
| --- | --- | --- |
|  Rural |  Rs. 1000 |  Rs. 20-40 |
|  Semi Urban |  Rs 2000 |  Rs. 20-40 |
|  Urban |  Rs. 3000 |  Rs. 30-50 |
|  Metro |  Rs. 3000 |  Rs. 30-50 |
These changes have become effective from 12 March 2018. However, these changes in rates will not apply to Basic Savings Bank, Surabhi, and PM Jan Dhan Yojana accounts.
SBI bank has also increased the rent for locker and reduced the number of free locker offered in a year. It is free for 12 usages and after that the customer has to pay a fee of Rs. 100. The 25-leaf Cheque Book will now cost only Rs. 75 and a 50-leaf Cheque Book will cost Rs. 150 (excluding service tax).
We hope this information helps you understand the minimum balance in SBI savings account. Stay tuned to find more informative articles like this.