These days almost every individual has at least one bank account to keep their money safe and do transactions when required. If you have a bank account with IDBI and want to check IDBI Account balance then this article is for you. Here we are going to discuss various ways through which one can easily get to know the balance of his/her IDBI bank account.
Method 1: Know IDBI Account Balance using Toll Free Missed Call Banking Facility:

If you have registered your mobile number to IDBI bank then you can use this method to know the balance in your account.
You just need to give a missed call from your registered mobile number to the bank toll free number – 18008431122 and within seconds you will get an SMS with the balance information of your bank account.

NOTE: You can get the Mini Statement through sms for last 5 account transactions by giving a Missed Call to number 18008431133.
Method 2: Know IDBI account balance by Contacting Customer Care:
You can call customer care by dialing either the toll free number – 1800-200-1947 or chargeable number 0091-22-66937000. IVRS will guide you thought the process. Talk to the customer care executive and ask for balance in your bank account.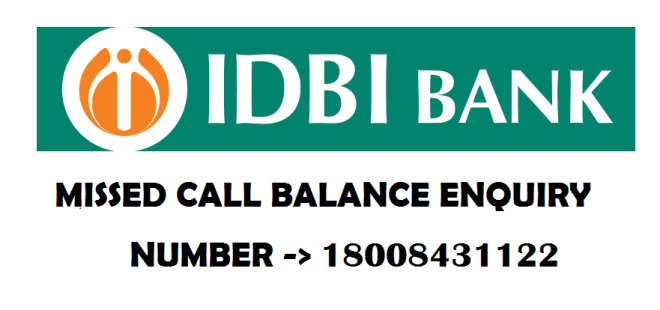 You can get the information either by answering simple questions about your bank account or by validating your authentication using your customer ID or your debit card. You may need customer ID and pin or debit card and pin to validate your authentication.
Method 3: Know IDBI account Balance by Visiting The Nearest IDBI ATM:
You can always visit your nearest IDBI bank ATM and know the account balance by using your IDBI ATM and pin. Insert ATM card to the machine, enter the ATM pin then select the account type.
There you will find a tab 'Balance inquiry' or 'Balance'. Use that process to know your IDBI bank account balance. As monthly transactions through ATM are limited, it is not advisable to use this method to know the account balance.
Method 4: Know IDBI balance online Using Net Banking
If you have customer ID and net banking password then you can login in to your IDBI net banking by visiting the url – https://inet.idbibank.co.in/. Once you enter the credentials, net banking home page will appear. There are various tabs at the top header menu.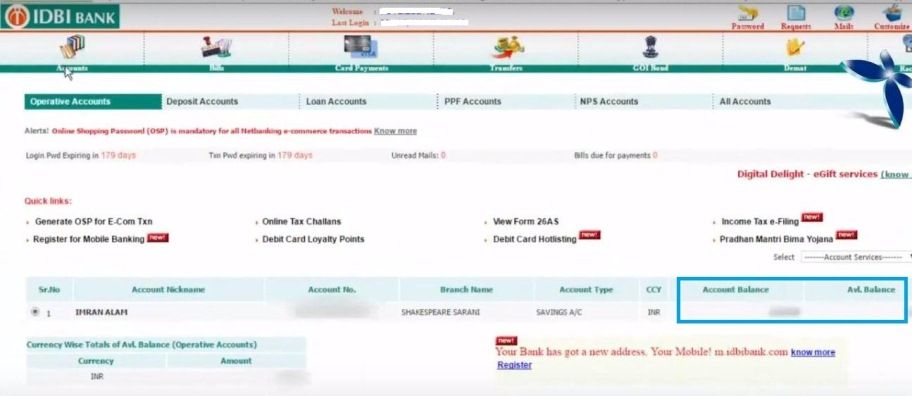 Go to Accounts then operative accounts and choose the account for which you want to know the balance and you will get the account balance instantly on the screen. Don't forget to logout from your net banking once you are done with it.
Method 5: Know idbi balance Using Net Banking App:
Go to Google play store and download IDBI net banking app – 'IDBI Bank Go Mobile' to your android mobile phone. If you have already downloaded it then use your credentials and login to your bank account. From there you can check balance of your account easily.
Method 6: Know balance By Visiting Any IDBI Bank Branch:
Go to your nearest IDBI bank branch or your local branch. There you will find an inquiry section or 'May I help you' section. You can ask about the account balance to the bank officer sitting there. Answer a few questions related to the account and the officer will reveal the account balance to you.
So, if you were wondering about checking IDBI Account balance then this article has solved your problem.