The government of India has started a new rule that every bank account must have KYC. Previously KYC concept was there but it was not mandatory to have KYC for every bank account thus there was negligence from both customers as well as banks end.
Now, not only do you have to submit your KYC form along with the documents required to your bank but you also need to help with the updated information during the 'Periodic Updation' process conducted by the bank. If you have a bank account in SBI and wondering about information regarding the SBI KYC Form and the List of documents required then this article is for you.
Download SBI KYC Form
You may visit your nearest SBI bank to get the KYC form or visit this link – Kyc for individuals to download the form online or Go to the last section of sbi download page to 'Download KRA Forms' and download 'KYC CVL form'.
How to Fill KYC Form in SBI?
Filling up the SBI KYC form is very easy. The KYC form has three different sections: A, B, and C. Section A contains all the details related to your identity such as the name of the applicant, your father's or spouse's name, gender, marital status, date of birth, nationality, PAN, and your photograph.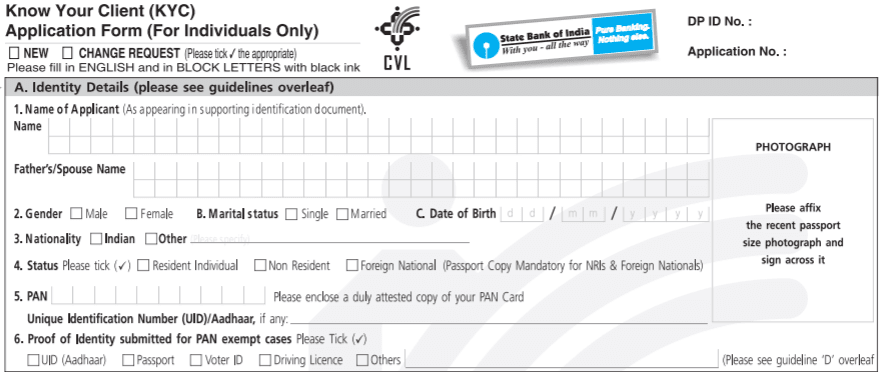 Section B contains all the details related to your Address such as correspondent and permanent address, proof of address provided, and contact mobile and landline numbers. Section C contains other details such as gross annual income, occupation, declaration, and signature of the applicant.
List Valid documents for SBI KYC form fill-up for Account opening, address change, credit card, PPF account, and joint account (individual):
Documents for proof of identity:
PAN card along with the photograph (Mandatory)*
Driving license
Voter ID
Passport
Aadhaar card
NREGA Card
Photo ID card issued by any state or central government department, credit or debit card along with photo issued by banks, photo ID issued by banks, selected colleges, and professional bodies.
Documents for proof of address:
Insurance copy with address mentioned
Aadhaar Card (its best proof works anywhere in India)
Flat maintenance bill with the address
Driving license at present address
Registered lease or sale agreement containing your address
Ration card with address
Voter Id card
Passport
Landline, electricity, or gas bill
Bank passbook with the updated statement or bank account statement
Self-declaration of Supreme Court or High Court judges
Address proof issued by selected bank managers or Gazetted officers
Notary public
Elected politicians
Salary Slip
Pension Payment Orders issued to retired employees by Government Departments
Identity card with address issued by any state or central government department, credit or debit card along with photo issued by banks, photo ID issued by banks, selected colleges and professional bodies
KYC documents for NRIs:
Passport and Residence Visa Copies duly attested by
Foreign offices
Notary Public
Indian Embassy
SBI KYC documents for Companies (Non Individuals):
Identity & address proof of the proprietor
Registration certificate
Certificate issued by the Municipal authorities
Sales and income tax returns
CST/VAT certificate
Registration document issued by Tax authorities
Total Income Tax return in the name of the sole proprietor (duly authenticated/ acknowledged by the Income Tax Authorities)
Electricity, water, and landline telephone bills in the name of the proprietary
Important Notes:
As PAN card is mandatory for bank accounts they can serve as identity proof for any individual. You need to have at least one valid address proof to submit along with your PAN card to complete the SBI KYC process.
Remember that you have to submit copies of these original documents. All these documents need to be self-attested by the applicant. You also need to carry the original documents with you while submitting the SBI KYC form to your bank branch. The officer may ask you to show the original documents before accepting your request.
If the minor is less than 10 years of age, identity proof of the person who will operate the account is to be submitted.
We hope this article has provided you with the required information regarding the SBI KYC form and the list of documents required to complete this process.