Suppose you have participated in a quiz competition and you have been asked about the full form of dcb bank (डीसीबी बैंक). What will be your answer if you do not have any concrete knowledge about the bank?
If you hunt on the internet to get the proper knowledge about the bank and fail to satisfy, you are the perfect reader for this article. This is the only article on the web that will help you to get proper knowledge about the bank and to answer correctly.  Let's go.
The dcb bank stands for the "Development Credit Bank Ltd" which is a private limited bank in India. This commercial bank has 310 branches and 515 ATMs across the country. The bank has been awarded as the 'Best Small Bank' in India by the 'Businessworld Magna Awards, 2017'.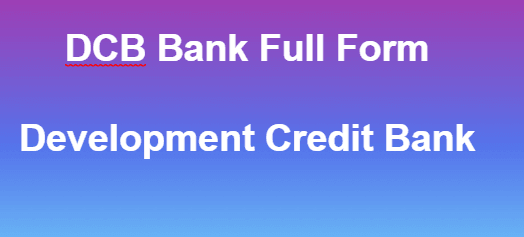 In 1930, the 'Ismailia Co-operative Bank Limited' and the 'Masalawala Co-operative Bank Limited' came into existence. Later the 'Diamond Jubilee Co-operative Bank Limited' was merged with the first bank and on 1981 the Masalawala Bank and the Ismailia bank were amalgamated with each other and formed the 'Development Co-operative Bank'. Later in 1995, its name changed to 'Development Credit Bank Ltd (DCB)'.
At present, the branches of the bank are available in 3 union territories and 19 states. This is one of the leading banks that use modern technology & infrastructure with state-of-the-art internet banking both for personal as well as business customers. This is one of the leading scheduled commercial banks which is regulated by the RBI.
The 19 states where the branches situated are Bihar, Chhattisgarh, Andhra Pradesh, Delhi/ NCR, Haryana, Goa, Gujarat, Madhya Pradesh, Karnataka, Tamil Nadu, Kerala, Maharashtra, Punjab, Odisha, Rajasthan, Telangana, Uttarakhand, West Bengal, Uttar Pradesh, and the union territories include Chandigarh, Dadra & Nagar Haveli and Daman & Diu.
The bank has multiple business segments like Retail, SME, micro-SME, Agriculture, Public Sector, Government, Co-operative Banks, Indian Banks, and the Non-Banking Finance Companies. The bank has also big customers base and has nearly 4, 50,000 customers all over India.