There are a lot of financial products in the banking sector, which include different types of popular money deposit schemes. The banks require excellent and complex Information Technology services (or IT services) to control and manage them properly. A bank's business is determined to be successful by maintaining all information and connections up-to-date and of high quality.
However, the changing business environment and increasing banking requirements are another challenge to meet. The system's architecture is required to be flexible enough to be able to adapt to the new situation. The lack of Information technology leads to the decision-making processes being too time-consuming.
So to accelerate the decision-making process of organizations, one of the different forms of MIS was introduced to combine Information technology with the decision-making processes of organizations to analyze, design, implement, and manage Information technology in an organizational environment.
This form of MIS helps collect relevant, reliable, and organized information from multiple sources to analyze future corporate policy and support an organization's decision-making process. Therefore, the MIS plays a critical role in a bank's business growth and competitiveness.
But what are the different forms of MIS in the banking sector?
If you are excited to learn more about MIS forms, stay with us, as this article will walk you through the full form of different MIS in the banking sector, including their essential features and more. So keep reading to gain deeper insights into the use of different types of MIS in the banking sector.
What is The MIS Full Form In Banking
There are mainly two types of full forms of the term MIS known in the banking sector:
1. The first type of MIS in the banking sector stands for Management Information System, which is the combined analysis of a person, computerized technology, and relationship. The Management Information System (or MIS) consists of various joint procedures to produce and collect such important, helpful, reliable, and appropriately organized information that can support a bank's decision-making process. MIS experts in banks find out the benefits of investing in people, procedures, and facilities.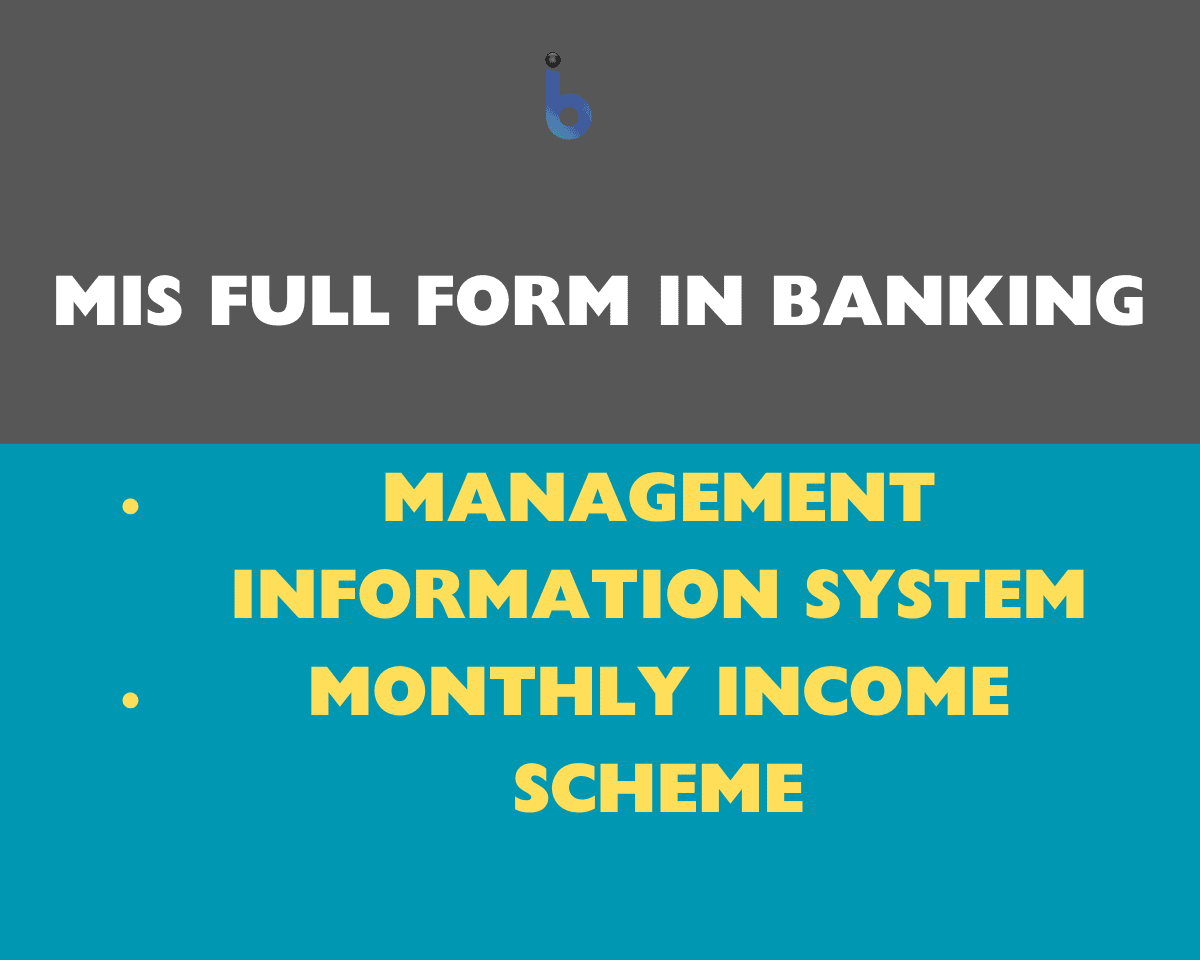 You should know that determining the role of Management Information Systems in banks is significantly required. It would help MIS managers in managing information systems properly by giving an opinion on the business requirements of the MIS projects, related risks, requirements for innovation and flexibility in MIS designing approach, etc.
2. The other type of MIS in the banking sector stands for Monthly Income Scheme, which is a suitable way for investors seeking to earn a guaranteed regular fixed income at a specific rate of interest every month. Bank account holders can earn a specific monthly interest on the money invested in a fixed deposit. Senior citizens are provided with higher interest rates than regular customers.
Now we going to tell you the Important Features Of A Management Information System And Monthly Income Schemes In the Banking
Features of a Management Information System
A Management Information System for a bank is required to be designed to recognize, decide and produce a service strategy for providing a distinctive service to a wide range of customers trying to find a variety of service demands. Hence, while designing an MIS for a bank, some points should be focused on as follows:
Collecting Information from the Customer Database: This information includes the service expectations and perceptions from different types of bank customers and different types of banking services and products desired by the customers.
Providing service for business promotions: The MIS should focus on data collection from various sources to analyze and form an opinion for the future corporate strategy so that the banking operations can be increased by utilizing the bank finances for providing loans to the right type of bank customers.
Providing the index monitoring system: It is necessary to create MIS applications to support bank managers in decision-making so that different norms and ratios can be kept within acceptable limits to properly control and manage the internal banking business operations.
Providing human resource upgrades: It is essential that the bank's internal standards, accuracy, responsiveness, and timeliness must be set. To meet these standards, the provided systems and the resources require monitoring, and the feedback on achievement or non-achievement will be provided by the MIS so that these standards can be regulated and controlled.
 Features of a Fixed Deposit Monthly Income Scheme
There is not any maximum deposit amount limit for Fixed Deposit Monthly Income Scheme.
This scheme is provided by some banks for as long as ten years of maturity period.
No processing fee is charged for the issue of an FD MIS.
There is a high liquidity opportunity for the investors as the money deposited in the FD account can be withdrawn without paying any charge.
The bank offers a loan facility against the FD MIS scheme.
The Bottom Line
Dear friends, we have provided you with detailed information and easy guidance on two different types of "MIS" in the banking sector, including full form, importance, and features of both of them. We expect that after carefully going through this post, hopefully, you must have quickly understood that a Management Information System is the need of the hour in every industry, particularly in the banking sector, to collect information from the customer database and make well-informed future decisions. And Monthly Income Schemes are also beneficial for risk-averse investors who want to earn a guaranteed monthly return.