ESAF Bank is an Indian Small Finance Bank (or SFB). In 1992, ESAF started working as an NGO with a significant objective of sustainable and holistic transformation of the poor and marginalized people, who are treated as a person or group insignificantly by separating them from others and pushed to exist at the margins of society, receiving less or little attention, and cause to become powerless, such as small farmers, Small Business units, and micro and small industries, among other unorganized sectors.
It means that ESAF started its operations practicing such daily activities, which will encourage the development of an insignificantly treated individual's body and mind to generate money. This article explores the introduction of ESAF, its full form, operational highlights, services, and much more for a deeper understanding. Let's look.
Birth of ESAF and Highlights of Microfinance
In 1995, Mr. K Paul Thomas launched Micro Enterprises Development (or MED) services; in 2008, ESAF Microfinance and Investments Pvt. Ltd. was formed. After that, ESAF started developing and improving a culture of financial discipline by means of micro financing in urban, semi-urban, rural, and rural unbanked areas across the country.
Microfinance is known as a banking service provided to poor/low-income individuals or groups who otherwise can not get any other financial services. Microfinance refers to the process of offering reasonably small loans to people in areas where the supply of such financial or banking services is unavailable or limited.
The significant objectives of microfinance are to empower poor and marginalized people and make them self-dependent. In India, microfinance is used to promote socio-economic development in the common people at the grassroots level with the help of a community-based approach by reaching people within a specific geographic area or certain people with common interests or characteristics, empowering women, and also increasing different types of household incomes.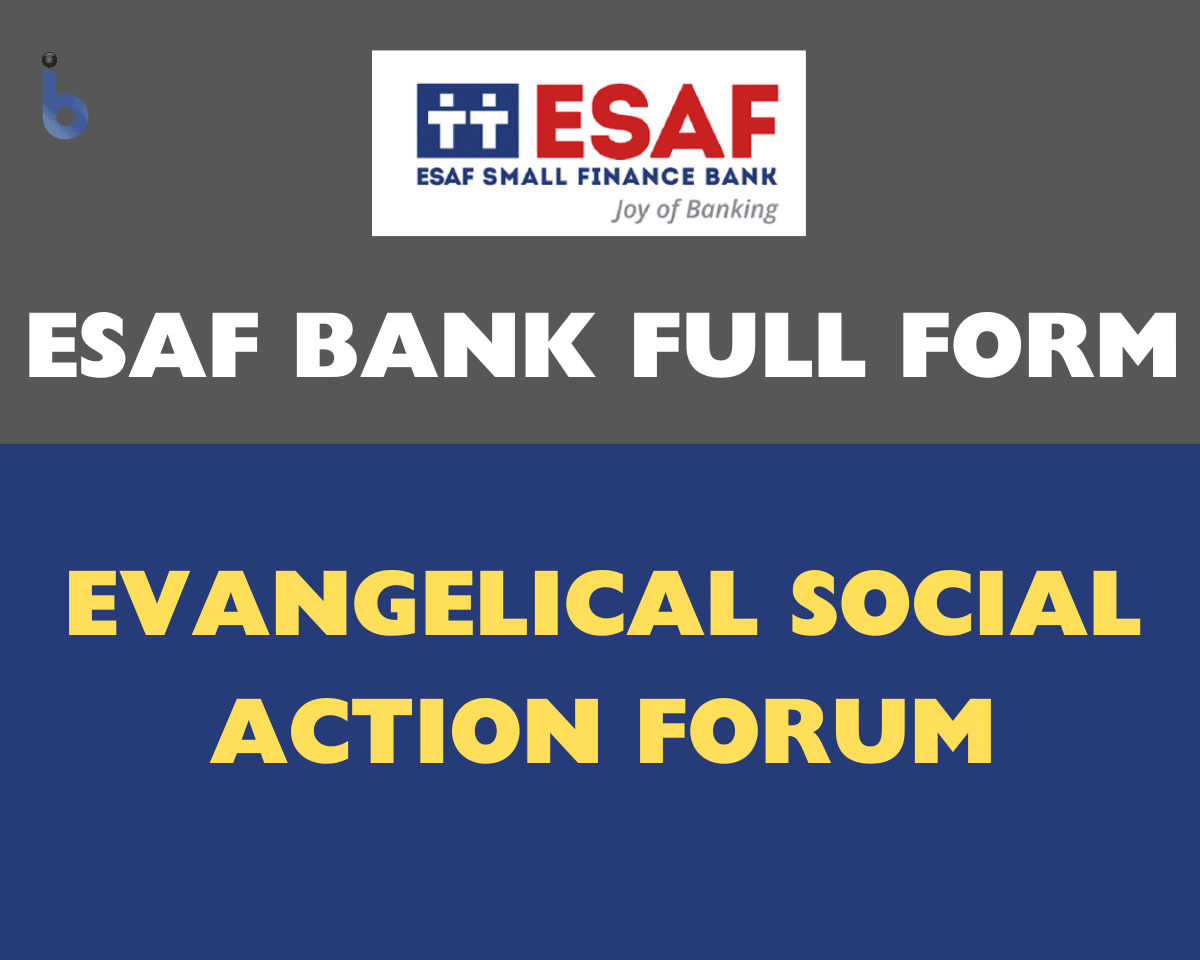 What is The Full Form Of ESAF Bank
The full form of ESAF Bank is the Evangelical Social Action Forum Small Finance Bank. ESAF Small Finance Bank was formerly known as Evangelical Social Action Forum (ESAF) Microfinance, which is a financial service-providing company, having its headquarters in Thrissur, Kerala, India.
ESAF Microfinance company has started its business operations in the name of the Evangelical Social Action Forum, which is a charitable society to fulfill the social and economic requirements of poor and marginalized people with the support and money given by the Kerala Evangelical Graduates Fellowship.
What Are The Operational Highlights Of ESAF Bank
ESAF Bank not only manages to create opportunities and financial support for the poor and marginalized people of society but also creates opportunities for their livelihood.
After launching the Micro Enterprises Development (or MED) program in 1995, ESAF has gradually managed to spread out the MED program throughout the country successfully. With the help of this, social and economic prosperity was brought to a number of poor/low-income and unbanked people in society.
In the Bank Micro-Banking services, all banking services are readily provided to socially and economically disadvantaged individuals, which include a PM Jan Dhan account with a Debit/ ATM card for all their customers.
The ESAF Bank offers various customer-friendly modern banking services, such as:
ATMs/Debit Card facility,
Safe Deposit Lockers facility,
Internet banking facility,
Mobile Banking facility,
Agent banking facility,
SMS banking facility,
RTGS, NEFT, CTS, etc. facilities,
The services of doorstep delivery,
The facility of free video calling at bank branches
Hrudaya Deposit Scheme facility is a unique deposit scheme of ESAF Small Finance Bank, through which the ESAF Bank customer is provided an opportunity to be a part of the economic development of the marginalized section of society,
And many more exclusive features are offered by ESAF Small Finance Bank.
ESAF Small Finance Bank allows every Indian citizen to open one or more bank account/accounts from the following:
Savings Bank Account
Current Account
Recurring Deposit Account
Fixed Deposit Account
Loans Account
Micro-Banking Account
The Concluding Thoughts
In this article, we have provided you with detailed information on the ESAF Small Finance Bank, the full form of the ESAF Bank, the Birth of ESAF and Highlights of Microfinance, and What Are The Operational Highlights Of the ESAF Bank. So we can expect that, hopefully, after going through this post carefully, you must have quickly realized the meaning of it.
However, in case you are still facing some difficulties, doubts, complaints, or grievances, then you should contact ESAF Bank customer service executives at any time by calling the contact center Toll-free number: 1-800-103-3723, which is 1 800103 – ESAF.
You can also send your grievances/complaints to ESAF Email ID: [email protected] to get help and appropriate guidance to sort the matter satisfactorily.