RBL Bank Limited or The Ratnakar Bank Limited is one of the oldest scheduled private sector commercial bank in India with its headquarters in Mumbai, Maharashtra.
The bank has a big customer base with a wide variety of banking products & services which are categorized mainly in Agro & Development Banking, Corporate & Institutional Banking, Retail Banking, Financial markets and Commercial Banking.
Most of the Indian Banks have made their customer's life easier by bringing net banking facility. This net banking helps the customers to complete almost all banking activities without visiting or wasting their valuable time by visiting the home branch of the bank or standing in the queue.
This is also the case for RBL. But to take the advantage of this net banking of RBL, you have to register for net banking activities.
This article will guide you to register with RBL net banking through online without visiting the nearest branch or without giving a written application to the branch.
Note: Before your registration, keep all necessary account details with you. These documents may be customer ID, PAN card details, your bank account number etc.
Here is the best guideline for RBL net banking Registration:
Step 1: First click on 'login' button by visiting the website of the bank and it is https://www.rblbank.com. Click personal banking to open 'Internet banking page' from this site. If you have business account, then go for corporate banking.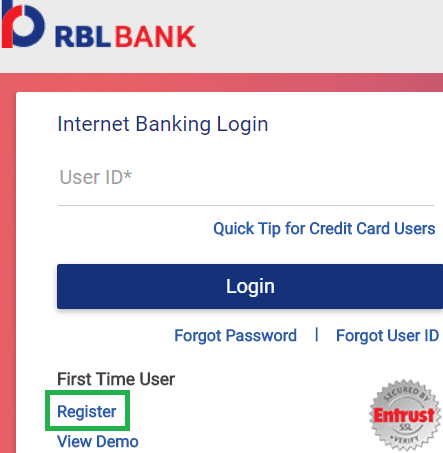 Step 2: Go to the 'Register' tab and click on that Tab.
Step 3: Here you will notice the registration mode :- select any applicable mode that suits you the best. As you want to register for internet banking for the saving account, select the Customer ID (CIF). Similarly, you use debit card, credit card and loan account for RBL net banking registration.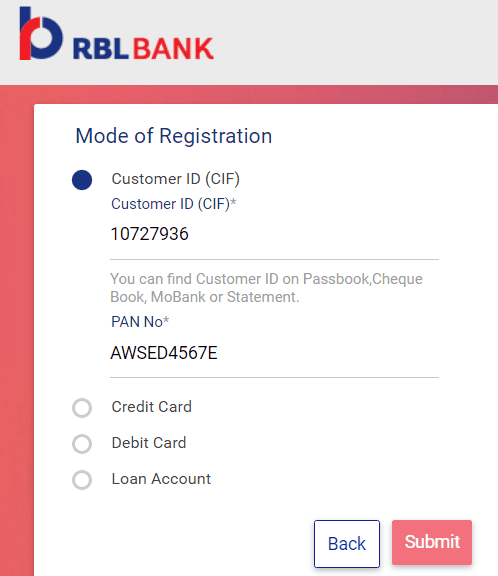 Step 4: Now enter your 'customer ID' from your Passbook or Cheque book. Under the Customer ID field, enter the 'PAN Card Number' of yours. Now click on the 'submit' button.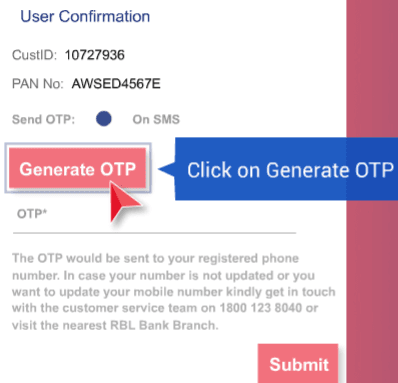 Step 5: Generate OTP by clicking on the 'Generate OTP' Button. Now you will receive an OTP on your bank register mobile number, enter this code in the OTP field and Click on 'Submit' button.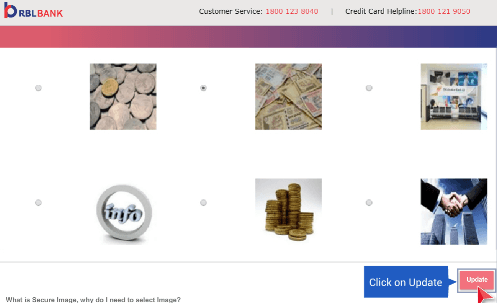 Step 6: Set a secure image for login by giving some phrase and also 'set a new password' from the next page for your net banking and then click on the 'Submit' button.

Note: Alphabet, Numbers and special characters must be included in password
Hurrah! You have successfully registered for internet banking. Now the rest activities you have to do for security issue is that:
Before login for the first time accept the terms and conditions. Then set your security questions and then click on 'continue' button.
On the next page, you will see your account details and now follow each & every task online for net banking service.
This is the easiest process to register for RBL internet banking service. Hope this article will guide you the best.