Axis Bank (एक्सिस बैंक) is one of the leading private banks and it has its headquarters in Mumbai. The bank is known to provide best customer experience when it comes to the web interface and indeed, the net banking portal of the bank is really user-friendly.
It is possible to access the net banking in axis bank only through the customer ID as it is the login name. If you also have an account with Axis Bank and if you are unable to find the Customer ID  then this article is especially for you as we have listed a couple of different methods to find the Customer ID in Axis Bank. So here we go:
Method 1: Get Customer ID from Welcome Letter and Cheque Book

You would have received a welcome letter from the axis bank. If you go through the letter carefully then you will notice that the letter has the details of the customer ID on the top and at the bottom. Use the customer ID for login purpose. Similarly, you can also get customer id from front page of axis bank cheque book.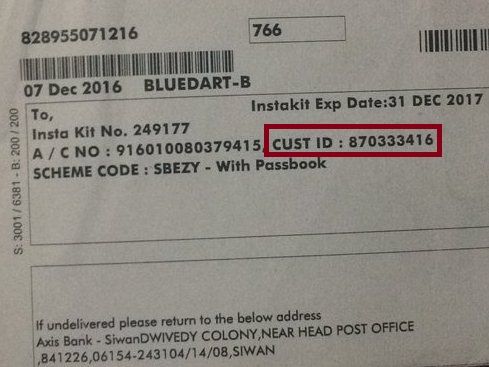 Method 2: Know Axis bank Customer ID by sms

If by any chance you have lost or discarded the welcome letter then you may type "CustID <account-number>" on a new message and send the message to 5676782. Use your registered mobile number for the same and you will receive your customer ID as a reply from the bank.
Important Note: If in case your mobile number is not registered with the bank then you will first have to register your mobile number in axis bank as the customer ID is a sensitive information and none of the customer service executives will give you the customer ID.
These were the two ways to finds the customer ID for Axis Bank. If you have a tendency to forget things then you may save your customer ID somewhere in the mobile in notes or in contact book as this will help you in avoiding any trouble.