You would have probably not heard about the SBI EMS portal if you are not employed with the State Bank of India and the reason for that is the EMS portal is basically for the employees of the bank. EMS stands for Enterprise Messaging Service and it is an email address that is assigned to each and every bank employee who is working with the State Bank of India or any of its associates.
The first thing that should be noted is that not everyone has an access to the portal and the people who would like to have access would need to contact the EMS local head or the Admin of the Bank. In addition to this, the request for the portal credentials is subject to approval.
Logging in to SBI EMS Portal
Step 1: If you have access to the SBI EMS portal then you can navigate to the portal by clicking https://ems.sbi.co.in.
Step 2: Once the portal is displayed, you may enter the username and select the correct domain. For example, SBI employees would have to select sbi.co.in. Similarly, State Bank of Patiala employees would have to select sbp.co.in.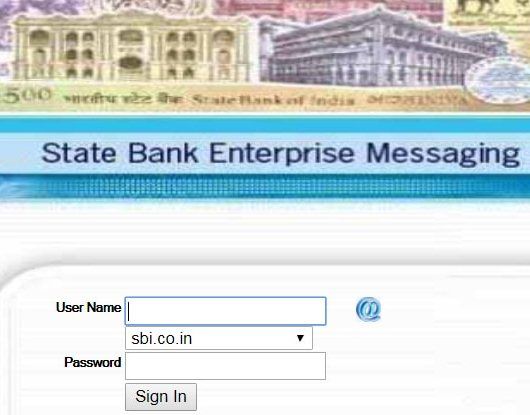 Step 3: After entering the username, enter the password and click on the Sign In button. You will now be redirected to the EMS Dashboard.
Points to Consider in Regard to EMS
Here are some important points that you must consider in regard to the EMS Portal:
The request for activation of the account needs to be raised with the Admin or the EMS head in the IT department. Post-approval, the account is activated for 24 hours.
The username and the password would be shared with the employee and it would be a one-time password. On the first login, the user would have to change the password.
It should also be noted that the password is valid for only 90 days after which the password expires hence the user would have to update the password of their account after every 90 days.
If the user forgets the password then he would have to call the EMS Helpline to reset the password. In addition to this, after entering the wrong password 5 times, the account gets locked for 30 minutes.
Some people may change the DNS to alter the proxy settings but as a matter of fact, changing the DNS settings would block access to the EMS portal.
Contact Centre for EMS
The SBI Email desk can be contacted via three mediums and the details of all three are mentioned below:
Email – [email protected]
Phone – 022-2756679
VOIP – 100123, 100124 and 100127
You can contact the desk in case of any query or in case of any help that is required by you.