Forgot your SBI HRMS password? No worries because now you can easily reset your login password using your mobile phone or computer.
The SBI HRMS is a self-service ESS portal that works for all employees of the SBI throughout the country. The portal of the Human Resource Management System serves all the present working as well as retired employees of the State Bank of India. This portal exercises different benefits as well as information with the help of multi-factor authorization.
Today I will help you reset your SBI HRMS password in case you forgot one. Without any further ado, let's jump on to simple steps to reset the SBI HRMS password.
Steps To Reset Your SBI HRMS Login Password
If you forget your SBI HRMS password, there's nothing to be worried about because these simple steps will help you reset the password easily.
Step1: The first thing you need to do is, open the HRMS portal on the official website of SBI HRMS which is www.hrms.onlinesbi.com.
Step 2: Once you are inside the website, click on the login button. For security reasons, you will be asked a question that will appear on your screen.
Once you answer the question click on the continue button.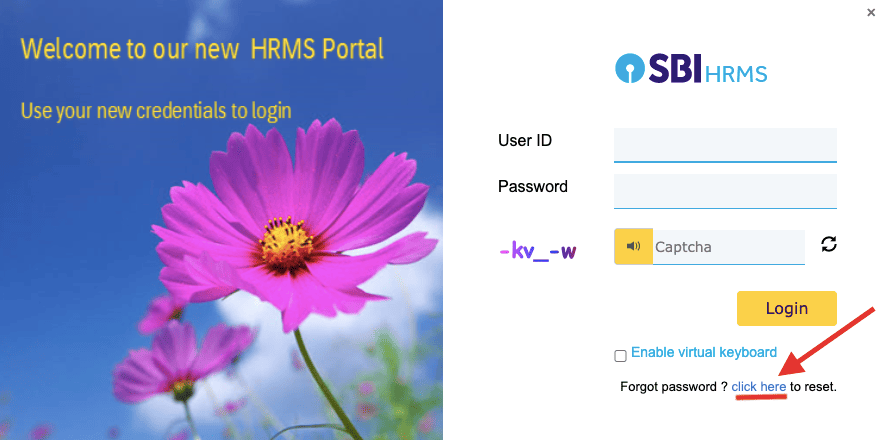 Step 3: Fill up your user id and password you know. Even if you forgot your password, you can click here to reset your password.
Step 4: From the tab on reset password, you will be directed towards a new portal where to reset the password you will have to enter your user id, date of birth. Select mobile and email, click the generate OTP.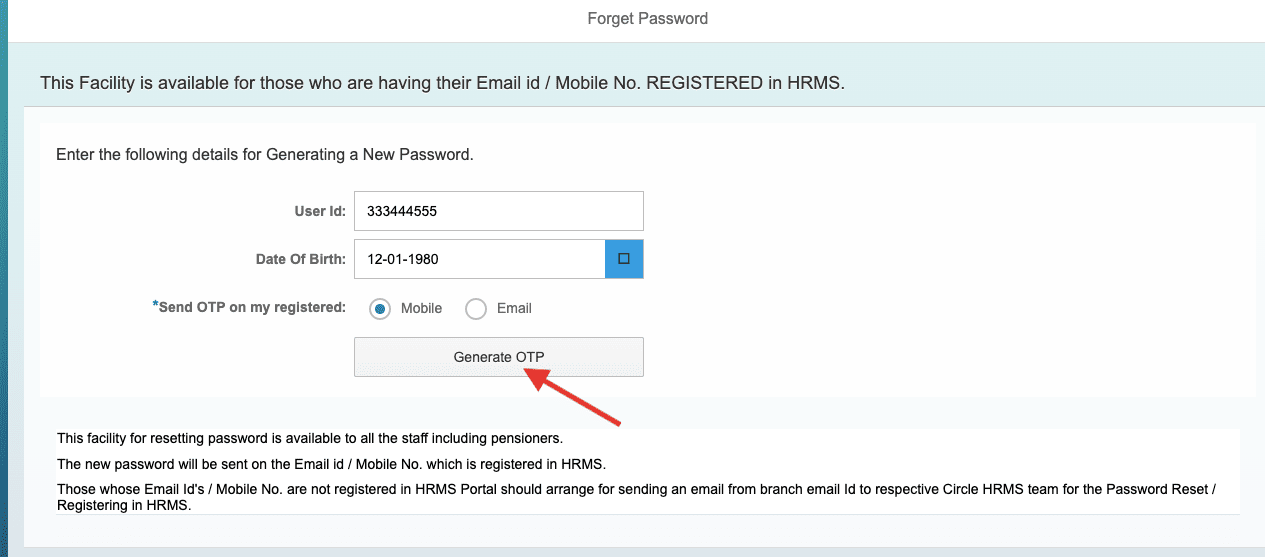 After filling in your user id and date of birth with the right information, you need to send an OTP on the registered email or phone number.
The OTP will be sent only on the mobile number or email registered with HRMS. After receiving the OTP, enter it on the screen and you will be able to reset the password.
For any queries, you can send an e-mail to [email protected] or [email protected].
Important notes:
The function of reset password is available for all the staff including pensioners.
The new password will be sent on the Email id and Mobile Number registered with HRMS. portal.
if you don't have an Email or Mobile Number registered with HRMS Portal, ask the branch to send an email to the respective Circle HRMS team for the Password Reset or Registering in HRMS.
Interesting Facts About State Bank Of India
Let's end our article with some interesting and lesser-known facts about SBI you may not have known before.
The State Bank of India is the largest lender by assets with a value of almost 42 lakh crores.
The State Bank of India has rescued Yes Bank along with LIC by giving it 20 thousand crore bailout banking.
The State Bank of India has 16,000 branches and 51,500 ATMs making it the largest retail arm in India by a long shot.
The State Bank of India was founded on June 02, 1802, with the name of The Bank Of Calcutta later known as The Bank of Bengal.
In 1921 Bank of Bengal, Bank of Bombay, and Bank of Madras formed a union known as The Imperial Bank of India.
After independence on 30 April 1955, the name changed from Imperial Bank of India to State Bank of India.
Conclusion
This is how easy it is to reset your SBI HRMS password if you forget one or just looking to change it for security reasons. You can reset your SBI HRMS password using mobile as well. There is no need to have a laptop to do that because the website will open on your mobile.