CFMS stands for Comprehensive Financial Management System. It is one of the crucial departments in Bihar. It is the Department of Finance in Bihar, which has been recently introduced for the convenience of employees.
The CFMS Bihar portal has been developed for employees to help them track their salaries. The CFMS Bihar Portal is an online platform used for the management and disbursement of salaries disbursed by the Government of Bihar (GOB).
Using this Comprehensive Financial Management System, the employees working for the Government of Bihar can receive crucial updates and information pertaining to their payrolls.
What are the Services that you can Access Using the CFMS Bihar e-Nidhi Portal Login?
The employee portal has been launched by the Government of Bihar to help them avail themselves of a series of services regarding their employment using the self-service portal. Below are some of the services that you can access via this online portal.
New Employee Creation
Grouping employees
Option to modify employee group details
Recovery from Employee Salary
Annual Salary Increment
Employee promotion
Suspend Employee
Employee loan
Active/Inactive Employee
Regular Monthly Salary Bill
Earned Leave Encashment Bill
Advance Pay Bill
Option to modify employee group details
The employee need not ask the HR department or their reporting managers about their salaries. They can directly log into the portal and get the information they have been seeking.
Steps to login in CFMS Bihar Employee Portal
If you are an employee working at the CFMS finance department in Bihar, you can access the aforementioned services by simply accessing the portals. Below are the detailed steps provided to you for utmost ease:
Step 1: Visit the official website of CFMS, or you can simply use the link: https://cfmstraining.bihar.gov.in/.
Step 2: Upon clicking the link mentioned above, you will be redirected to a page that will ask you for your login details, such as username and password.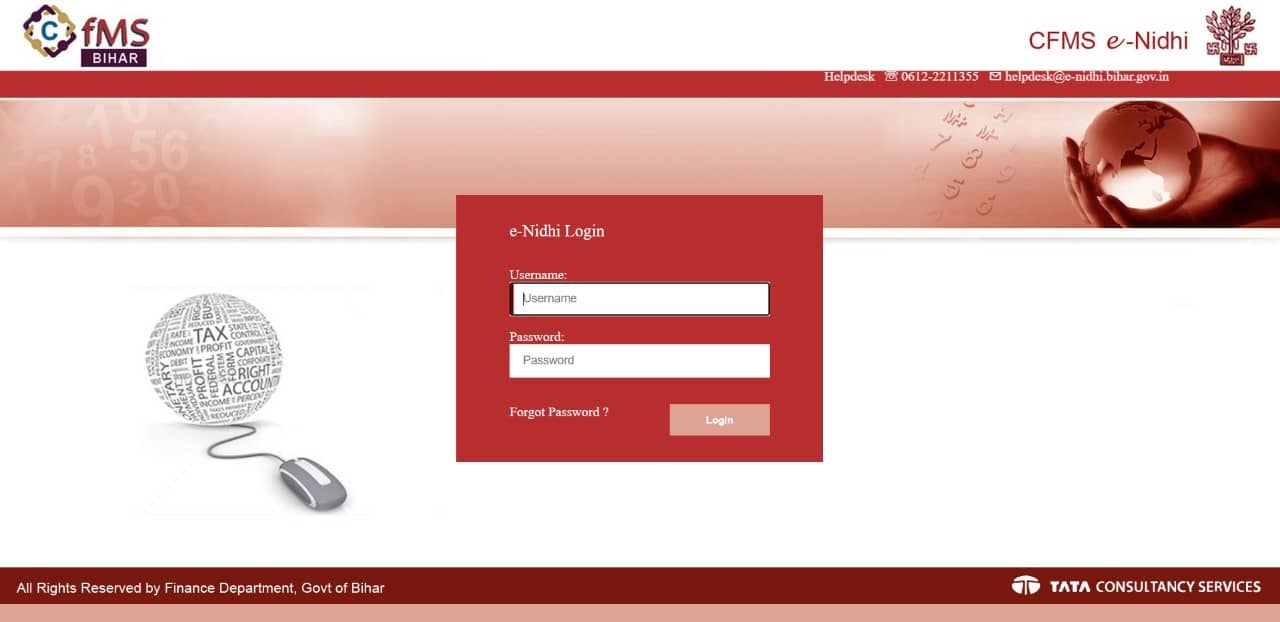 Step 3: When you enter your username and password, the page will take you to your employee account. Here you can click on the Pay Bill option.
Step 4: This page will provide you with the details related to your ID, such as payment details, department, etc. In this section, you will have the option to choose the head of Account, Month, and Year to generate your salary slips. In addition to this, employees of the CFMS Bihar can even display details such as Employee details, Bill date, bill reference number, gross earnings and deduction, and more.
Important Note for Employees: It may happen that you might not be able to access or find some of the options. Hence, at a point in time, if you think you can't access a function, you can use the access the manual guidelines.
In order to launch the manual guidelines, you can open any search engine like Google or Chrome. The next step is to copy-paste the following:
Training Manual of Employee Maintenance and pay Bill, Bihar
If you do not want to use the copy-and-paste functionality, you can directly access the link: http://finance.bih.nic.in/CFMS/Bihar-CFMS-Employee-and-PayBill-Training-Manual.pdf. Using this manual, employees can access and easily find various options on the CFMS Training Bihar E-Nidhi portal.