Startups in India have proven to be a great idea. The growth of Indian economy has turned the country as the land of great opportunities for a newbie. Startups are soaring in India as the country is facing high rates of unemployment. Many people across the country are quite satisfied with the 9-5 corporate jobs while many people stay refrained from startups in the capital required to invest.
If you have the willpower to start your business, you have many options with low investment. You can select an online business or offline business with your motivation of doing something new! Across the world, you can find many examples of successful startups with low investment. Here we bring the best 10 profitable businesses in India with low investment for 2018.
Top 10 Profitable businesses with low investment in 2018
1. Incense Stick Manufacturing Business
Incense Stick Manufacturing could be a valuable business in India with a small investment. Incense Stick or popularly known as Agarbati get used in almost every Indian household. It requires low investment, and you can earn 30% per annum on the investment, and the net profit could be 7%.
It is an export-oriented business and requires low-level technology. Setting up an Incense Stick Manufacturing company is indeed a profitable business in India. You can collect the raw materials from Bangalore and Mysore.
2. A Shoe Wash Company
The popularity of Trendy Sneakers has grown in India. Traditionally, people cleaned their shoes by self, but the material quality differs now. The sneakers can't get cleaned Using detergents. Certain chemicals get used to maintaining the sneakers properly.
If you have the knowledge of using chemicals and have relevant marketing skills, establishing a Shoe Wash Company could be profitable. It requires an investment of 2-3 lakhs, and you can obtain a profit of 40%.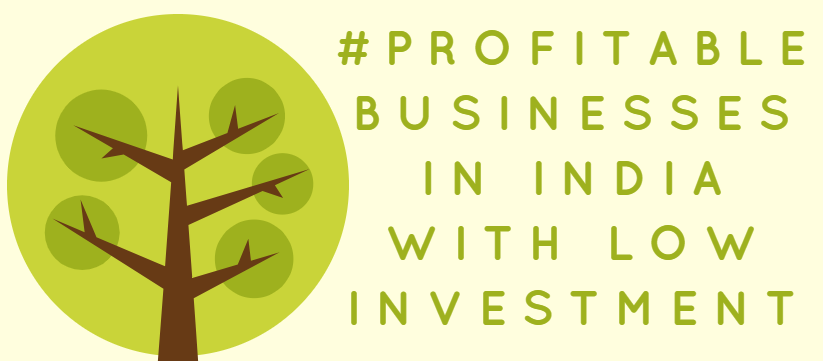 3. Bus Service Portal
Buses are a popular mode of public transportation in India. It would be quite helpful for the passengers to learn about the bus route, schedule, ticket fare and other information from a single source. To design a website offering the data requires an investment of 2 Lakhs and the expected profit could be 10% of the total investment. You can draw more earnings if you allow the passengers to book the bus tickets through the website. Make sure to provide perfect information about the buses!
4. Housekeeping and hospitality services in the Hotels
Every city in India has numerous of hotels, and the industry is growing at a fast pace. Hotel rooms require cleaning services regularly. Thus, housekeeping and hospitality services in the Hotels could be a great initiative. Low investment of 3 Lakhs and excellent communication and management skills are the least requirements. You can earn a gross profit of 20%.
5. Event Management Company
Event Management is one of the soaring businesses in India. A minimum investment of 4 Lakhs and well-organized setup are the requirements for setting up an Event Management Company. Creativity and a dedicated team can help to succeed in the business. Organizing wedding, cultural events, private events or corporate events and many more events are the primary professions in this field. You could earn a gross profit of 15% if managed well!
6. Property Management Services
Property Management could be a profitable business for determined young Indians. A minimum investment of 3 Lakhs could help to draw a profit of 50%. Proper marketing and sales strategy are essential! You must have the ability to handle the responsibility of detailed property documentation which will help the clients.
7. Customized Gifts Company
Exchanging gifts is a tradition in Indian culture! Setting up a business and offering personalized gifts can achieve success. People prefer for unique and attractive gifts, and creativity is essential for this company.With right skills and creativity, you can run the business successfully. With an investment of 1 Lakh, you can draw a profit of 20%. Make sure offer high-quality and impressive products if you aim for a successful business in a long run.
8. Pre-Recruitment Assessment Services
Every company seeks to hire best employees. Setting up a Pre-Recruitment Assessment service, you can help the businesses to employ deserving candidates. A minimal investment of 5 Lakhs is the financial requirement for the startup. You can help the companies in pre-recruitment services by evaluating the candidates with different levels of tests. With excellent marketing skills and sales strategy, you can earn a gross profit of 25%.
9. Temping Services for different industry
Various sectors in India require Manpower services. Temping Services startup could be a great success with an investment of 1 Lakh. You can fulfill the growing requirements of the workforce in households and companies. A useful networking skill is vital to run the business successfully. You can draw a profit of 20% from this business.
10. Online ad services for market growth
The online industry is growing at a fast pace in India. Apart from this, demands for online ads are even increasing. Every business aims to reach maximum audiences and showcase their services/products. You can help these companies with your online ad services. If you have a good knowledge of media planning, networking, and digital marketing you can set up an Online ad service agency with an investment of 1 Lakh. You can earn a profit of 20% with your skills.
Setting up a business doesn't require huge investments! You can set up a small business with low investments. If you have the determination to handle the responsibilities and have skills, you can select any of the profitable businesses and achieve success with your dedication!