Punjab National Bank (पंजाब नेशनल बैंक) is one of the leading players in the banking sector of India. It has a huge network of satisfied customers across the country. The banking sector has become quite advanced adopting the modern technology.
PNB gives high efforts to maintain its consistency in the competitive banking sector. Introducing several advanced and convenient services, it satisfies its customers. Do you have an account with PNB? How do you make balance enquiry?
Visiting the branch, updating the passbook, and visiting the ATM and requesting account Balance Enquiry are traditional methods. The traditional methods of balance enquiry consume time and require effort. Even the advanced Internet Banking services consume time to make the balance enquiry.
How to use the PNB Toll free number for balance Enquiry?
Simply dial 18001802223 from your registered mobile number and make balance inquiry instantly.
Give a missed call to the number or the call will get disconnected automatically after few rings.
18001802223 is a toll free number, and you need not pay any fees to make the balance Enquiry.
You need to dial the number from your registered mobile number.
Within few seconds you will receive an SMS containing the available balance detail of the linked account.
You can also dial another pnb balance enquiry toll free number 0120-2303090 to know current account balance.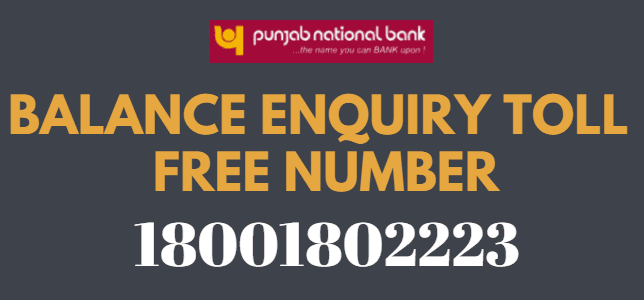 Dialing the PNB toll free number for Balance inquiry is a safe and convenient way to get updated on the available balance. You can avail the services round the clock being at any location. If you have linked the same mobile number with two accounts, you will obtain info about available balance in both accounts.
Important Note: Make sure to get your mobile number registered in PNB before availing the missed call services. Visit the bank and request to activate the mobile number for mobile services. You will receive a notification upon confirmation of the services.