Were you working as staff at Punjab National Bank? Within your service period, you must have come across several modifications in banking services and facilities provided by the bank. PNB not just focuses on providing excellent banking services to its customers!
It also gives high values to its staffs as well as the retirees. If your work period covers 2006 or later period, you must be aware of PNB Parivar or the HRMS Package! PNB introduced HRMS Package for the payroll processing and salary requirements of the bank.
PNB HRMS and the offered services
This system also provides several other useful services. The facilities include attendance, performance appraisal, HR Management Information Management, Employee Selection, Training Management, Employee self-service, leave management and Promotion Process.
This system automatically gathers the data about an employee and generates the pay reports. The bank facilitates the employees to submit leave application online, control over assets and liabilities. The HRMS system offers a flexible framework and provides a plethora of services.
PNB HRMS offers the right to self-serve
Every staff and pensioner must log in to HRMS to avail the facilities and services. If you haven't registered for HRMS, make sure to apply the application to your branch to the officer in charge.
You need to provide your personal and job info including your email ID and mobile number. You will receive the confirmation of activation via message and email. You will receive the unique User ID and Password which is essential to login.
Visit the official Net Banking site of PNB https://www.pnbnet.net.in and click on Click here to login into HRMS.
You will get directed to a new page where you need to enter the User ID and Password in the provided boxes.
Enter Your PF Number and

Password

and click on Sign In button.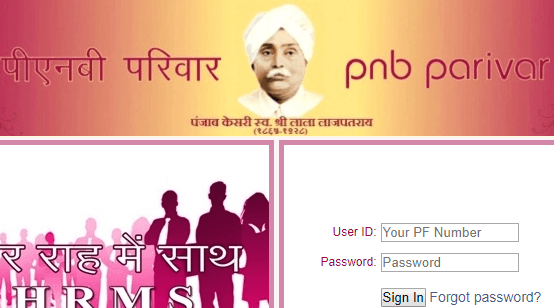 HRMS is a flexible framework introduced by PNB for its staffs and pensioners. Logging in to your account, you can avail the facilities and services. For pensioners, you can track and calculate various deductions and get updated about the pay reports.
For the new staffs, HRMS offers a one-stop platform to access different facilities and administer the development activities. If you have no access to HRMS, confirm it from your branch!
Pensioners login to PNB HRMS
The retirees must change the login password. Log in using your PF number as the User ID and your date of birth in 'ddmmyyyy' format as the Password! Check it if you successfully can log in to the account or you can visit the branch you were working.
HRMS offers excellent retiree self-service. Don't hesitate to make your queries at the bank. You have the right to access the self-serve system and manage your account as required.