The India Post Payments Bank- IPPB formed under the Department of Posts and Ministry of Communication. The Government of India owns 100% equity.
India Post aims to offer advanced banking services and products to leverage the network of the postal department and also ensure the financial inclusion for the account holders.
IPPB will augment the reach including the vast network of 1. 55 lakhs post office across the country.
IBBP strives to offer advanced banking facilities to meet the growing requirements of the customers. You can open a savings account or current account.
You can access services like money transfers, direct benefit transfers, utility and bill payments, merchant and enterprise payments, etc.
You can access the services via IVR, SMS, ATM and Mobile Banking. Using the State-of-the-art technology used by the banks, IPPB will offer the best services.
India Post Payments Bank toll free customer care number
Apart from a wide range of products and services, IBBP gives high concerns to solve the issues faced by the customers actively.
After opening an account if you face any trouble or issue, you can contact India Post Payments Bank Customer Care toll free number.
The toll-free number is 155299 or 18001807980. Dial the number from your mobile number to communicate with the customer care executive.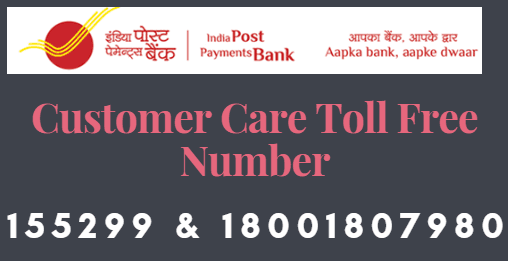 You need to cooperate with the executive to get the right answers to the queries! Save the toll-free number in your phonebook or contact list. You may require dialling the number after you open the account when you face any issues.
You need not pay any charges to IPPB or the network service provider as it is a toll-free number. Make sure to learn about the timing to make the call.
Visit the official site of India Post Payments Bank to collect maximum info before you open an account.