If you require crossing check any sort of Cheque Book issues or new Cheque Book status, now you don't need to waste your time in visiting the SBI branch. SBI has launched the new online facility for the customers so that they may go through the Cheque Book status online. If you are looking for the ways to check SBI Cheque Book status online, then you have reached the appropriate blog post.
Have you applied for a new Cheque Book through internet banking and want to know whether your request is accepted or not?  If yes, then you can do it through the SBI web portal without visiting your SBI branch. Moreover, SBI also makes it convenient for their customers to check the status via SMS if they don't have net banking or mobile banking.
If you have a net banking facility, you can easily make sure whether your SBI bank branch has issued Cheque Book for you or not, here is how?
Here are the ways how to get started to check SBI Cheque Book status online
Step 1: Just scroll the SBI web portal by hitting this URL:  https://retail.onlinesbi.com/retail/login.htm. Enter the username and password, then click the login button.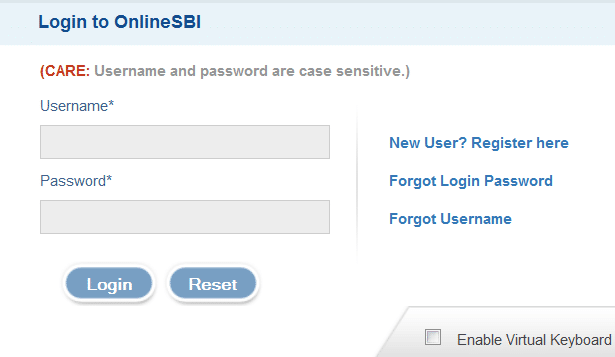 Important Note: If you are new on this website, you need to register for SBI net banking.  If you have already registered user, then you need to go through the login process.
Step 2: Once after the login, you are validated for using SBI online services and click on Request & Enquiries tab. Now search for the 'Cheque Book Request' option and click on it.

Step 3: In the next display window, you can clearly see the History tab with your account number listed below. Click on the Account Number and then hit the Submit button.

That's it. You have done all. Now you can see the Cheque Book request confirmation status with the issuing date, Cheque Book number, and your SBI branch code. It might also happen that you are unable to see any information here.

It means that your Cheque book request is still pending to approval or delayed for some sorts of issues.  You may cross Cheque the status after some days or weeks.  Once your Cheque book request is accepted, it will be displayed here.
You will receive your new Cheque book at your doorstep within 7-8 working days.
Conclusion
So this is how you can check the request confirmation status of your Cheque book at your home comfort. In just a few clicks, you can get the complete information of your request. Not just Cheque book status, you can also use SBI web portal for net banking, mobile banking, and many other online facilities.