Do you have an Aadhaar card? If not yet, then get yourself one now! The Aadhaar card has been used as one of the identification proofs since the year 2010. Ever since the introduction of the Aadhaar card in India, life has become much more comfortable than usual.
People have been becoming modern by being a part of digitalization. Almost everything that you see around in today's world has turned digital. From the birth certificate of the newborn to the old death certificate, everything has got a digital record with the government.
Digitalization of the Aadhaar card is also something meaningful as a part of the modernization. But what happens when you lock yourself out of your e-Aadhaar PDF? Like everything other problem has got a solution in this world, so does this one. How? Read through to find out now!
Is e-Aadhaar Important?
When it comes to the Aadhaar card, everyone becomes cautious because of the importance it holds in the country. You would find the Aadhaar card playing a pivotal role in almost everything in the present day.
Though, there are several people still left who do not have an Aadhaar card. The concept of the e-Aadhaar card is yet beyond their thinking level. Aadhaar card is vital for the following things:
Opening bank accounts in the government and the non-government sectors.
Booking gas for household uses.
Opening your own business in every field.
Building a new house.
Buying a new property.
Getting a license for two-wheelers or four-wheelers.
As an identification proof before joining any government or private office.
Joining educational institutes.
Living on rents.
As an identification proof in a hotel stay.
For any legal certification.
Visiting other states for travelling purposes.
There are several more things where you might find it challenging to make it up without an Aaadhaar card. But it is not always possible to carry your Aadhaar card around wherever you go.
People even end up losing their identification proof at ease. But do you have any other solution than taking the card around? Yes! The only answer is a digital Aadhaar card or an e-Aadhaar card.
If you ever lose your original document, you can quickly recover it via digitalization with the necessary password. But have you ever imagined the situation when you would end up forgetting your password? There are answers to every problem in the 21st century. Take a look at the following points to find out.
How to Open e-Aadhaar PDF Password?
You can go through the following points to open your e-Aadhaar PDF:
Step 1: Go to the official page of the unique identification authority of India and Go to the Aadhaar card download section.
Step 2: You can download e Aadhar pdf bye entering Aadhar number or Enrolment id or Virtual ID and OTP sent to your registered mobile number.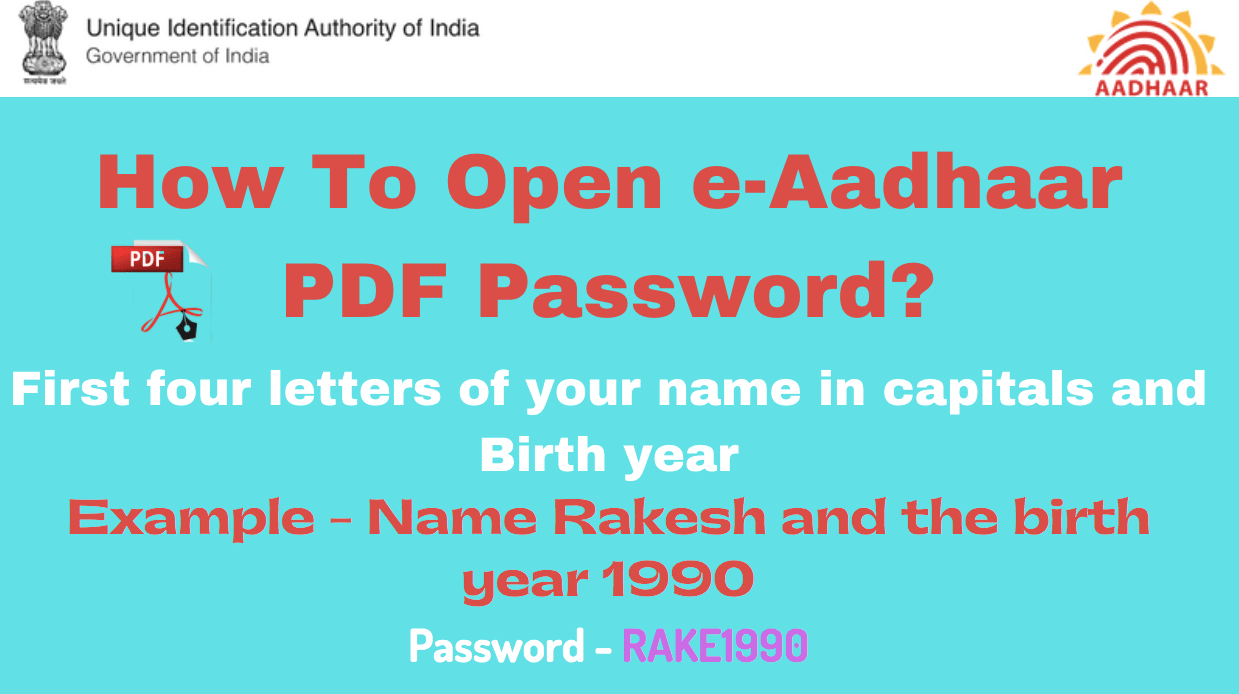 Step 3: You would get a locked PDF. It would ask for your password.
Step 4: Select the password section, write the first four letters of your name on the Aadhaar card in capitals, and add your birth year after the letters as it is on the Aadhaar card.
You would find yourself logged in to the PDF of the e-Aadhaar card in no time.
Example to know PDF password:

Name: MUKESH VERMA
Year of Birth: 1970
Password: MUKE1970
| Services | Contact |
| --- | --- |
| Toll-free Number | 1947 |
| Non-Toll free number | 011 – 23478653 |
| Email | [email protected] |
| Head Office | Government of India Bangla Sahib Rd, Behind Kali Mandir, Gole Market, New Delhi – 110001 |
The procedure involved in cracking the password of your e-Aadhaar PDF is described above. You can take a look to discover now!