Federal Bank is a private sector bank with 1272 branches across India and became a scheduled commercial bank on July 20, 1970, under the act of Second Scheduled of Reserve Bank of India 1934. Federal Bank has its official website to serve its customers potentially and make banking easier. The customers of Federal Bank have the facilities like Net Banking, Online Trading, personal and NRI saving accounts opening, etc on its website.
Other than this, there are more services people can check out. Federal Bank is a faster-growing bank and currently has over 10 million customers, including 1.5 million NRI customers. People choose banks to save their money and care to take any loan for purposes. Also, people choose to rent a locker to protect their vital documents, whatever will come in need in the future.
The Benefits of Having a Locker in Bank
The bank always gives us a secure facility for our valuables. A locker is a form of security inside the bank itself. Having a bank locker is a hassle-free system for customers. This year, from January 1, the Reserve Bank of India announced some rules for every bank that the bank will be responsible for any loss that may have happened to the lockers from the bank's negligence for any incidents like robbery or burglary, fire, building collapse, etc.
Thus, the responsible bank has to pay for any of the incidents mentioned above happen, and in case of any loss of the locker valuables. We are mentioning the benefits of having a bank locker below:
A bank locker charge differs according to the size and location of the branch.
You can choose lockers from small, medium, to large sizes as per your need.
The Federal bank provides a free and easy payment method for locker rent by your debit card. You have to authorize your debit card with your locker facility.
There is no particular day to access the locker. So, you can access any banking days you want to check your rented Federal Bank locker.
The Federal Bank has provided a facility to its customers to nominate the deposit locker with an individual or joint hirer to facilitate the property release when needed to the nominee holder.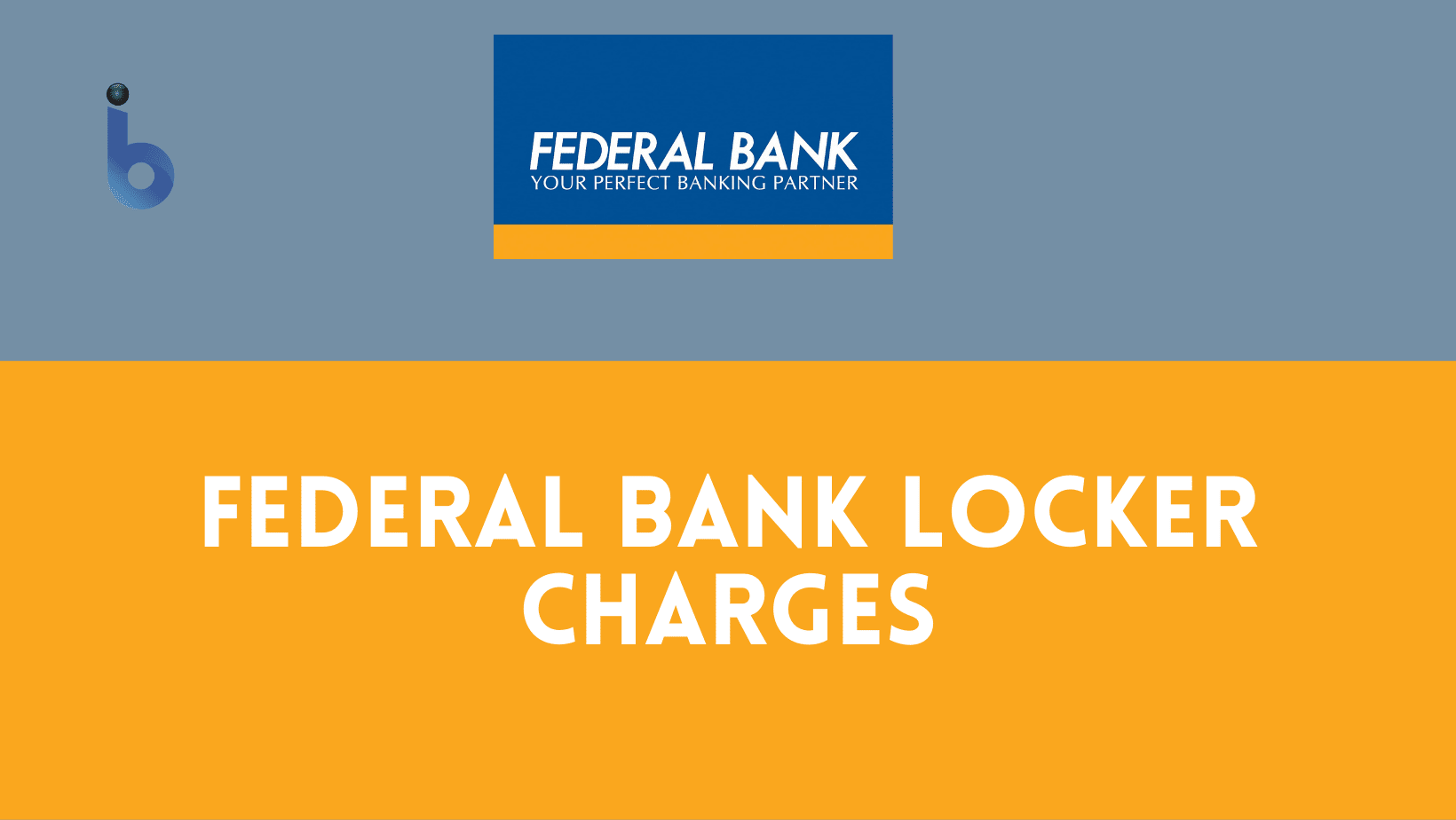 Documents in need for locker opening
There are some vital documents that will be in need for the Federal Bank locker opening. Check out the below:
Your current or savings account details.
KYC documents you have with your account.
Required security deposit for the locker rent in the Federal Bank.
Your passport-size photos.
Locker agreements for the locker rent.
These are the documents you will need at the time of the bank locker rent. You can be eligible to open the locker individually or jointly, even two or more people accordingly. Trusts, partnership firms, fiduciaries, and limited companies can avail of this facility.
Federal Bank Locker Charges
If you want to protect your valuables with a safe deposit locker, Federal Bank is the perfect bank to choose. Apart from the size, you can also select dimensions according to your need for the locker in Federal Bank. Your rent will be paid from the deposit account you have with Federal Bank. The charges for Federal Bank lockers are below.
Firstly, here are the Metro or Urban area branch rent charges.
A locker for size small with the rent of 2750/- per annum, and the key deposit will be 18250/-. Medium-size locker rent is 3750/- per annum, and the key deposit will be 21250/-. The Large size locker rent is 7000/- per annum, and the key deposit will be 31000/-.
After these, you need to know the rent charges for the Rural or Semi-Urban area branches.
The small locker rent charges are 1800/- per annum, and the key deposit will be 15400/-. The medium locker rent charges are 3100/- per annum, and the key deposit will be 19300/-. Lastly, the large-size locker rent charges are 5500/- per annum, and the key deposit will be 26500/-.
Here, Federal Bank states a condition for all type of customer who has their locker. Locker visits 20 times per year will be free. But, beyond the limit will charge 100 per visit.
Locker Size
Locker Rent Charges
Key Deposit
Small
Metro/Urban Branches – Rs. 2750
Rural/Semi Urban Branches – Rs. 1800
Metro/Urban Branches – Rs. 18250
Rural/Semi Urban Branche – Rs. 15400
Medium
Metro/Urban Branches – Rs. 3750
Rural/Semi Urban Branche – Rs. 3100
Metro/Urban Branches – Rs. 21250
Rural/Semi Urban Branche – Rs. 19300
Large
Metro/Urban Branches – Rs. 7000
Rural/Semi Urban Branches – Rs. 5500
Metro/Urban Branches – Rs. 31000
Rural/Semi Urban Branche – Rs. 26500
Locker Visit Charges
| Free Limits | After Limits |
| --- | --- |
| 20 visits free per year |  Rs. 100 per visit |
Last Updated: 1 April 2023
Source: https://www.federalbank.co.in/documents/10180/81307/Service+charges+and+fees+wef+01st+O[%E2%80%A6]2.pdf/fbfe181e-4e94-2e4f-6a3a-271fc45cf3ef?t=1661780513338
Conclusion
Federal Bank is the top most popular bank for your hustle-free banking. To book a locker, you have to visit the Federal Bank branch. Apart from the three sizes, Federal Bank has more sizes as per the locker dimensions. You can choose whatever size you want according to your need.
If somehow you lost the key to your locker, you have to pay 1000/- to issue a duplicate key from the bank. At the time of locker surrender, you will receive a refund proportionately every month. For any more queries, please contact the Federal Bank toll-free number given on its official website.