Au Bank started in the year 1996 as Au Financiers (India) Limited formerly and thoroughly progressed by helping more than 5 lac customers. This financiers company transformed into AU Small Finance Bank in April 2017. Au Small Finance Bank is now a scheduled commercial bank that is helping its customers with various offers of banking.
It is using modern technologies to serve better banking facilities to its customers and provide them with all banking solutions. This bank is far more secure to invest in for the future. If you have an account with Au Small Finance Bank, you know the facilities they provide like savings account opening, fixed deposit, NETC Fastag, and many more.
AU Small Finance Bank balance Check and criteria
With an account in the Au Small Finance Bank, you want to know the system to check your account balance. Au provides various methods to enquire about your bank balance. The easiest way to check the balance is using AU Small Finance Bank's missed call to 18001202586. After you give a missed call to this number, you will receive a notification to your number with all the bank account details, including your last balance inquiry.
Apart from this, for net banking balance, you also can check your balance via AU Bank 0101 app and internet banking facility. All you need to register your account with this facility for the service. Here we are mentioning the criteria for the facility of missed call service.
At first, you should be an account holder in AU Small Finance Bank.
Your mobile number must register with the account, from which one you will give a missed call.
And finally, the number must be active to receive the checked balance as SMS.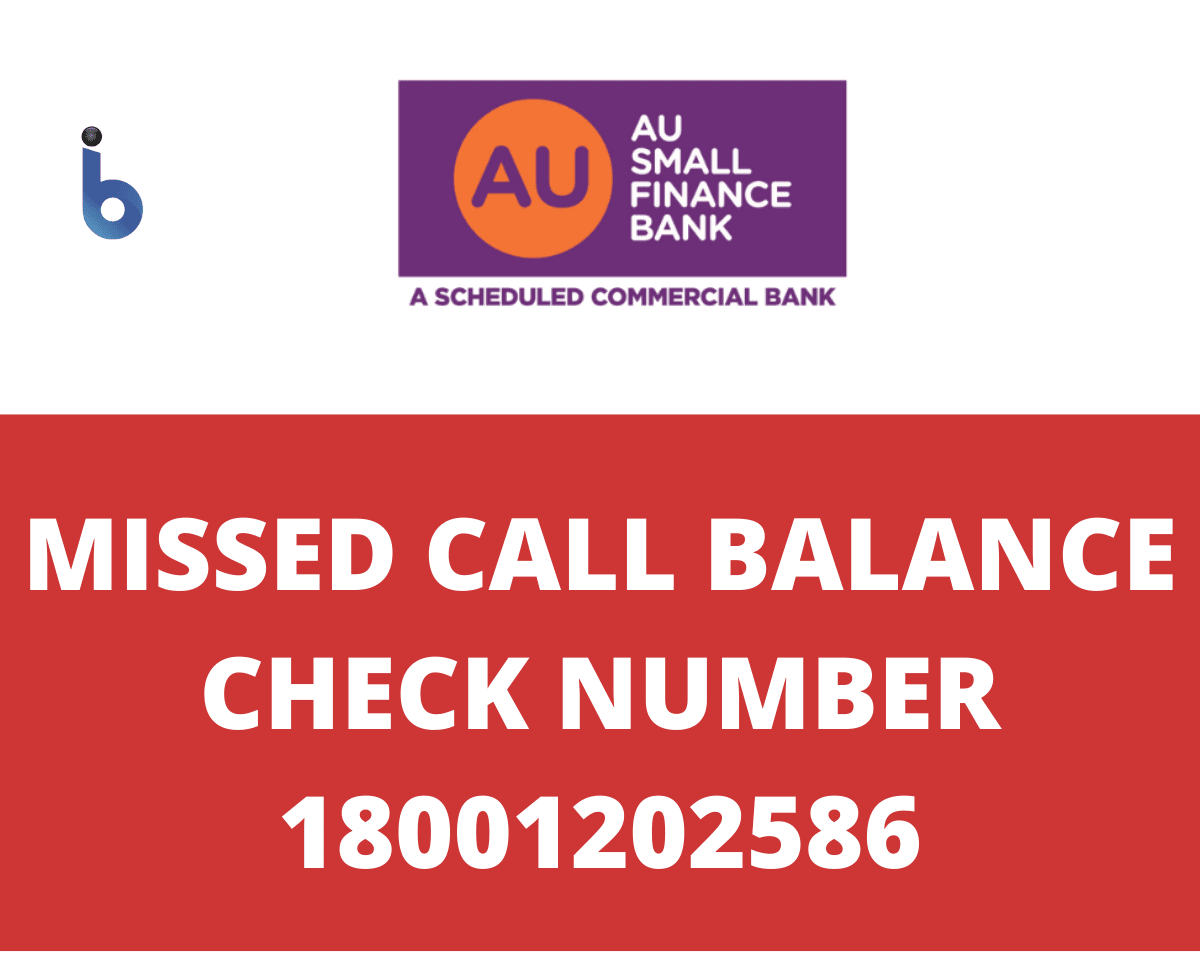 You can get the last 5 transaction details through SMS just by giving a missed call to the service provider number  18001212586 in AU Bank from your registered mobile number. In an alternative way, you can also get your account balance via calling AU Bank's customer care.
The Features of AU Missed Call Service
Au Small Finance Bank has some features that give you the best service with the bank balance check. Here, you can get an idea of the service availability.
The Au Small Finance Bank misser call service number is available 24/7.
There's no need to have any internet facility.
You can call from any device you want. There's no restriction for a specific mobile device.
You can avail any services without any cost with the missed call facility.
With the balance, you will get the last 5 transaction details as well.
AU Small Finance Bank Services
Contact
 Missed call Balance Check number
18001202586
Missed Call Mini Statement Check Number
18001212586
Fastag Balance Check Number
9594744440
Toll-Free Number
180012001200
18002666677
Non-Toll Free Number
186012001200
Email
[email protected]
Conclusion
Au Small Finance Bank is a private sector bank that uses the latest technologies to offer its customers high-end banking solutions. In the year 2015, during the RBI's announcement of the Small Finance Bank license guidelines, Au Bank had its strong footholds and proven track records that made them one of the 10 applicants to achieve the coveted license. AU Small Finance Bank has always focused on the solutions to its customer's problems.
From a finance company to a bank, AU has come a long way. The way customers can get their information regarding bank balance likewise, you also can get the balance inquiry to your WhatsApp number. It's easy and convenient banking services through various channels.
To get the balance inquiry and start to activate the banking facility, give a missed call to Au Bank's WhatsApp number +91-8383838399. We hope this article will help you with your query and you get some problem-solving ideas with it.
For more, you can contact AU Small Finance Bank's customer care toll-free number 180012001200/18002666677. Thank You.