Paytm Payments Bank is a platform to make digital e-payments for all those people who want instant money transfers to others by using the Paytm wallet, which offers a highly secure digital account 24*7 to its users. It sends various notifications to its customers' registered mobile numbers without charging them for any cost and fees and issues a virtual debit card to them. From time to time, it also sends details of the money transactions made through Paytm.
It provides a Real-time Passbook, where you can easily access everything, anywhere and anytime, as you can with a regular bank equipped with digital banking services. But a difference is that Paytm Payments bank will not provide you with any credit cards, and they will not offer you to give away any amount for a loan.
Paytm registered users will have to link the Paytm app with their bank account to perform UPI money transfers. You can easily view and check or download your transaction details and different types of account settlement report in a Web Dashboard or Business App by following simple instructions for downloading a Paytm Bank account statement.
If you want to be informed about opening a Paytm Bank Statement PDF password, then rest assured for the same, because you can very quickly learn an authentic and professional process by following some simple instructions for your guidance.
How To View Your Paytm Bank Statement PDF?
If you require to view your Paytm Payment Bank Statement, then you will have to follow some simple instructions as given below, such as:
Step 1: Open your Paytm account, Under 'My Paytm' click on the Paytm Bank option and enter your passcode.
Step 2: Now, a new page will open on your mobile screen with the title of Paytm Payments Bank go to the upper right corner of the screen and click on the Logo there.
Step 3: Again, a new page will open. Go to the bottom side of the screen and click on the Downloads, Account Statement & Certificates and click on the Bank A/C Statement option.
Step 4: Now, a new page will open. Click on Request Statement, Please Select Time Period, and Select your required time period.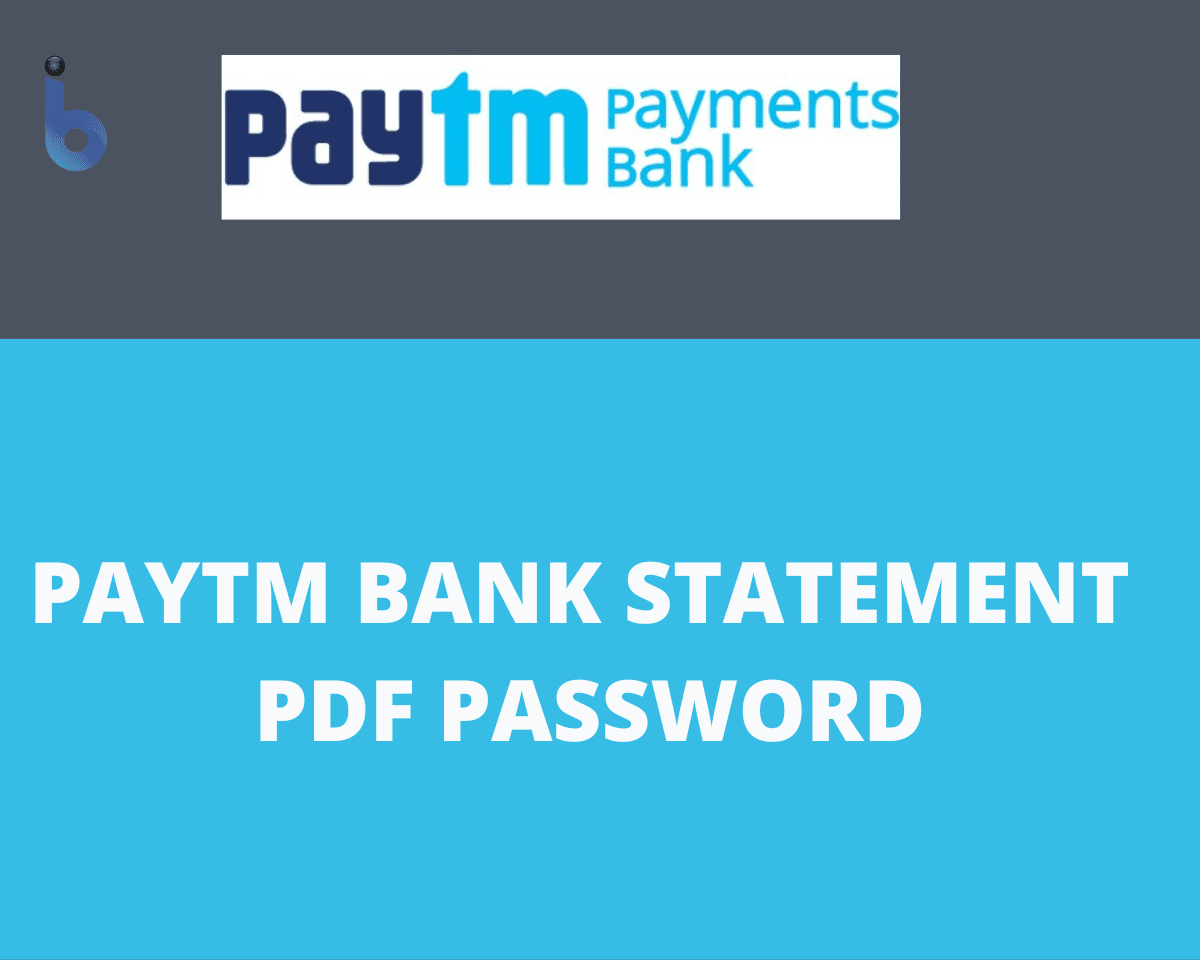 For example: suppose you select Custom Date and enter 05/07/2022 for the Start Date and 22/07/2022 for the End Date, then click on the Get on email or Get on SMS option. For example, suppose you click on the Get on SMS option and click on Confirm button.
Now, you will receive a message on your screen stating, "You will receive an SMS with the URL to your…". Click on the OK GOT IT button.
Step 5: Now, you will receive a message on your mobile regarding downloading your statement. open this message and click on the link given with the message. Now, you will see Paytm Account Statement Download Complete on your mobile screen.
How To Open Paytm Bank Statement PDF Password?
You will have to enter the password, which is a twelve-digit number. And that is 91, followed by your Paytm mobile number. For example, suppose your mobile number is 7985292726. Then your password will be 917985292726. Enter your password and click on the OK button.
You will see your Paytm Bank accounts statement opened instantly before you.
| Paytm Number | Paytm Statement Password |
| --- | --- |
| 9736486726 | 919736486726 |
| 7846738947 | 917846738947 |
| 9467251206 | 919467251206 |
Conclusion
This way, by following the instructions mentioned above for guidance about how to open a Paytm Payemnts Bank Statement PDF password, you can now easily open, view, check, and download your required statement. However, Paytm Payments' bank functions are similar to any other regular bank.
But as far as Paytm is concerned, everything here is occurring in a virtual form. If you don't want to use your debit card to add money to your Paytm wallet, you can still do it by following some simple steps. Moreover, you can easily make payments for your bills and book tickets using Paytm in real time.