State Bank of India (or SBI) is one of the largest public sector money lenders in India. This bank has recently launched its WhatsApp Banking services for its customers so that they may use WhatsApp to access some fabulous banking services from the SBI bank.
These services may be convenient for a number of SBI customers for the reason that they may not need to experience any burden and fatigue to download the SBI YONO app or visit an ATM.
If you have an account with the SBI bank and are using WhatsApp, then you should know how to use the SBI WhatsApp number for balance enquiry.
SBI WhatsApp Number to Check the Balance
If you are an SBI bank customer using WhatsApp on your mobile phone, and you have decided to avail of its fantastic and convenient banking facilities provided by SBI Whatsapp banking so that you may get your transaction details and account balance.
Still, suppose you need clarification and want to know the way to use the SBI Bank WhatsApp number to check your available account balance. In that case, we can assure you that we are going to provide you with the relevant facts, important information, and complete knowledge to satisfy your queries and vanish your doubts in this regard.
Please go through this post right till the end of this article. By following some simple and easy steps, you will be able to understand how to use the SBI balance check WhatsApp number, such as:
You should know that you can just make use of your mobile phone to scan the QR and experience the convenience of SBI Whatsapp banking services to provide their customers with various facilities such as:
Getting your real-time bank account balance enquiry, Mini-Statement, Pension slip service, Chequebook request, and cheque status enquiry facility, Location of Bank's ATMs and Branches,  Home loans, Car loans, Gold loans, Personal loans, Educational loans,  Savings Account, Recurring deposit, and Term deposit, approved loan queries, such as Personal loan, Car loan, Two wheeler loan, and so on.
Mobile Number registration for WhatsApp banking
You should know that you must first register for the SBI Whatsapp banking service. You can do it by sending a text message to them, such as you should type "Hello" or "Hi" through your WhatsApp Number +919022690226 or you can respond to the message you have earlier received on WhatsApp after signing up for the SBI Whatsapp banking service. You should then follow the instructions given by the Chat-Bot.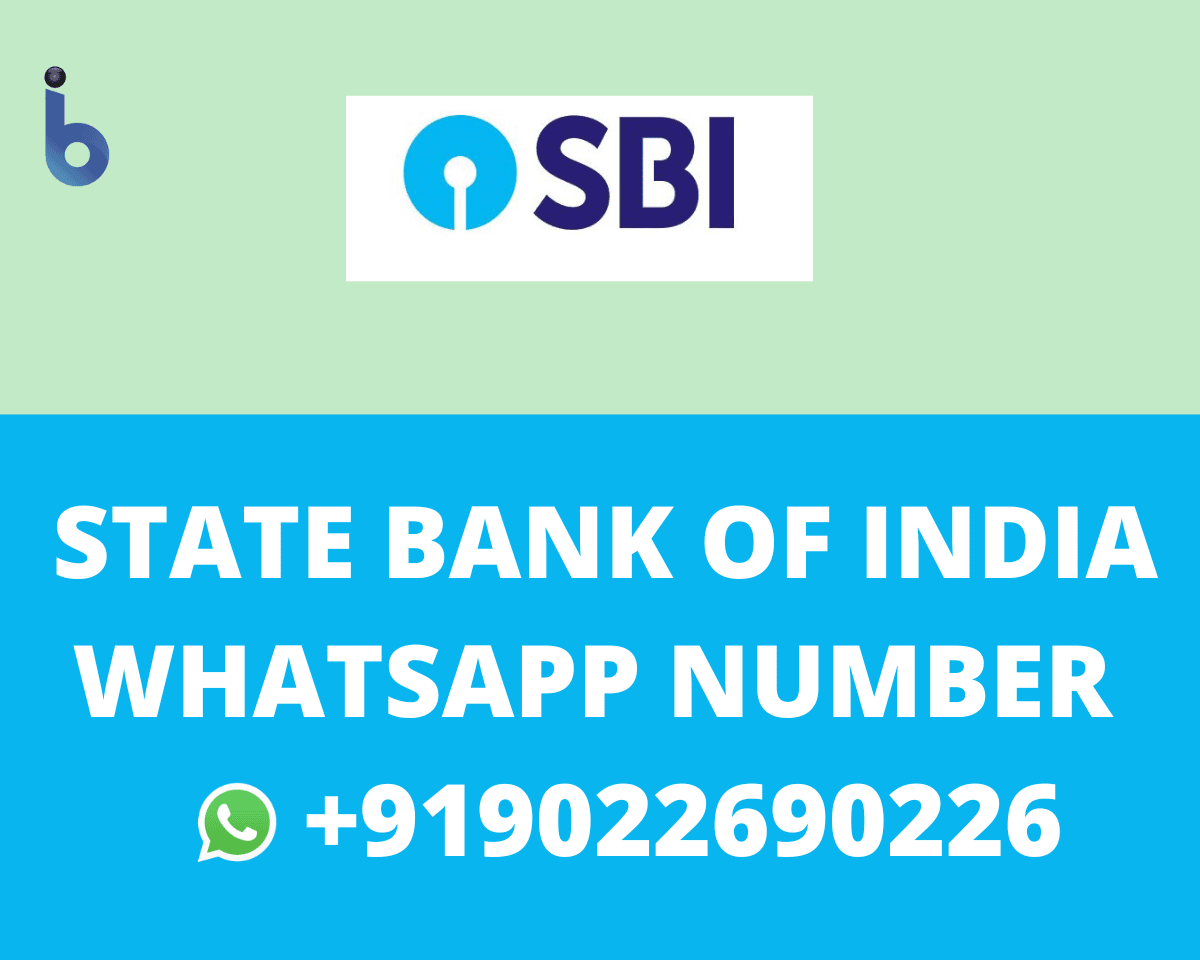 You have another option to register for the SBI Whatsapp banking service. You can also send an SMS, such as: "WAREG ACCOUNT NUMBER" to +917208933148 from your registered mobile number with SBI bank. After that, you must follow the below-given simple and easy steps for a seamless process.
You should know that after your registration is successfully completed, then a confirmation message is sent to your Whatsapp account linked to your registered mobile number.
| Services | Number |
| --- | --- |
| SBI Whatsapp Banking Number | +919022690226 |
| SBI Whatsapp Banking Registration Number | Send "WAREG ACCOUNT NUMBER" to +917208933148 |
| SBI Credit Card Whatsapp Number | 9004022022 |
Steps to Check SBI Account Balance using WhatsApp number
After successful registration for Whatsapp banking, send a 'hi' message to the SBI WhatsApp Helpline number. Now you will get two options: Get Balance and Get Mini Statement.
Click on the 'Get balance' option. Immediately, your account balance information will be sent in reply from SBI.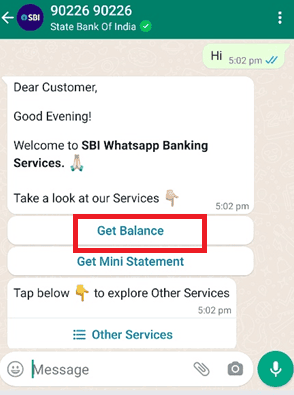 Similarly, you should know that you can click on other services to avail of, like, mini statement details, Pension slips, or deregistration from WhatsApp Banking options.
You should also know that you can receive your account balance or a mini statement detailing the past five transactions as you like. In addition, you are given different options from the SBI bank for your selection as required.
Additionally, you can easily opt for the Opt-Out option to discontinue whenever you think you do not wish to use SBI WhatsApp Banking anymore. So this way, you can quickly learn how to use the SBI WhatsApp no. to check your balance and get started with your WhatsApp Banking services seamlessly.
Conclusion
With the advent of SBI's WhatsApp Banking services, account holders can now get complete information on their transactions. Moreover, we believe that in this article, we have provided you with the best knowledge and necessary information to clear your serious doubts and solve your problem regarding the SBI WhatsApp banking number to check your account balance.
So to conclude, we hope that after reading this post, you will now have learned to do the needful in this regard beyond any doubt.