People know mobile number links to their Ids, and any legal documents are beneficial moreover important. In the same way, mobile number validation in CVLKRA is necessary. CVL is CDSL Ventures Limited registered as a KRA(KYC Registration Agency) with SEBI. Therefore, mobile number validation with CVL KRA will help get all notifications anytime changes may happen.
Besides, every time a KYC update or change occurs, people have to go through some tedious process to get KYC details. Thus, the mobile number or email id registered with CVL KRA will help the process be easy. We know, being a trader, you want to know about the method to validate your mobile number with CVL KRA. So we bring you the answer to your query.
The Importance of information sent by CVLKRA through SMS or Email For KYC
The SMS and Email are sent to the existing as well as new clients to inform them that the KYC has been successfully registered with CVLKRA. According to SEBI guidelines, the KYC Registration Agency(KRA) is obligatory to validate clients' KYC details as stated by the records. The importance of validating mobile numbers and email ids with CVL KRA is to take action by clients for their KYC.
There are numerous KYC registration agencies, and CVL is amongst them that provides KYC and all KYC-related services for stock brokers, fund houses, and all other agencies complaint with SEBI. And this CVL KRA made the validation of the mobile number or email id required to form the notification significant.
Steps to Validate Mobile Number in CVLKRA
You already know that SEBI guidelines declared that mobile number validation by CVL KRA is necessary, and the KYC registration agency helps to know if any changes occur in your KYC, like email id, bank account details, or address details. Now, since you are here to learn about the method of mobile number validation with CVL KRA, keep reading.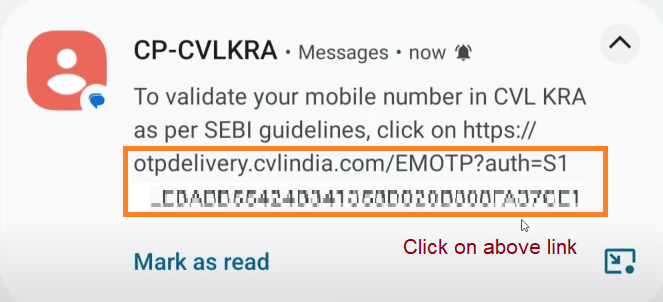 CVLKRA sends sms notifications with a validation link to every user. Open sms sent by CP-CVLKRA and click the validation link. Your mobile number will be validated successfully.
Steps to Check Mobile Number validation status in CVLKRA
Step 1: Firstly, open a browser at your convenience and search for CVL KRA. It's your KYC service store owned by CDSL Ventures Limited. Here, you can see your KYC-related details along with the registration agency website of your KYC. If your mobile number is registered with CVL KRA, you'll get a notification through SMS from CVL KRA.
Now, click on the first option that came after the search. It's CVL KRA's official website. If you want to open a new Demat account again or buy any mutual fund, the new Demat account will fetch all your KYC details from your central KYC, along with the KYC Registration Agency name.
Important note: Suppose you registered your KYC with CVL KRA. You can check your KYC details from any agency like BSE KRA, Camps KRA, or NDML KRA, apart from your central KYC agency.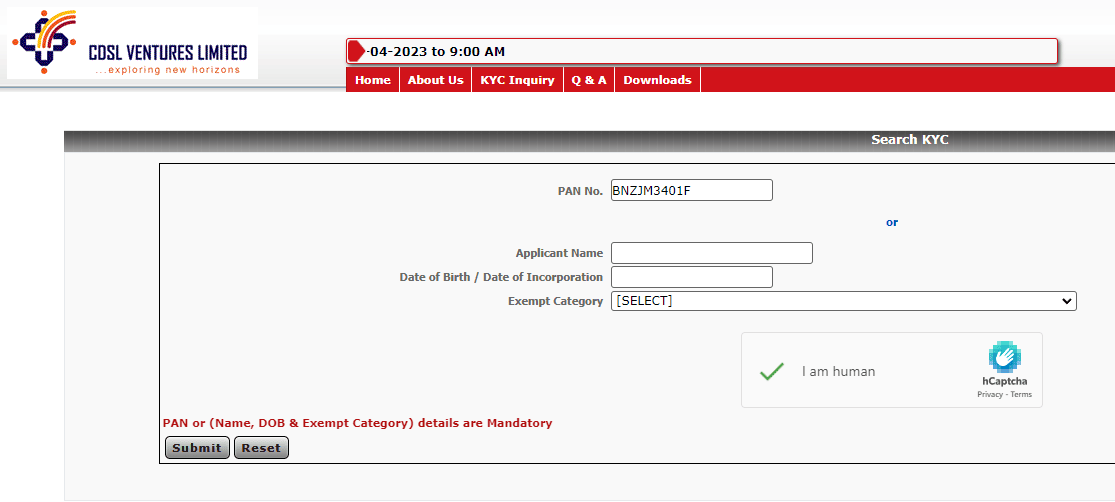 Step 2: Now, once you click on the CVL KRA website, you will notice the KYC Inquiry icon in red right above the KYC write-up and About CVL. Click on the icon, and you'll get an interface with some information required regarding your KYC. Put your PAN number in the blank space, and click the I am Human option to confirm. Instead Pan number, you can also enter personal details. Finally, click on the Submit option.
CDSL Ventures Limited will show you your KYC details, like when you registered your KYC (KYC Date), the KYC Status, KYC Modify Date, and even the mail id and mobile number linked with your KYC. Everything you will see here is associated with your KYC. Every time any updation happens in your KYC, you will get an SMS or Mail from your central KYC agency.
Conclusion
Earlier, people could comfortably complete their KYC process with relevant documents only by opening a Demat account with any SEBI intermediaries. But later, it revealed it caused multiple duplications of one KYC record and was used in different platforms. The customer ought to experience so many tedious processes for KYC with each entity separately only because of the duplications.
So, SEBI came up with the idea of the KRA (KYC Registration Agency) system concerning comparability and removing duplications. This agency helps with customers' KYC process and the tedious procedure. But validating your mobile number or email id in CVL KRA is utterly manageable. To complete the validation, you should finish the steps mentioned here.