CDSL Ventures Limited(CVL) is a platform for a KYC Registration Agency(KRA). People with a Demat Account will be helpful with KYC-related services by CVL KRA. Mostly, fund houses, stock brokers, and other agencies compliant with SEBI need to take care of clients' KYC and KYC-related services through the KYC Registration Agencies. Thus, if you are also one of the clients, you should also check your KYC status to confirm its regularity.
You can check your KYC online on CVL KRA's official website. The KYC verification process has become obligatory in financial institutions like banks, investment institutions, and asset management firms. If you don't get how you'll check your KYC status on the CVL KRA website, you have come to the right place. We are here to help you with your hurdles to turn into ease.
Steps to Check CVL KRA KYC Status Online
We know you are here for the step-by-step methods to get your CVL KRA KYC status. Here, you should know that even a few years ago, different financial institutions had their personal KYC verification processes. Afterward, the Securities and Exchange Board of India(SEBI) brought a new generation KYC process with KYC Registration Agencies or KRAs to improve the process and make it invariable. This unique style of KYC registration is to protect customers' and investors' data. Now, to know the steps, keep reading till the end.
Step 1: Start by opening any browser as per your consent. Google Chrome is the best here. Next, search for the CVL KRA, and click on the very first option will come. It is the CVL KRA official website https://www.cvlkra.com.

In this new interface, you'll see an option 'KYC Inquiry' with the red border line. Click on the same and step to the next page.
Step 2: Here, put down your PAN Card number in the given box, and click the tick mark on the box beside the I am Human option. Click on the Submit button.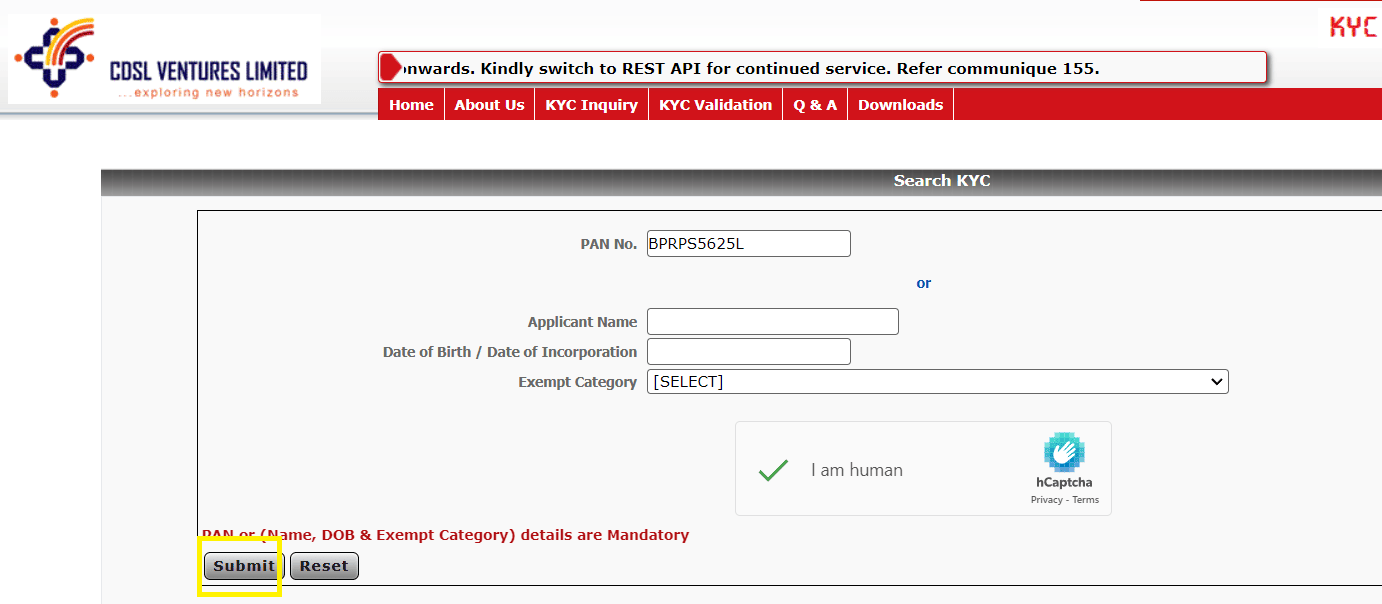 Note: Instead of Pan Number, you can also put your name, date of birth, and category for KYC Enquiry.
Step 3: It will bring you to the next page, which will display your KYC details. You can see all your KYC details from starting till the current status.

Benefits of CVL KRA KYC Status
The investors open their KYC right with the account in the stock broking company or mutual fund. The KYC process is ordered by law to behave in a certain way to assist all financial institutions with identity evidence along with other credentials. The Know Your Customer(KYC) is a mandatory process required by country authorities to ensure that the investors are genuine, as they affirm.
Especially the KYC process prevents the financing of terrorist activities to the customer in those financial institutions to secure all economic data and restore the same properly. The benefits that KYC gives to its clients are underneath.
Fend off frauds and scammers in terms of hiding identity.
Lead the way to prosper the stability and investment to make a financial framework that can be trustworthy.
Prevent anti-social activities, including money laundering.
Help the moneylenders to perform risk assessments by recognizing the history of previous economic lendings and owned assets.
These are the benefits one can get with KYC with their commercial institutions.
Conclusion
If you are an investor in any of the stock broking companies or a mutual fund and have not yet registered your KYC with the CVL KRA, you must do it straight away. To register your KYC, the documents you need are identity proof like Pan Card, Driving Licence, Passbook, and Adhaar Card, and address proof like Voter Id, Ration Card, Electricity Bill, etc.
Here, an intermediary helps to progress the registration process in CVL KRA. CVL is one unique amongst the five other agencies that offer KYC services. Therefore, CVL KRA is an effortless platform to check one's KYC status. This article will solve your inquiry regarding checking your CVL KRA KYC status online.