Bank of America is a very famous, prominent, and reliable Bank among the customers. It is providing many facilities to the individuals. Bank of America has a goal to assist in making the financial lives convenient and better through the connection of communities and clients to that resource they require to get success. They are delivering it through a perfect focus on the responsible growth along with social, environmental, and governance (ESG) leadership.
Bank of America is managing growth, developing communities, creating jobs, fostering economic mobility along with addressing biggest challenges of the society while managing the risk with providing the return to their shareholders and clients.
Strategy
Bank of America has a strong and effective business model. It is delivering a long-term value and significance to their shareholders. The forward path implies the responsible growth with others.
Their customer base involves three groups:
People
Companies
Institutional Investors
In the U.S. they serve all these three groups (of customers), and in other places (outside of U.S.), they serve institutional investors and larger companies. This specific business model is simplifying their operations and reducing their risk profile.
They also have several Investments and Learning facilities along with Small Business, Wealth Management, Business & Institution facilities.
Various range of credit cards offered by Bank of America are: Bank of America Cash Rewards, Bank of America Travel Rewards, BankAmericard, Bank of America, Premium Rewards, World Wildlife Fund, Alaska Airlines Visa Signature, U.S. Pride, Spirit Airlines, Allegiant World Mastercard, Amtrak Guest Rewards, Norwegian Cruise Line, Royal Caribbean, Virgin Atlantic, Asiana Visa Signature, Celebrity Cruises and BankAmericard for Students.
If you have applied for one of above credit cards and want to check your application status online, then this post is for you.
Steps to Check Bank of America Credit Card Application
Step 1: For checking Bank of America credit card application status online, you have to go to Bank of America website link https://secure.bankofamerica.com/apply-credit-cards/public/application-status.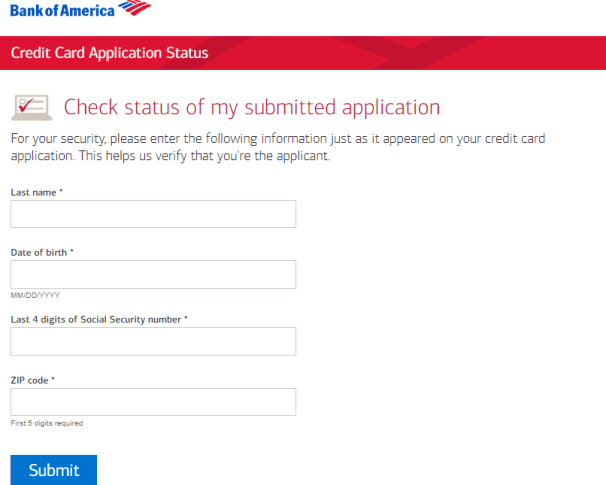 Step 2: Now provide the necessary information as per the credit card application, after that press the "Submit" button to get details.
You have to enter the following particulars:
Last name
Date of Birth
Last four digits of your SSN
Zip code
For Personal Cards, you can call on 800-545-7899 (Press 3) or 866-224-8555, for Business Cards call on 866-695-6598 (Credit Department, open Mon-Fri 8am-7pm EST). For more information, you can tweet to @BofA_Help.
CALLING BANK OF AMERICA
In case the Bank of America Credit Card Application Status Center is not showing an approved status, you can contact at the numbers mentioned above for speaking with the credit analyst. They can approve some applicant over the call. However, you have to be prepared for answering some questions.