Bank of Baroda (or BOB) offers bank statements of accounts to its customers. BOB customers can generate online e-statements for a specific period of time, which are sent to their registered email addresses. However, as another option to get it, they can also visit their BOB home branch to make a request for the bank statement for a specific time frame, roughly a month, quarter, or 6 months.
This article walks you through the detailed information on what is the bank statement, its benefits, and its significance. It helps and guides you through the most straightforward and quick process of how to generate and download the 6 Month bank statement for a Bank Of Baroda account. Stay tuned. Let's start without wasting any time.
What is Bank Statement And Its Features
Following are the significant features, benefits, and highlights of the bank statements :
A bank statement is a history or a detailed list of all transactions made in a bank account over a specific time frame, such as on a monthly or quarterly basis or anything else which includes all the deposits, charges, withdrawals, opening account balance, closing account balance, and the interest earned during that period of time.
Bank customers can review their bank statements to monitor their accounts for any fraudulent charges or mistakes.
A bank statement helps keep track of the customers' finances and expenses, recognize spending habits, know and avoid unnecessary costs, verify their bank accounts regularly to help reduce overdraft fees, etc.
Steps to Download 6 Months Bank Statement in Bank Of Baroda Account
Suppose you are a customer of Bank of Baroda having a Savings Bank Account or a Current Account with the bank and for some reason, you may need to get 6 month bank statement of your account. For this, just follow the step-by-step instructions and easy guidance as stated hereunder:
Step 1. Open the BOB World application on your mobile phone. Type your login PIN to log in to this app.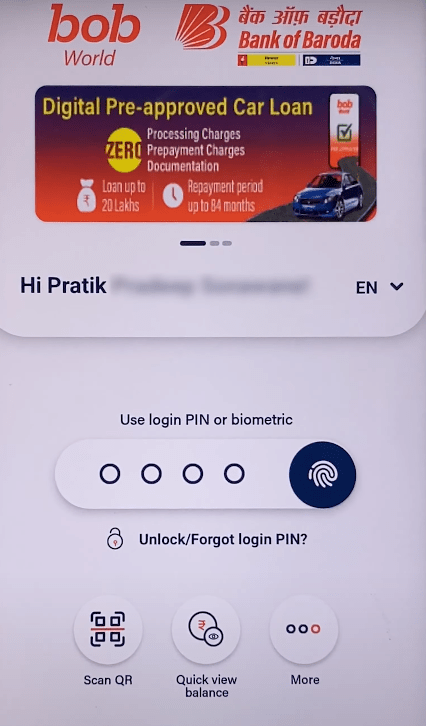 Step 2. Select and click on the "Request services" option under the "My BOB" title on a fresh interface.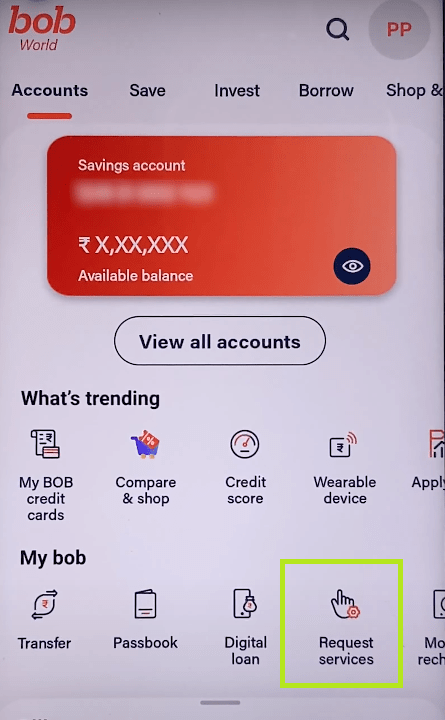 Step 3. Select and click on the "Account statement" option under the "Certificate & statement" title.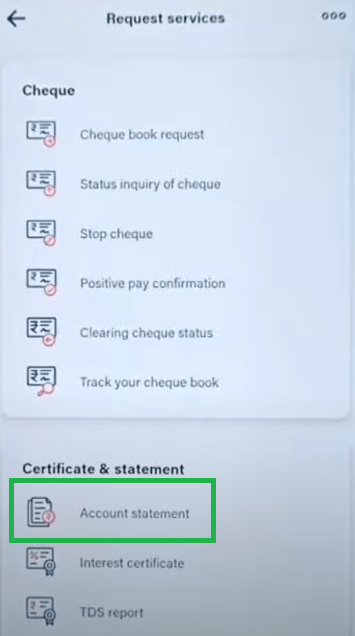 Step 4. Select and click on your account number on a fresh page. Enter the dates of the time period for which you want to know your bank statement.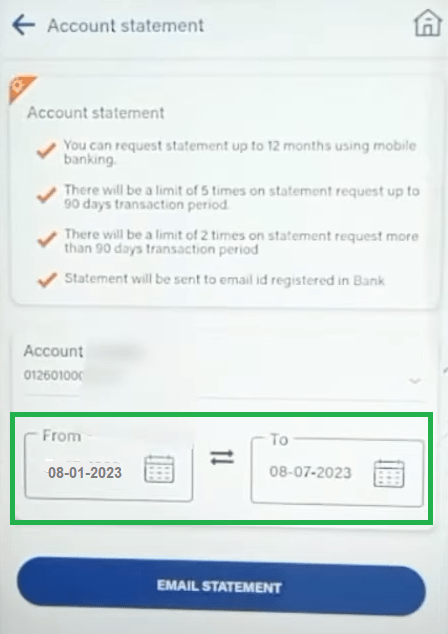 For example: if you want a six-month bank statement, you can set it as from 08/01/2022 to 08/07/2023. Then click on the "EMAIL STATEMENT" button.
Now, you will receive a message on your mobile phone that says, "Email sent successfully, your bank statement has been sent to your registered email ID." Click on the "Done" button. Open your registered email where the statement has been sent to you from Bank Of Baroda. You will find a PDF file as you open your mail.
As you open the PDF file, you will receive a message that says, "This file is protected." You will see an empty space under this message. Then you will be asked to enter the password there.
You will see another message from the Bank Of Baroda on the same page (email) wherein you can see the clear instructions to open the document. You should follow these instructions carefully to open the Bank of Baroda pdf statement password.
By following the above-described process, you can easily and quickly learn about the process to download the 6 months bank statement for the Bank Of Baroda account.
To Summarize
Bank Of Baroda bank statements enable you to ensure the withdrawals and deposits are in correct alignment with your expectations, spending habits, and record-keeping of expenses and finances. Additionally, you can review how much percentage interest you're earning in your bank account and whether you might switch to a higher-earning bank account.
However, suppose you are still doubtful or have some complaints or grievances regarding your BOB bank statement. In such a case, you should contact the Bank Of Baroda Customer Service by making a call on the 24*7 toll-free number: 18005700 for the following reasons,
In case you need help with downloading/opening the bank statement.
In case you want to report suspicious transactions or fraudulent transactions.
If you want to block the respective channel immediately or freeze the account for fraud debit transactions.
After knowing your issues/grievances or complaints, the bank officials related to the Bank Of Baroda Customer Service will shortly respond to your request to help and guide you through resolving the issues accordingly, effectively, and satisfactorily.