Do you use SBI Credit Card? SBI Credit Card offers numerous benefits to the cardholders. Credit Card helps to tackle cashless and low financial situations smartly. If you hold an SBI Credit Card, it must have proven to be quite helpful for you in many ways. For its flexible payment method, smart people reap the best benefits out of it.
If you use SBI Credit Card, you must responsibly use the card and prevent harsh situations. You must stay updated on your Credit Card account regularly. Getting Credit Card Statement online could be helpful for you in many ways. If you have no idea about obtaining the Credit Card statement online, follow the steps and use the card without any worries.
Follow the steps to download your SBI Credit Card Statement online
Step 1: At first, you need to register on sbicard.com and open your account. Visit www.sbicard.com and create online account for sbi credit card. If you already have an account, then enter your User ID and Password to login to your account.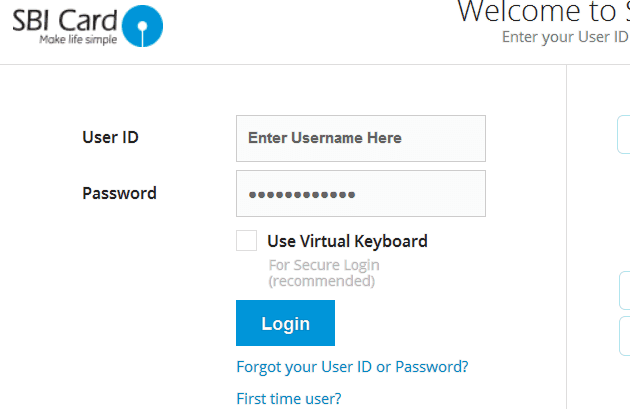 Step 2: From Right side, Click on My Accounts tab.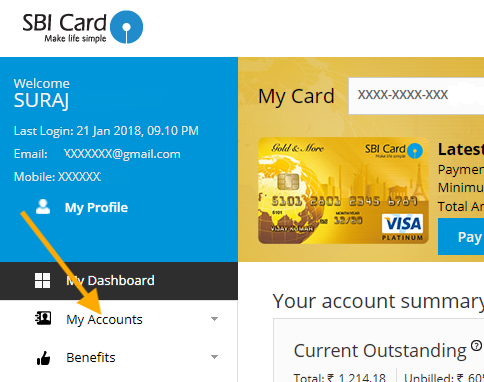 Step 3: After clicking the My Accounts, next click on card Statements.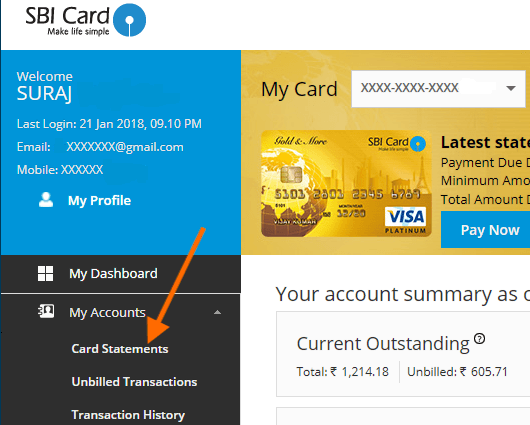 Step 4: The page will display the Credit Card statement for current month. Next select statement Date of your choice and  click the download button. Credit card statement of selected month will be downloaded in PDF format, just check your download folder.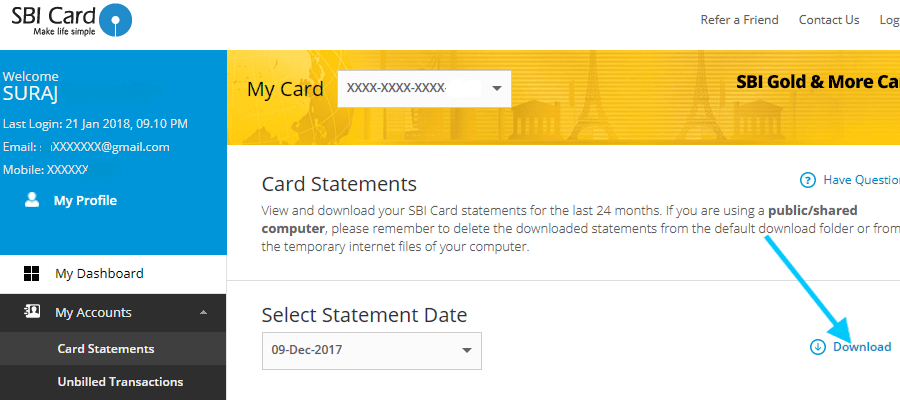 How to create Online SBI Credit Card Account?
To create an account at sbicard.com, visit the site and click on register.
You will get directed to a new page, where you need to enter your card details, CVV number, and date of birth.
After entering the credentials, simply click on proceed.
You will receive an OTP on your registered mobile number, and you have to enter the same OTP on the provided box on the new page.
Now click on proceed to move ahead.
In the next directed page, you need to enter a User ID and create a password. Click on Confirm.
The screen will display a confirmation message for successfully registering on sbi.
You can use the Credit Card statement for future purposes. Opening the user account on sbicard is quite easier. Simply follow the steps to open your account and access the sbi Credit Card statement online. Now, no need to wait for the card statement from the bank! Control the account in your way!