Do you use Credit Card from Axis Bank? How do you obtain your credit card statement? Preferably, every credit card customer waits for credit card statement from their bank. If you require the statement before the expected time, you would have to visit the bank and request to issue the credit card statement.
It is quite daunting and time-consuming to obtain the credit card statement from the bank visiting it. Do you know the simple way to get the statement without visiting the branch and without wasting your valuable time? You can get the credit card statement online being in your zone of comfort and at any time of the day or night! Follow the simple steps to obtain the card statement online in Axis Bank.
Steps to follow to download Axis Bank credit card statement online
Step 1: Visit the official website of Axis Bank https://www.axisbank.com. You will find several tabs on the home screen of the website; simply move the cursor on Explore Products.
Step 2: You will get a drop-down menu with several options under the retail category, i.e., Accounts, Deposits, Cards, Loans, Forex, Investments and Insurance. You need to move the cursor to Cards. Now the screen will display the available options under Cards category.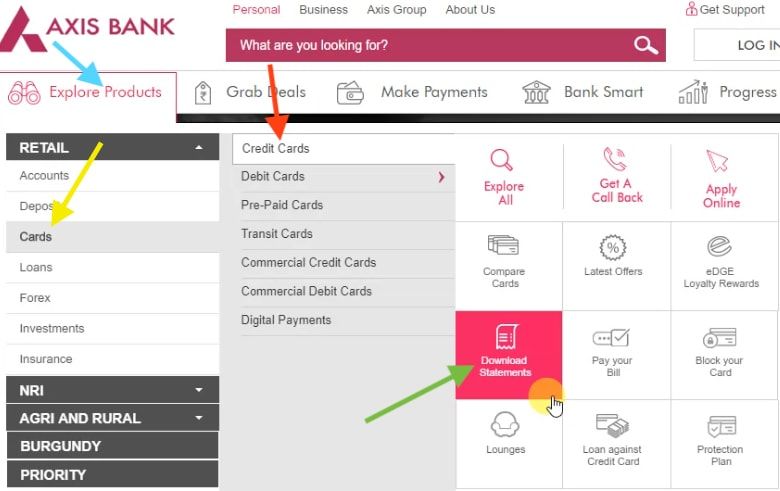 Move the cursor to Credit Cards tab. A detail list of options will appear on the side of the menu. Select Download Statements from the menu. The box featuring Download Statement will get highlighted in red color. Click on the box!
Step 3: You will get directed to a new page featuring Online Request for Credit Card Statements. This page also features, Credit Card Number, Card Holder Name (Appearing on Credit Card), Date of Birth (dd-MM-yyyy) and Card Validity Date (MM-yy). You need to enter the credentials in the provided box as applicable.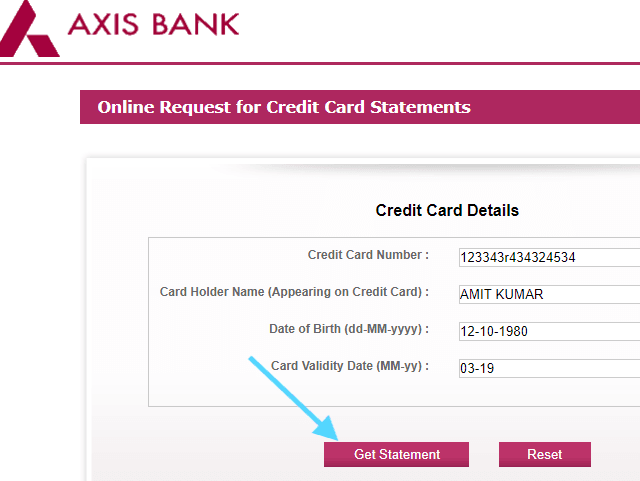 Step 4: After entering the credentials without any mistake, click on Get Statement button. Now you have access to get the Credit Card Statement. If you have made any mistakes while entering the credentials, you can select the Reset button and once again provide the details correctly.
The process as mentioned above is the simplest way to download your Axis Bank credit card statement online, without visiting the branch and wasting your valuable time. You can get the credit card statement any time you like and from anywhere! You just need a device with Internet access. Follow the simple steps to get the card statement and rest being assured!