Banks and financial institutions were introduced to ease personal financial management, build savings and credits, and make finances more accessible. In fact, various banking products and services provide security to your money, a facility to make transactions, and help you plan for the future.
Bank accounts perform a critical role or a significant function as the center for these financial activities to influence our ability to manage our finances.
However, due to many reasons, banks and financial institutions can close your bank account without warning or notice. If your bank account is closed, and you want to reopen it, then this article navigates to help and guide you through including: What are the reasons that a bank would close a bank account and how you can reopen a closed bank account by following some easy and quick steps.
Be in with us to learn the process of reopening a closed bank account. Let's begin.
Reasons For A Bank Account Closure
Here are some common reasons due to why a bank can close your account, such as:
When your account is not active for a long time, then your bank may place it in a dormant status.
When you regularly withdraw in excess of the account balance, your account shows negative balances and overdrafts, resulting in its closure.
When you violate the bank policy, such as expressly forbidding fraudulent activity, making suspicious transactions, which gives a hint of money laundering, etc.
When identity theft happens in your account, i.e., the bank suspects that somebody uses your name and personal information to carry out an activity.
How You Can Reopen Closed Bank Account
After knowing the exact reason for the closure of your bank account, you may proceed to reopen it with the necessary documents in hand. For instance, If your bank account is closed and you want to reopen it, you can visit your bank branch and follow the KYC procedure. Or act as per the reason accountable for the closure of your account. Check these methods to reopen your bank account.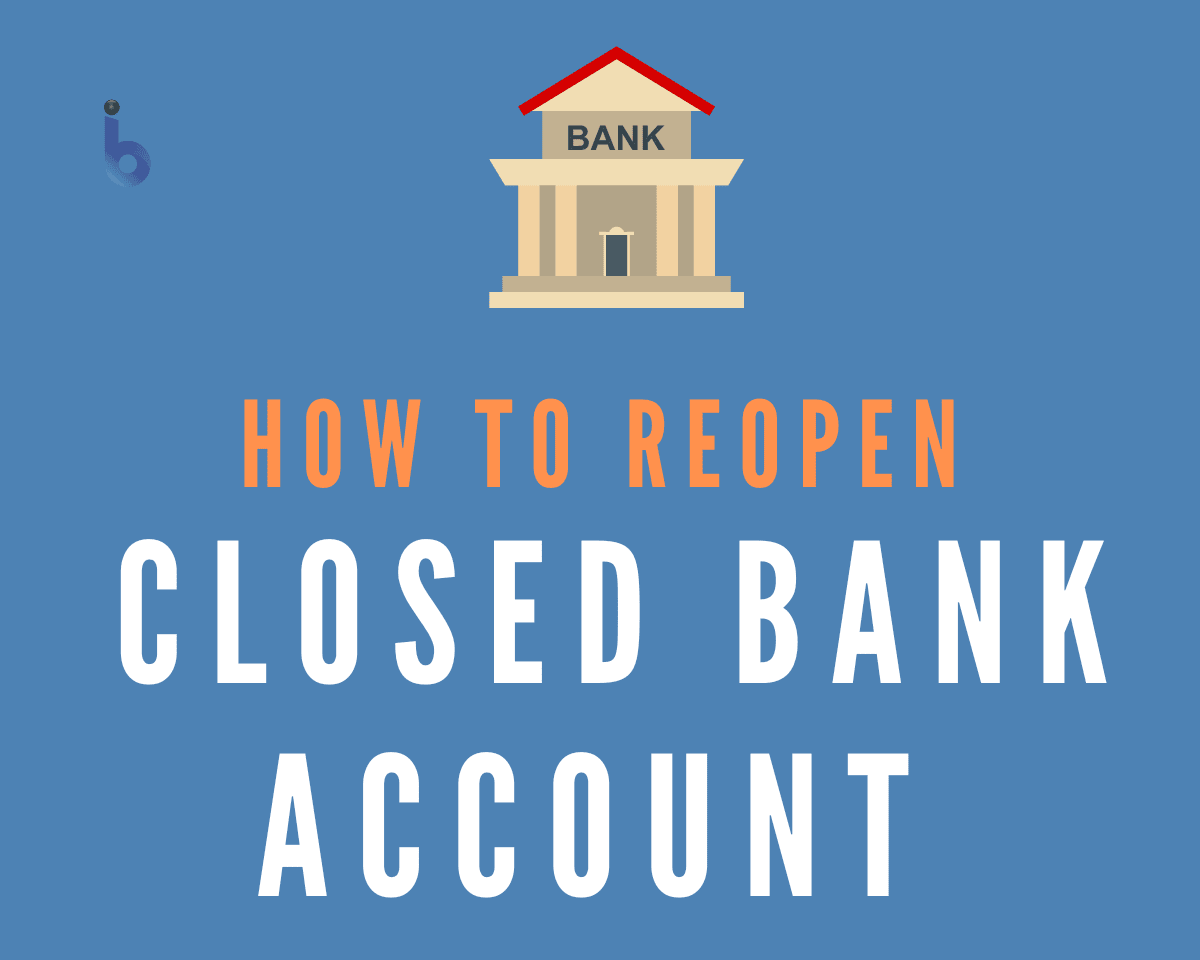 1. Complete Your KYC
Visit your bank branch and complete the KYC procedure. You will have to fill up the KYC form and mention the necessary information in it, such as your name, residential address, and contact number, affix your passport-size photo, scribble your signature, mention the current date, etc. Attach self-attested photocopies of the required documents, such as an Aadhaar Card, PAN Card, Driving license, Passport, or Ration Card. Submit the duly filled-in KYC form in the bank branch.
2. Know the Exact Reason and Take the Necessary Action
Bank Account Inactivity or Dormancy: Before requesting to reopen the bank account, ask the concerned bank officials why it was closed. For instance, if your bank account was closed due to its inactivity and dormancy, then request the bank to activate it by writing an application.
Bank Account Closed Due to Negative Balance: Check if your bank account was closed due to its negative balance, and settle the balance.
Bank Account Closed Due to Identity Theft: Identity theft is another cause for account closure. So if your bank account was closed due to identity theft, you should resolve this issue by telling the bank officials that it wasn't your fault. After that, your account will be reopened for use.
So that's all. These straightforward steps shall help resolve your query and reopen your bank account without hassle.
To Wrap Up
When a bank account goes dormant due to inactivity for more than a specified period of time, and the bank could not communicate with you, then it may close the account, forward the funds in that account to the concerned state government, and declare that fund as "unclaimed property." At this point, you'd need to submit a claim to your state's treasury office to obtain that money.
We have written this article to provide you with essential information and the easiest way of guidance on how you can reopen a closed bank account. Additionally, we have provided you with the common reasons for a bank account closure as well so that you can easily prevent unwanted account closure.