The Internet is becoming an indispensable part of our daily lives, touching all spheres of our lives, right from trading, finance, health, entertainment and banking too. It has made banking a lot easier for customers, who can have round the clock services anywhere, without having to go to the bank personally, with the most innovative system of Internet Banking.
Like all other banks in India, IDBI too provides net banking facilities like providing complete account information, online bill payments and also the transfer of money to other banks with the help of the system, right from your home or office.
IDBI is a reputed development bank, which has nearly 1000 branches and 1594 ATMs in the country, along with 678 centres in India and abroad. You can transfer money from IDBI to SBI, ICICI, PNB, Canara, HDFC, a bank of India and all other Indian banks without any hassle.
Registration for IDBI Net Banking
First of all, you have to register and log in for IDBI net banking, which can be done easily online. The registration form can be downloaded from the official website of the bank, download form now.
The form needs to be filled and submitted to a local branch for applying for online net banking, along with an identity proof such as pan card, passport, voter card or driving license.
After completing these formalities, you will get a mail from the bank, disclosing your customer ID. In this way, you become eligible for accessing the net banking services of IDBI.
The following simple steps will help you transfer money online from IDBI to other banks:
1. You have to first login to your internet banking account using your Customer ID and secret password from here -> http://www.idbi.com/idbi-bank-internet-banking.asp.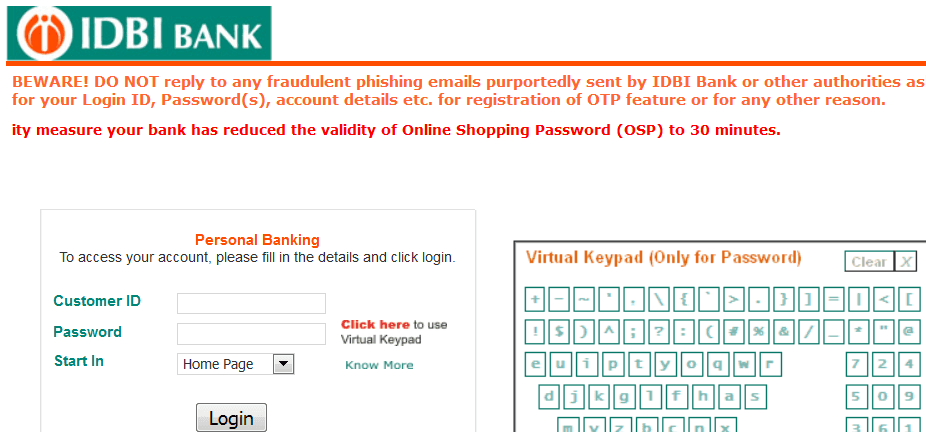 2. As you open your new account, you can view the "Transfers" tab on the page top and you have to click the 'start' button to go ahead with the process of money transfer.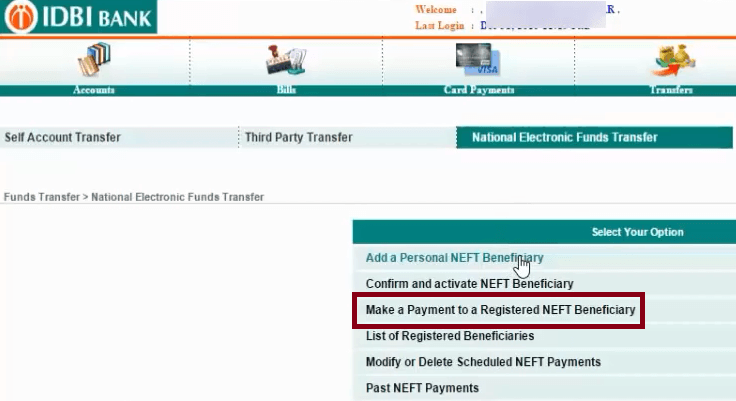 3. You get the options of self-account transfer in IDBI, electronic fund transfer in IDBI, third party transfer in IDBI, IMPS transfer in IDBI and national electric fund transfer (NEFT).
Use IMPS to transfer money instantly, the process is the same. In our case, you need to click on the 'National Electronic Fund transfer' option. Now click on 'Make Payment to registered NEFT Beneficiary' from 'select your option'.
4. From the list of beneficiaries, select beneficiary whom you want to send money and click 'Make hot Payment'. If you have not added any beneficiary, read the article 'how to add the beneficiary in IDBI bank'.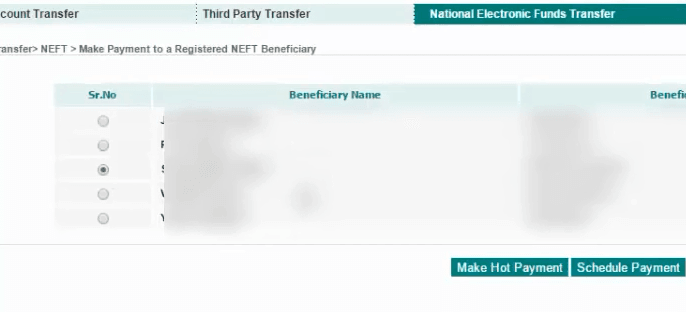 5. Details about the account where you need to make the transfer of money, account number and beneficiary name to which the amount is to be transferred and also the amount to be remitted to that account will be shown in the screen. Now enter a payment amount, select debit account (it's your account) and remark anything, then Click on the 'pay' button.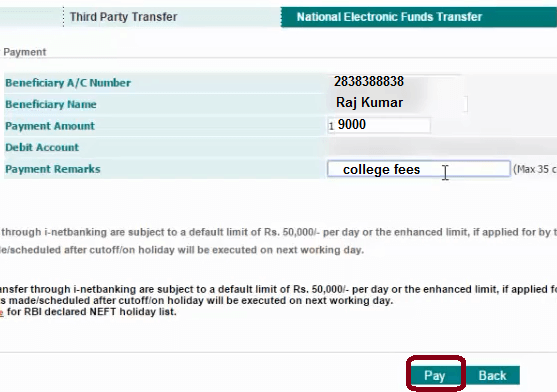 6. After that, you will need to re-enter your user ID as well as a password to make sure that the transaction is genuine and has been confirmed by the true user.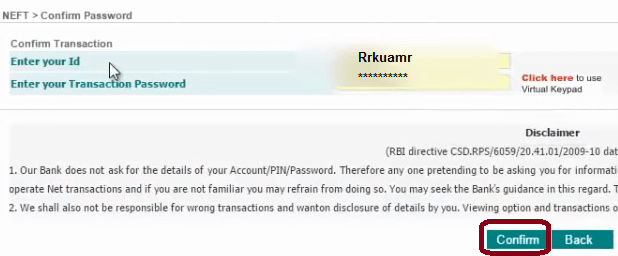 7. Click the 'confirm' button and this will get the transfer of money done, with successful completion of the transaction. Finally, it is safe to make a note of the transaction ID so that you can use it for future references.
Moreover, the transaction details can be saved and printed on the same screen. You can also get the status inquiry and transaction details by clicking on the Go button on the right side of the screen.
Also read: Transfer Money From HDFC Bank to Other Banks Online
In this way, you can simply send money to other banks in the country through easy and hassle-free online transfers from IDBI, using its best facility of net banking.
Article Update: 9 July 2018