Employee Provident Fund is an important remittance to be made by account holders and its online payment has been facilitated by SBI for all those firms that have SBI Corporate Account. EPF online payment through SBI can be done as follows:
The user is first required to access the EPFO site www.epfindia.com to generate a challan for the monthly contribution. This is done by clicking on Online ECR/Challan Submission. A Temporary Return Reference Number TRRN is generated.
Next you gave to login to the EPF site with user name and password.
The monthly contribution details have to be entered by the account user.
The text format of the contribution statement has to be uploaded.
Following this, the statement has to be approved.
Use the option of Download Challan from the menu for downloading the contribution statement, challan and copy of acknowledgement. This challan has a 15 day validity from the generation date and the remittance has to be done within this period, else it becomes invalid and a fresh challan has to be issued.
You will see the TRRN number on the right side of the challan.
After completing these steps at the EPF website, login to the SBI account as a Corporate User or Saral User Payments and Transfers Pay EPF.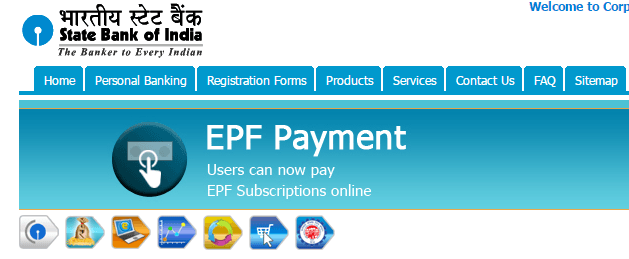 Enter the valid TRRN which has been generated on the EPF site, followed by clicking on Submit.
Select the account number from which you have to make the payment and click on Submit.
After verifying all the particulars, click on Confirm.
A response of Success will be displayed and an e-cheque will be available for the authorization purpose in the authorizer's box.
After it has been authorized, the challan can be viewed or printed using the following menu: Reports Reprint Challan>e-pay order number>view challan details>Print
After all these steps, the EPF online remittance through SBI is completed successfully.