State bank of India (SBI) is one of the most popular state run banks in India and off late the bank has made many changes to improve its user experience. It has added new features to its Internet banking service to enable the customers to easily activate their ATM-cum-Debit cards without going through the hassle of visiting the bank.
It can save a lot of time as this bring convenience to the customers. In this article I will show you how to generate ATM Pin in SBI through online netbanking. In general case, when a person receives his ATM card, he goes to the nearby home bank branch to collect the activation pin code.
However, today everyone has a hectic schedule which makes it tough to go to the bank. If you use the internet banking service offered by SBI, it allows you to generate ATM pin right from your home or office. You simply need to follow these steps:
When you visit the SBI website, you can see the 'ATM Card Services' link located under the e-Services tab. In the ATM card services you will find several options such as block an ATM card, request a new card, set ATM card limit, Change atm pin and generate ATM pin. As a customer, you may perform any of the activities by directly logging into internet banking services without any hassle.
Steps to Generate ATM PIN SBI Online:
1. Go to the official SBI website https://onlinesbi.com and login with your user id and password to be able to access your Internet banking services.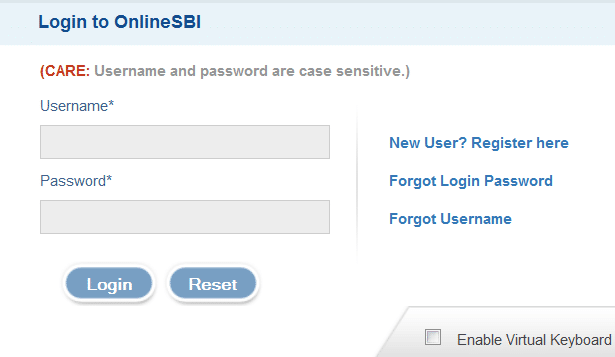 2. Under the tab, you will find many services. You need to select the 'e-Services' link and click on the 'ATM Card Services' option from the side bar.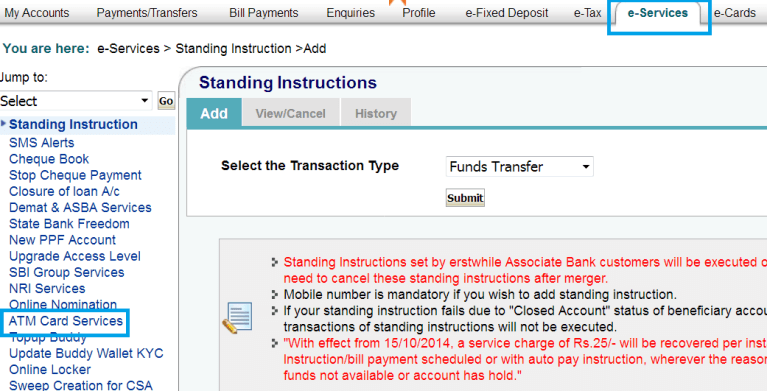 3. When you select the 'ATM Pin Generation', choose the preferable mode to authenticate access to the ATM card services.

There are mainly two options – Profile Password and OTP (one time password). You will receive the one time password on your registered mobile number.

4. Now enter your profile password and click on 'submit' button.

5. You need to select your account if you have linked multiple accounts to the Internet banking. Just select and click 'continue' button.

6. After you select the account number, it will show you a list of activated cards associated with that number.
Select the card for which you want to generate the PIN and click on the 'submit' button. If you do not find your card here, check the 'New Cards' category.

Note: Rs. 51 service charge will be deducted from your account for changing atm pin through online sbi.
7. In the next page you will be asked to enter the two numbers of the selected pin. Only the two numbers and when you do that, they will send two numbers to your registered mobile number.

8. In the next page you will be asked for the remaining two digits. Enter the two digits that you have received on your mobile phone.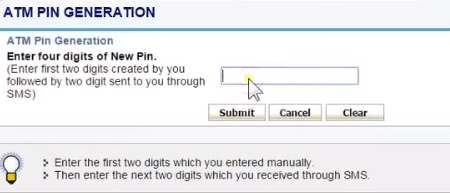 When you click 'submit', your ATM card will become active. You can start using your ATM for online transactions or other related services with ease.
We hope the above steps help you with generating ATM PIN SBI from home, without visiting the bank. Stay tuned for more informative articles like this.