State Bank of India (SBI) is a well known public sector banking and financial services company headquartered in Mumbai, Maharashtra. It is perhaps one of the oldest banking institutions in our country with origins dating back to 2 June 1806.
Since then, the bank has evolved a lot and today it offers a plethora of sophisticated services to the customers. If you are looking for information regarding SBI working hours and lunch timing then you have come to the right place.
SBI working hours  and working Days Timings

| Working Day | Working Time |
| --- | --- |
|  SBI Timings For Week Days [Monday to Friday] | 10:00 AM to 4:00 PM |
|  SBI Timings on 1st, 3rd and 5th Saturday of Month | 10:00 AM to 4:00 PM |
|  SBI Timings on 2nd and 4th Saturday of Month |  Closed |
|  SBI Timings For all Sunday |  Closed |
SBI Lunch Timing
|  Lunch Time |  Not specified, usually between 2:30 PM to 3:00 PM |
| --- | --- |
You can make out from the information above that the SBI bank works for about 6.00 hours from Monday to Saturday (10:00 to 16.00). Even if you visit the bank at Lunch time, you can find alternate cashier and clerks at the counter who will assist you with queries and provide all types of banking services. So, the total working hours of SBI bank is 6:00 hours.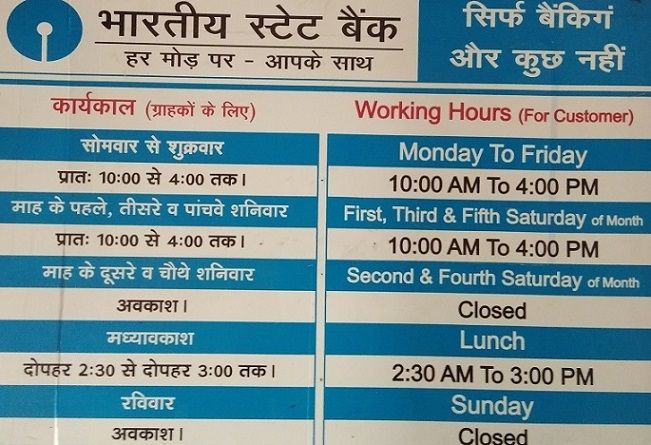 The lunch hours vary from branch to branch. However, there's no specific lunch hour for the employees and they usually take lunch between 2:30 PM to 3:00 PM.
If you happen to visit the bank during lunch hours, you will not have to wait to get the services because there's always someone to take care of your banking needs.
SBI bank is one of the fastest evolving banks in the country and it focuses on providing high-quality customer service. They don't mind going an extra mile to make banking more convenient for the customers. We hope this information helps you.
In the Urban area, branch opening and closing time may be different. So confirm it by calling the branch before visiting the bank.
Article Updated: 8 April 2018