Each and every bank in India has a procedure to make a complaint through online medium. This saves a lot of time as you do not have to wait on the telephone line or you do not have to visit the branch to get the resolution. State Bank of India is the largest Public Sector Bank in India and also has a procedure to make a complaint online. In this article, we have listed the procedure to register an online complaint with SBI.
Before we proceed, it should be noted that to raise a complaint, you should have an account with SBI and in addition to this, it takes about 7 working days for the bank to completely resolve and close the complaint. So here is the procedure.
Steps to Register Complaint in SBI through Online Medium
Step 1: The first step of the procedure is to navigate to the CMS portal of SBI. If in case you do not have the link to the portal, you may click https://crcf.sbi.co.in/ccf/ and you will be redirected to the SBI CMS Portal.
Step 2: In the next step, enter the details like Customer Type, Account Number, Name of Complainant, Branch Code, Mobile number, Email ID, Category of Complaint, Product and description. See below sample image: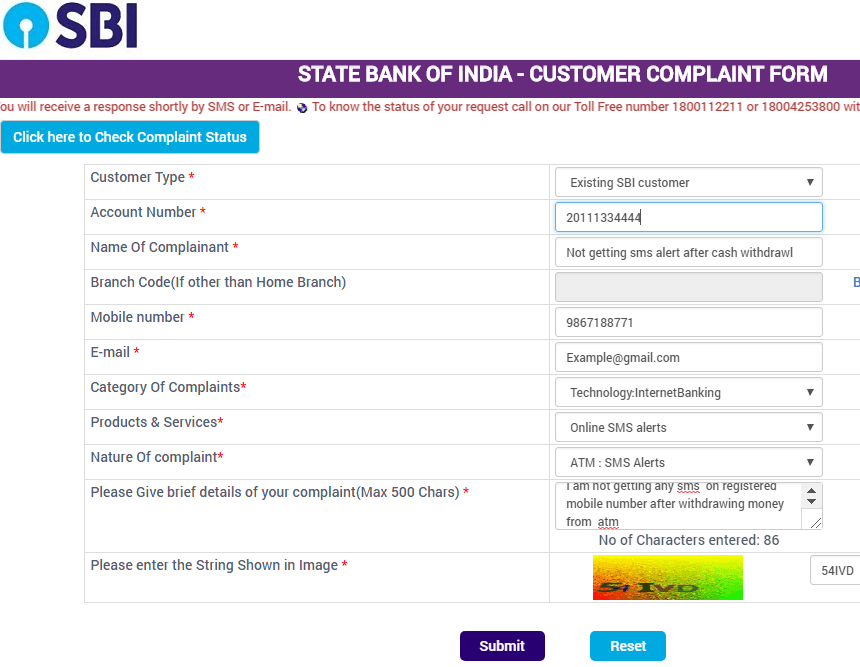 Step 3: After entering all the details, you would have to enter the captcha code and then you can click on the 'submit' button.
Important Notes: On successful submission of the complaint, you will receive a complaint number and it is important for you to note down the complaint number and keep it safe. You will also receive the number through SMS and Email ID which can also be saved by you.
You can also track the complaint online through the CMS portal. You may open the link https://cms.onlinesbi.com/CMS/Status.jsp to be redirected to the portal to check the status of the online sbi complaint.
It is surely very easy to check the status of the complaint and raise a complaint online. If in case you need additional support, you may contact the helpdesk by calling on 1800 112 211 or 1800 425 3800. These are toll-free numbers and you can call them and give them the ticket number to seek the status of the complaint.
If in case you feel that your complaint has not been resolved then it is advisable to follow the escalation matrix in the last scenario, the top level of escalation remains to be the banking ombudsman but remember that the ombudsman is the highest possible level of escalation and you will have to follow the hierarchy before reaching out to ombudsman.