If you have SBI saving account and want to transfer your branch then this can be done online. Sounds unbelievable, but it's true. You can now change your SBI bank branch without visiting your old or new branch.
There are multiple reasons why you may want to change your bank branch such as you have relocated to a new place recently and your old SBI branch is too far to visit, you don't like the behavior of officers in your old branch.
It may be too crowded to fulfill your banking needs or anything else. Whatever is the reason, now you can port your SBI saving account to other SBI branch bank. Wondering how to transfer SBI saving account to other branch online then read more.
Almost everyone in this modern world use Internet banking for all their banking requirements. If you have registered for SBI internet banking and have active user id and password for the same then you can transfer your SBI saving account to other branch easily. Here are the steps for the same:
स्टेट बैंक ऑफ इंडिया का ख़ाता इंटरनेट बैंकिंग के ज़रिए एक शाखा से दूसरे शाखा मे कैसे ट्रान्सफर करे!
Step 1. First login to internet banking with your credentials.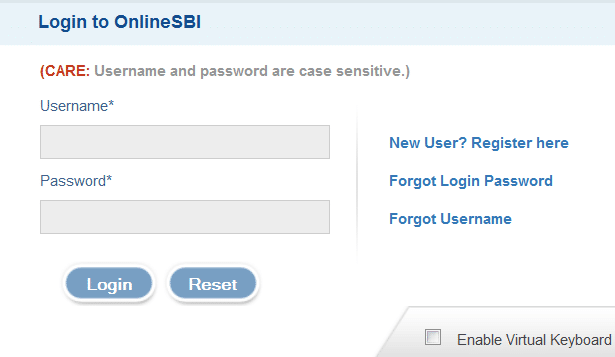 Step 2. After login to your account go to header menu and click on 'e-Services' (7th header menu tab).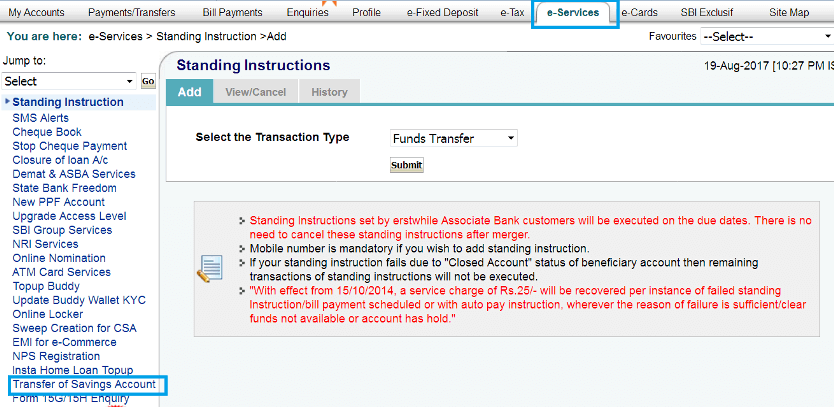 Step 3. Under e-Services page, look for 'Transfer of Saving Account' which is located at the dropdown left hand side of the screen
Step 4. Now you have to select the saving account number that you want to transfer from your old branch to new one.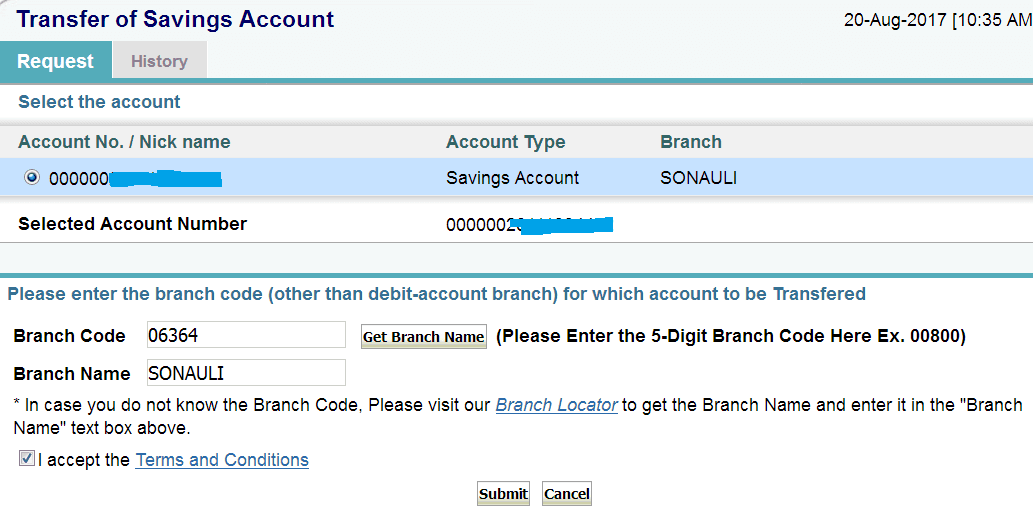 Step 5. There is an empty box just adjacent to text 'Branch Code'. Enter the 5 digit new branch code number in this empty box. Branch code is last five digit of IFSC code. Otherwise, you can also use sbi branch locator to find branch code. Even after you don't know the branch code of the new SBI branch then search online and you will find the right branch code to use.
Step 6: After entering the branch code you have to click on the tab 'Get Branch Name'. Within few seconds after you click on 'Get Branch Name' tab, it will automatically fill the name of the branch in the empty box just adjacent to 'Branch Name'. Click on 'submit' tab to submit your request online.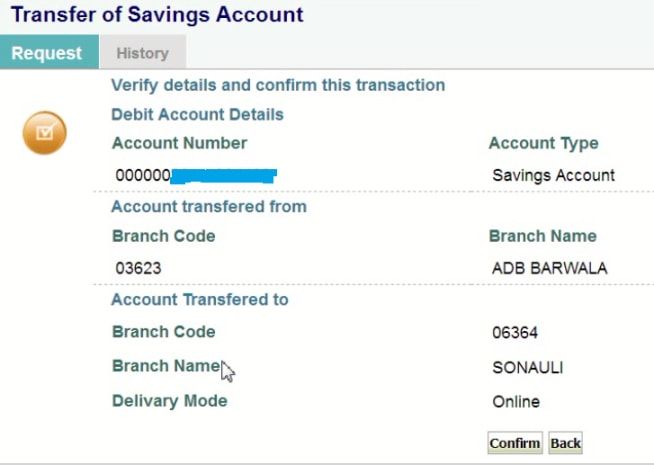 Step 7: A new page will open with all the details you entered. Check if everything is okay or not. Once you are sure that everything is filled correctly click on 'Confirm' tab.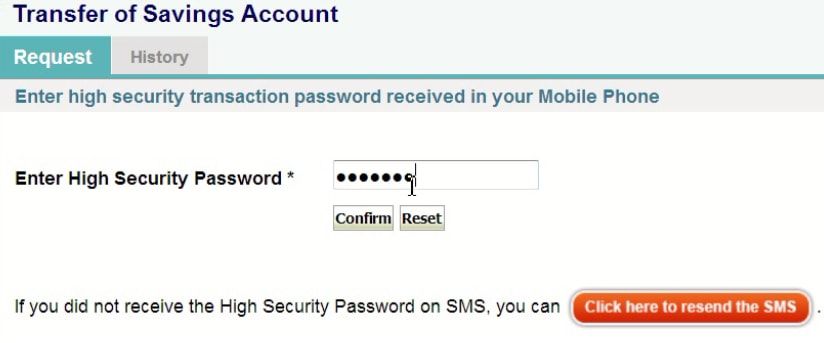 Step 8: A new page will open and you will receive OTP on your registered mobile number. Enter this OTP in the empty box and click 'confirm'. You will get a message stating that your request has been successfully registered.
Note: Generally, it takes 5 working days to get this transfer done. In my case, my saving account has transferred in just 3 days. To confirm whether it transferred or not, check your online sbi account home page branch name will be replaced with new one or you can check your e-statement online. Your new branch name should be mentioned on it.
Once the transfer process is done, you can visit your new branch. You have to submit kyc documents to get new passbook and other banking related documents.
Offline Method:
If you want to do your account transfer process offline then you have to visit your old branch and ask the manager for 'Account Transfer Request Form'. You have to fill this form and submit it to the old bank branch manager along with your KYC documents and any other documents if required by your old branch.
After processing your request by old branch you will get acknowledge slip that you have to submit to your new branch along with the KYC documents and any other documents required by your new branch to complete the transfer process. After the process is completed, you can take the new passbook from the new branch.
Important Note: No Charges to transfer saving and current account in sbi from one branch to other.
Now you know how to transfer SBI saving account to other branch  by online and offline method both.