The YONO SBI application has been a problem solver for its users in SBI account holder's life. SBI YONO stands for You Only Need One, a digital platform launched by the State Bank of India (SBI). SBI launched it to be a one-stop banking solution. YONO SBI app can decipher your insurance, investment, lifestyle, and shopping needs. SBI YONO provides a colossal amount of products and services.
Apart from this, it has other functional areas to cover through its various actions, like opening savings and current accounts, applying for RDs and FDs, transferring accounts to other branches, and requesting loans instantly. You can manage your financial activities through this SBI YONO app.
State Bank of India accounts and the YONO app are doing wonders for its users' life by saving time in their financial lifestyle. Now, it can happen many times that you have opened your SBI bank account somewhere, but hence you need to relocate the bank account to your nearest branch or as per your location shifting.
It is utterly hectic when you need to visit a bank branch, and it's too far to reach quickly. Other than that, a bank branch distance also can cause annoyance in terms of frequent visits are needed. Whatever the reason you'll have, the method here will resolve it. In this article, we are going to tell you how to Transfer your SBI Account to Another Branch online using the YONO SBI app.
Steps to Transfer SBI Account to Another Branch Using SBI YONO App
Step 1: Let's start with opening the YONO SBI application installed on your phone. The first interface will ask you to log in. Log in with the 6-digit YONO M-Pin you have created. Once you enter the M-Pin number, it automatically processes to the next step.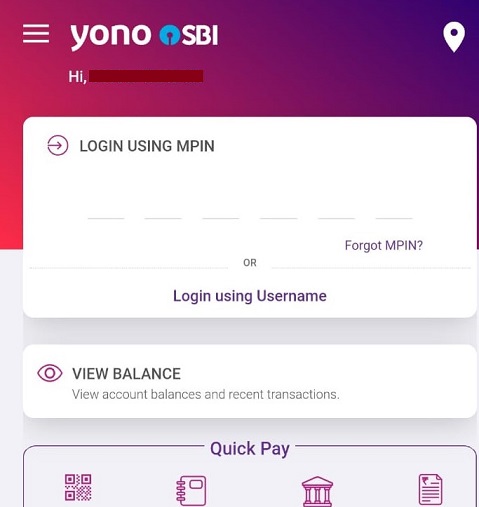 Step 2: Now you will see three horizontal lines right left side of the screen. Click on it to see the list of options for banking activities. Here click on the Service Request option listed to get inside. These listed options work for different banking criteria.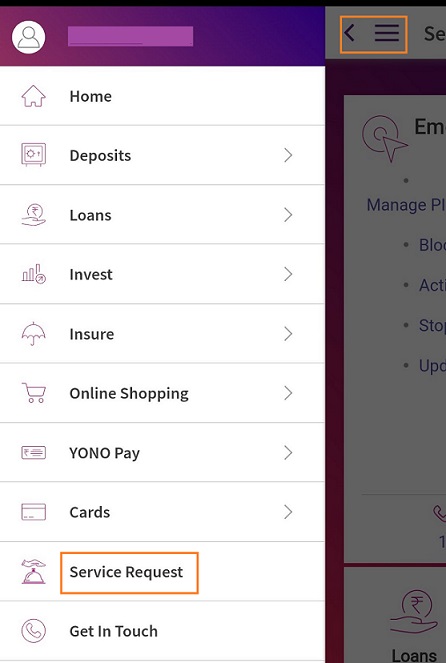 Step 3: After getting inside Service Request, you will find an option called Account. This account option is for your personal SBI account. Click on the 'Account' option.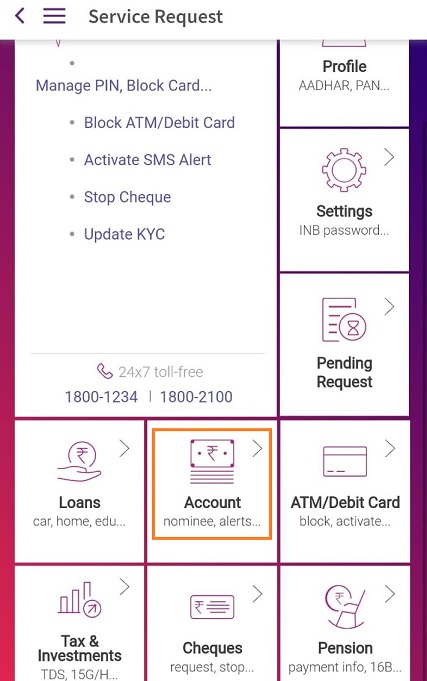 Step 4: You will see 7 different category options related to your SBI account. You will see here the Change Home Branch option. It will help you to change your bank branch. Click on the Change Home Branch option to enter.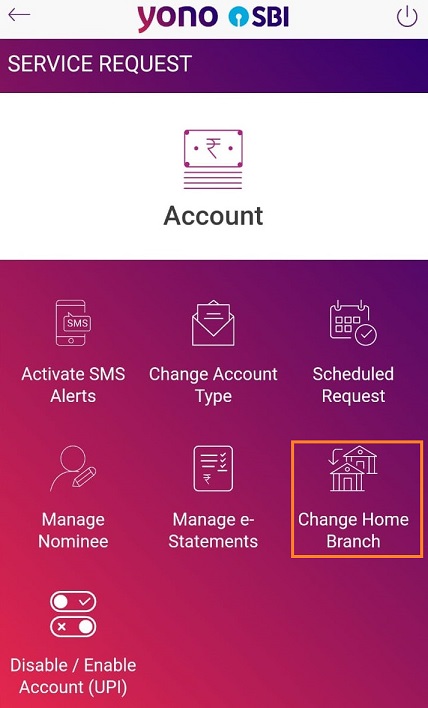 Step 5: Here you have to select your bank account. If you have multiple accounts with the same branch, you have to pick out the particular that you want to shift. After selecting, click on the Next button given below.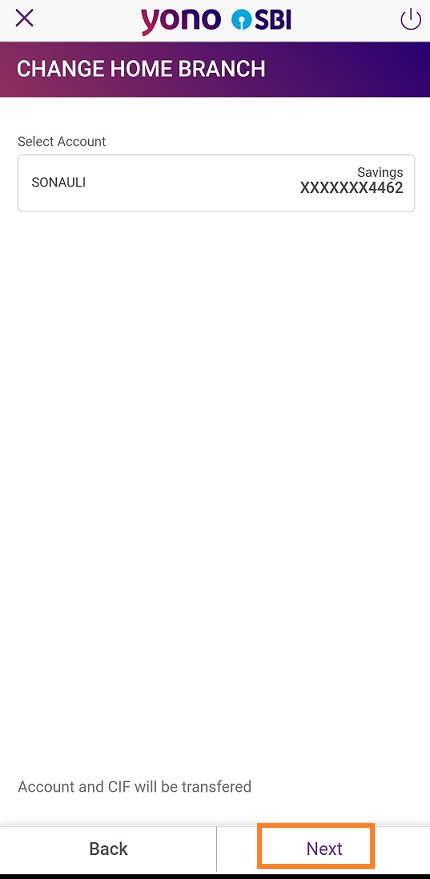 Step 6: Now, the following interface will ask you to choose your bank brank either through GPS, or Branch Location or Branch Code. We are showing the procedure through Branch Location or Code. Select the option accordingly, and go through the requirements perfectly. As the page indicates, select your State. After that, you need to choose your City from the list.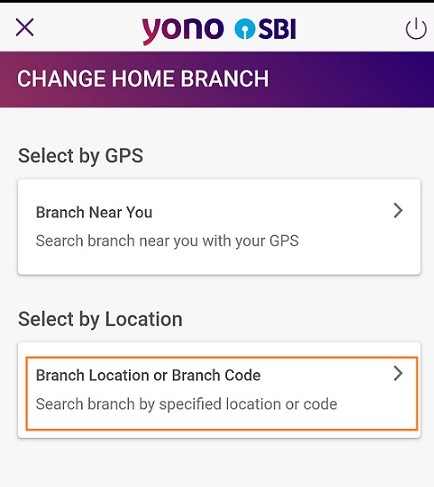 Now, you have to write down your Area Name in the blank space. Once you complete the task, click the Next button.
Step 7: At this point, the page will automatically redirect you to the page where your new branch name and address will appear. You can similarly search with the Branch Code and click the Next button.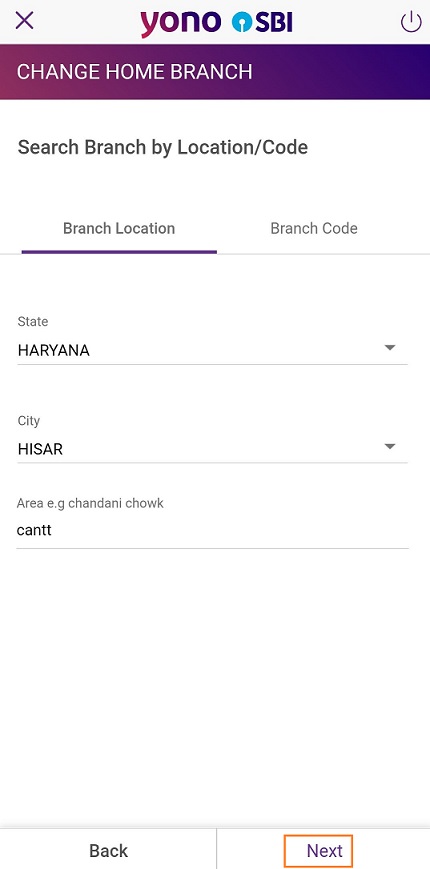 Step 7: New branch of choice will be displayed on the screen. Just Click the next button.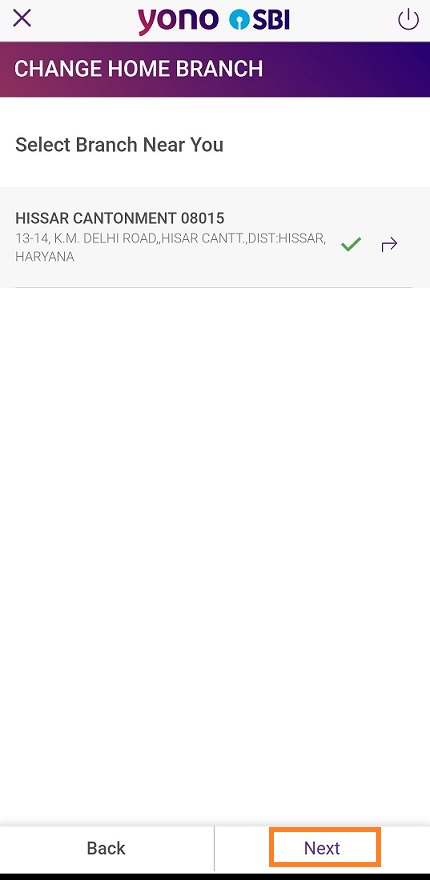 Step 8: Now, on the following page, you will see all your bank details you have put. The bank details be like your bank account number, CIF number, present bank branch name, transfer branch name, and New bank branch address rigorously. After reviewing, click the Next button once again.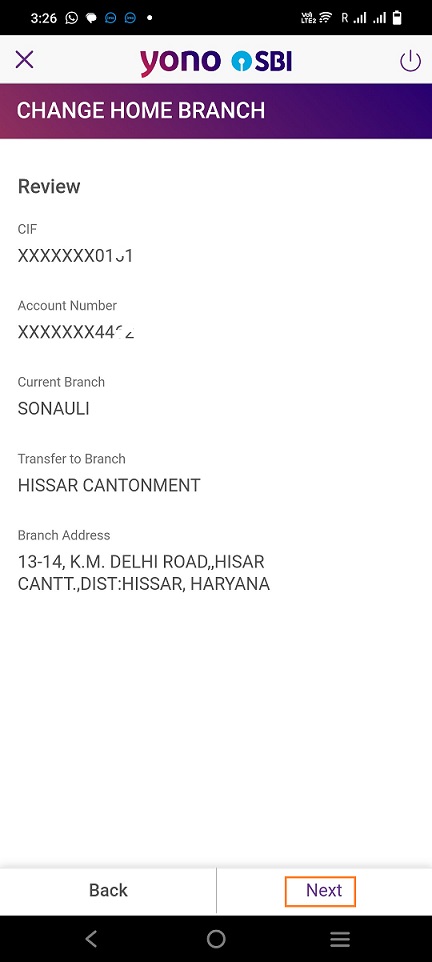 Step 9: On this page, it will send an OTP to your registered mobile number, which will be asked to write down on the blank space. If somehow, you won't receive an OTP, you can click on the option Resend OTP below the empty space to get the OTP again. Put the OTP in the blank dash. Now, click on the Submit button. After clicking Submit button, the process will end here.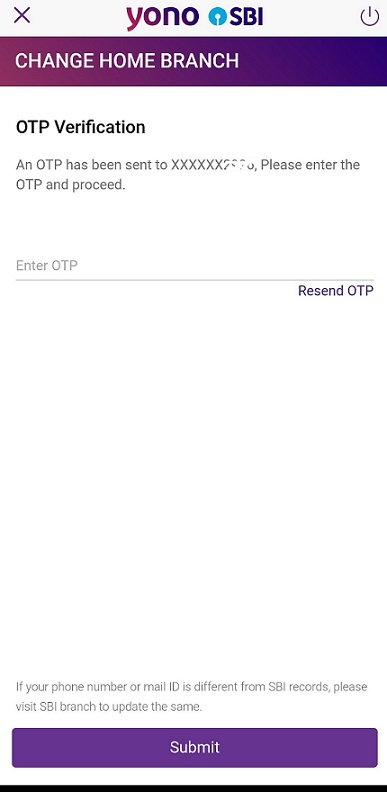 This is how you can complete the entire process. This whole procedure will help you with your SBI bank branch relocation. Finally, the interface will notify you with the written Your home branch has been successfully changed.
SBI YONO App Users Satisfaction
After launching in November 2017, the SBI YONO application has become an inevitable part of people's life. SBI introduced us to the YONO application with innovative innovation of digitalized payment platform. It's been 6 years since this YONO app has been serving its users with every nook and cranny of electronic banking facilities. People with an SBI bank account will unquestionably have registered with the YONO app and are truly satisfied. Let's know some utilities of YONO.
Complete transaction without paperwork.
Instant bank account opening.
Overdraft facility against fixed deposits.
UPI using for fund transfers.
Get exclusive offers and exceptional deals.
Get pre-approved personal loans.
All financial products one can buy through this app.
Conclusion
We shared here the online procedure to shift your bank account to another branch through the YONO SBI app. Other than the online process, you can also visit the State Bank of India bank to complete the process. Keep in mind that you should link your bank account with the YONO app and provide your mobile number.
Otherwise, you won't get the OTP. Ever since the Corona period, the SBI made all banking services online so that no one needs to visit the branch often. Even if you want to start an SMS alert, change account type, or manage a nominee, you are free to do it with ease.