The Bank of India, established in 1905, is among the top 5 banks in India. This renowned bank is span across a vast area having, 5316 branches along with 56 of their offices outside of India.
It has thousands of customers presently using their services. With the evolution of technology, Bank of India has tried to incorporate online banking and digitizing the entire banking system for your convenience.
But there are times when you might face challenges while operating their portal. Bank of India has made it easier to resolve your issues as now you can register your complaints at just a tap of your fingers.
You have to follow few steps to register your complaint, and they will get back to you in no time. We here will give you the complete details of the steps to register your complaint online without any hassle.
Steps to Register Complaint in Bank of India Online
Step 1: Go to their official website https://www.bankofindia.co.in. Once you land on their website, on the top right corner, there is a search option. Click the customer care link and you will be redirected to the Customer care page.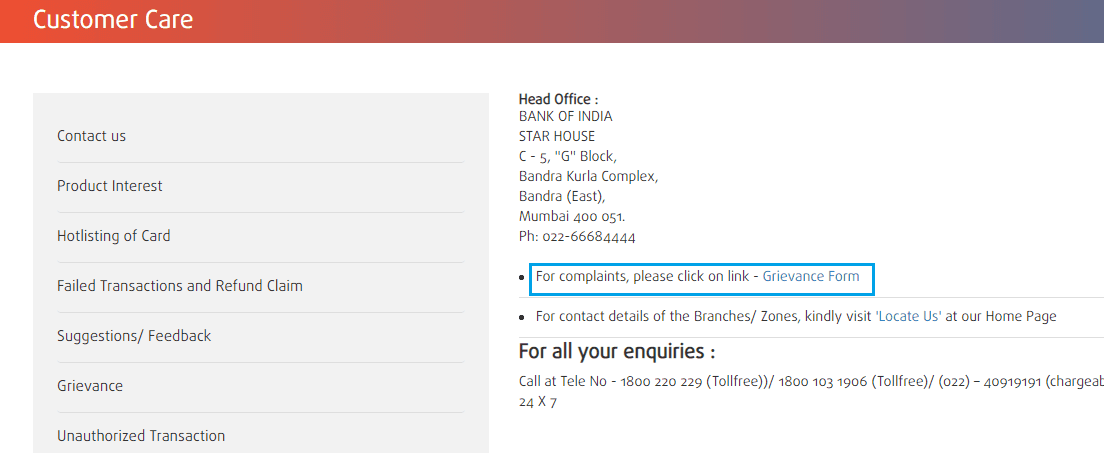 On that page, right below the address of the Head office, you can see "For complaints, please click on link – Grievance Form" option. Just click on that option.
Step 2: Once you click on the "Grievance Form," it will take you to another page where you can see the list of details that you have to enter to file a complaint. Apart from your details, you have to mention the nature of the complaint, details of the complaint, and the category of the complaint.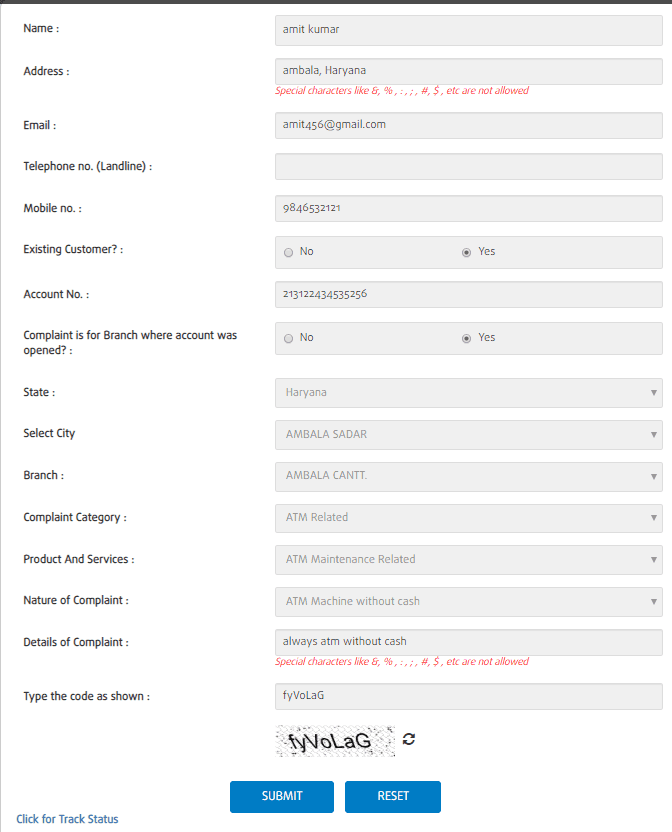 After all the details are entered, you need to type the code that is displayed below, which is the captcha and hit the 'Submit' button. The reference number will be generated, it can be used to track the status of your complaint in the future.
Once submitted, now to track the status of your application, right below the Submit button towards the left, hit the 'Click for Track Status' link. It will open another page where you have to type your Grievance reference number and the Captcha Code. Click on 'Check Now' to check your status.
Register BOI Complaint through Toll-free Number
There are times when you don't want to go through the hassle of registering your complaint online. Well, BOI has understood its customers well and has come with a helpline centre to walk you through the entire process without any complications.
If you're short of time to register your complaint, you can contact these toll-free numbers: 1800220229/18001031906 at any time of the day. The customer support will assist you in the entire process of registering a complaint.
You can also check the status of your complaint and track it using the mobile application. Well, this is a lot easier for all the mobile enthusiasts out there. All you have to do is to download the BOI Mobile app from Google Play Store. It is available on Android as well as iPhone. You can register your complaint by the options available and also track your status effortlessly.