India Post is the department of posts operated by the government. It is a part of Ministry of Communications and widely distributed system across the world.
India Post has involvement in delivering mails, providing life insurance coverage under PLI, accepting deposits under small savings schemes, remitting money by money orders, bill collection, etc.
The Department of Posts gives high effort to provide convenient services to the customers. But, somehow for unexpected reasons, certain complicacy raises.
The customers facing inconveniency need lodging a complaint regarding the matter to get special attention for solving the problem.
You need to follow the strict policy of lodging a complaint. You will receive a Complaint Number, which you can use for tracking the Complaint Status.
You need not visit the post office! You can lodge and check India Post Complaint Status Online.
Steps to track the India Post Complaint Status online
Step 1: Open the web browser on the device with the internet connectivity. Visit the official website of India Post at www.indiapost.gov.in.
Step 2: Move the mouse cursor to 'Help & Support' tab. Scroll the cursor to 'Track your Complaint' link featured under Customer Support.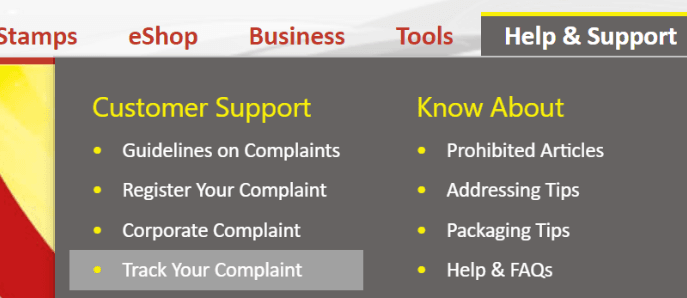 Step 3: You will get directed to a new page titled 'Track Complaint Status'. The page displays a box for 'Complaint Number' and a box for 'Evaluate the Expression'.
Enter the Complaint Number you received on your mobile number via SMS. Enter the answer in the second box after evaluating the expression to confirm you are a human.

Click on 'Search' button.
The page will display the complaint status specifying the details.
You need not waste your time and effort for lodging a complaint or tracking the complaint status by visiting the post office. You can do both the works online which won't consume high time and even doesn't require high efforts.