Among financial services, banks are the essential services that are available for one and all. When it comes to banks and their benefits, there are several banks to choose from. There are two broad types when it comes to financial services – public and private.
ICICI bank is a name that almost everyone in the country is familiar with. This financial services company is a global banking system with over $1300 crores as revenue. The ICICI Bank was founded in 1994 in Vadodara, and presently, it has its headquarters based out of Mumbai. Being a leading financial service system, ICICI bank has excellent customer support.
In this article, we will look at the procedure of filing a complaint in ICICI Bank online and then checking the complaint's status.
ICICI Complaint Tracking And Status
ICICI bank offers an excellent grievance redressal system wherein employees work immediately to deliver their best support to customers. There are three broad ways to file a complaint or, in better words, state their grievances. They are:
– ICICI bank complaint number
– Visiting the Branch
– Mailing the bank customer care support
If you visit the bank branch, then the bank will require you to file a complaint physically, after which they will provide you with a complaint reference number. This number is an indication that your complaint has been registered. Alternatively, one can call the ICICI customer care toll-free number as well. Their contact number is functional from 7:00 in the morning to 09:00 at the night.
One can also write an email to the bank stating their problem, and they should make sure that their email id from which the mail goes must be authentic and their primary mail account.
Track ICICI Complaint Status Online
The only simple answer to this question of checking the complaint's status is to visit the ICICI bank website and look for suitable options. However, in this section, we will lay down all the points to successfully get the work done.
Step 1: Go to the ICICI bank official website tracking page.
Step 2: The website will ask you for the account number and service request number. Here is where you put in the account number and service request no. The service request no. is also known as the complaint reference number.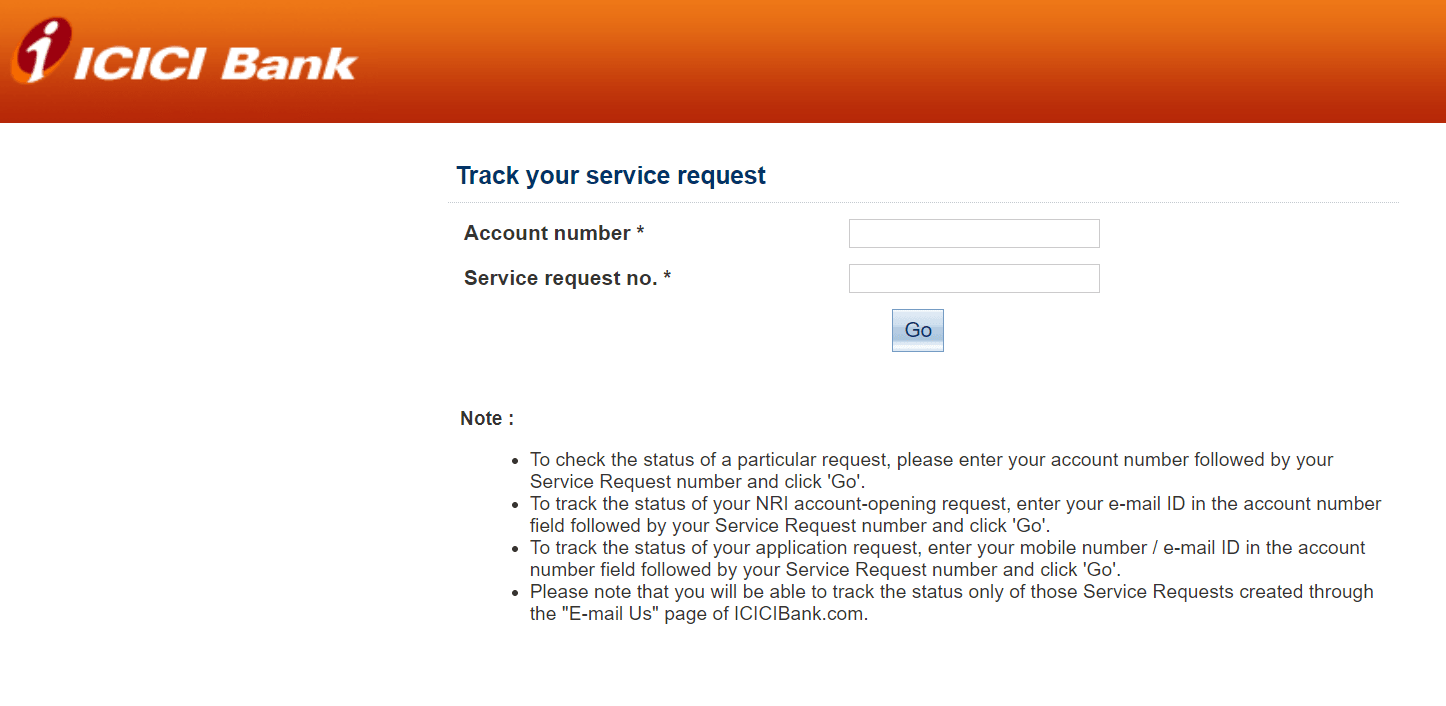 Step 3: After clicking the Go button, the site will provide you with the status of the complaint in ICICI Bank. Apart from this, you can also inquire at your nearest ICICI bank branch for the status of the complaint you have lodged.
Services
Contact
Toll-free number
1860 120 7777
Corporate Toll-free number
1860 120 6699
Address
ICICI Bank Limited

ICICI Phone Banking Center, ICICI Bank Tower, 7th floor, Survey no: 115/27, Plot no. 12, Nanakramguda, Serilingampally,
Hyderabad – 500032.
Conclusion
ICICI bank is one service provider in finances in India that makes sure to provide all the support that their clients need at the earliest. Their grievance redressal system is also very prompt, encouraging people to ask if they ever need help, assistance, or support regarding an issue.