There are tons of banks in India, making financial services a lot easier to find if and when the residents one. There are two types of banks – the public sector banks and the private sector banks. The public sector banks function directly under the government, while the private sector banks have their CEO to govern the operations. There are quite a few names under the list of private sector banks. One word that has gained immense recognition for itself in the Indian market is Axis Bank.
Axis Bank Limited is a private sector bank in India based out of Mumbai, Maharashtra. It offers banking services to Indian residents; apart from that, this financial services company sells its services to mid-size companies and MNCs. Small business owners and retailers can also benefit from their services.
Axis Bank has an excellent customer support system that tends to one's problems immediately. They offer various portals through which one can place a complaint. In this article, we will take a look at how to check the complaint status with Axis Bank Online.
How To Track Complaint In Axis Bank Online
Axis Bank is known for its excellent Grievance Redressal Mechanism, which lets its customers place complaints and queries on any issue. The representatives from the bank get back to the customers almost immediately. There are five ways to put a complaint.
Axis Bank toll-free customer number
Any Axis Bank branch
Live Chat option on the website
Axis Bank grievance redressal via mail
Write to the nodal officer
Out of all the three options, it is much easier to place a complaint online or by calling on Axis Bank complaint number. Of course, one can visit the bank branch, but the chances are that the time they put into travelling and waiting for their turn, they could avoid spending by shifting the entire process online.
Procedure To Track Axis Bank Complaint Status Online
Axis Bank specifies three levels to place a complaint.
Level 1: Grievance Redressal
Level 2: Write to Nodal Officer
Level 3: Write to Principal Nodal Officer
No matter which option you choose, you will be given a service request number to keep a tab of your complaint. Make sure to note down this number as it will prove beneficial to check the complaint's status later on.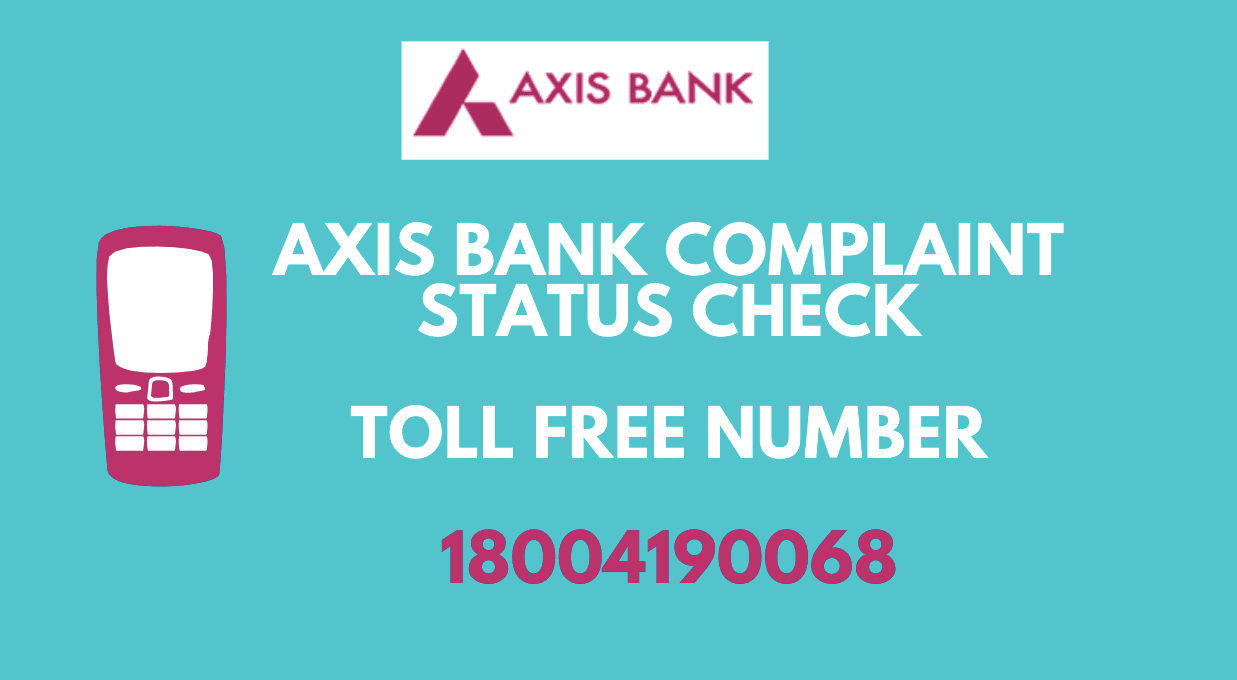 The Grievance Redressal page on the website of Axis Bank lets its customers fill out the details. After this step, an official from the Axis Bank branch reaches out to the person who has filed a complaint and resolves the query or issue.
If there is a question about the status of the complaint, they update you on that. To know the status of your existing complaint in Axis Bank, you can call on Toll-Free Number 18004190068 between 8:00 a.m. to 8:00 p.m
Services
Contact
Complaint Status Check Toll-Free Number
18004190068
Customer Support Number
1-860-419-5555 or 1-860-500-5555
Nodal Office Number
080-61865200
Principal Nodal Office Number & Email
 080-61865200
Email: [email protected]
Conclusion
Axis Bank is quite prompt in its services as well as in its Grievance Redressal. Make sure to take note of the service request number, as it is necessary to input the digits when you find out your complaint's status.
Follow our article to get your Axis bank complaint status successfully.