Do you have an account with Punjab National Bank? Are you satisfied with the services? Recently the banking sector in India advanced rapidly with the newly introduced tech services and solutions.
The leading banks in India give high efforts to satisfy their customers. Sometimes the bank fails to address the customer needs that dissatisfy them. As an account holder, you hold the right to register a complaint and let the bank know about their terrible services.
You need not visit the bank to register the complaint. You can raise the complaint in PNB online.
Steps to register a complaint with Punjab National Bank online
Step 1: Open the web browser and visit the official website of PNB. Move the mouse cursor to the Customer Care Tab and select Complaint listed under How Do I option.
Step 2: You will get directed to the Redressal of Complaints List page. Click on Online Complaint/Service Request button.

Step 3: A new page will open displaying the CGRMS Form. You can open CGRMS form directly from here https://www.pnbindia.in/CCSRMSForm.aspx. On this page, you need to enter/select the credential as applicable.
Step 4: Select Customer Type- PNB Customer or Non-PNB Customer and you need to select Complaint in Select Request Type in next field.
Step 5: If you have an account with PNB, you need to enter the PNB Account Number in the provided box. Provide your Mobile Number and Enter Customer Name, Email ID, and Pin Code.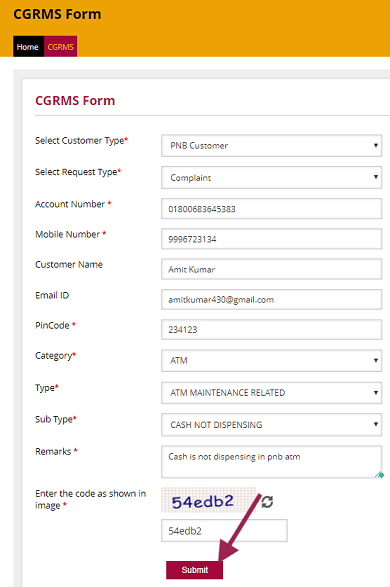 Step 6: Now you need to select the Category from the list that displays Advances, Credit Card, ATM, Customer Service, Demat, Deposits, General Banking, Government Schemes, NRI Services, Remittance, Technology, and Wealth Management Products.
Step 7: Select the Type from Cash Department, Collections/Negotiations, Core Banking, Current Account, Lockers/Safe Custody, Operations of Accounts, and Saving Fund. Select the Sub Type as applicable and available on the list.
Step 8: Enter the Remarks as required. Enter the Code as shown in Image and click on Submit.
The process mentioned above is the easiest way to register your complaint in PNB. You need not visit the branch and waste your time. Access online services and register the complaint and allow the bank to help you.