Do you belong to OBC? Do you remain updated with the new government regulations and rules for OBC? Do you have any idea about Creamy Layer? The most important thing about creamy layer is if an individual belongs to OBC and exceeds the income limit set by the government and is better educated, he/she will not be eligible for any government-sponsored educational programs as well as other professional benefits.
Individuals from OBC's creamy layer can't get the reservation benefits after a certain level. If you belong to OBC, then you should be aware of the creamy layer and non-creamy layer as well as its income limit so that you could figure out your rights of claiming the reservation facilities offered for OBC.
Current income limit set for the non-creamy category
If your income is up to 8 Lakhs per annum and you belong to OBC reservation quota, you will come under the non-creamy layer. Earlier the income limit for non-creamy layer was 6 Lakhs P.A, but now the limit increased to 8 Lakhs. Any individual's parents having less income than 8 Lakhs P.A will be able to avail the benefits of OBC reservation and would get the non-creamy certificate.
Till date revisions of Income Limit
The non-creamy income limit to get eligible for different reservations has been revised from time to time. The revisions in the income limit are done considering certain economic factors. In the year 1993, the income limit was 1 Lakh which later in the year 2004 raised to 2. 5 Lakhs. In the year the income limit for non-creamy layer was again revised and set to 4.5 Lakhs, and in the year 2013, the limit rose to 6 Lakhs. Currently, in 2019, the income limit is 8 Lakhs per annum.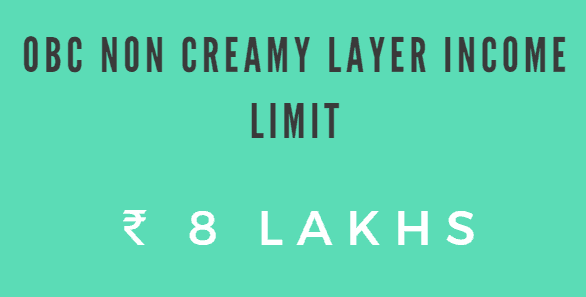 Eligibility to apply for vacancies under reservation
The income taken into consideration under this rule refers to the income of parents and not the candidate. If parents income limit exceeds than 8 Lakhs P.A, the candidate will fall under creamy layer, and candidates under creamy layer get treated as a general category. These candidates can't claim any reservation at any government institutions or even at any educational programs conducted by the government.
Candidates need to obtain the non-creamy certificate and produce the same while applying for reserved vacancies. Make sure to provide your income proofs to the authorities before claiming the non-creamy certificate to avoid any hassles in the future. Avail the benefits of reservation with your certificate.