Do you have an account with Citibank? Are you satisfied with the banking services? If not, you can close the account! You may also opt to close the Citibank account if you are not able to access the banking services offered by the bank. You need to follow proper steps without any errors for account closure.
Steps to Follow for Closing Citibank Account Online
Step 1: Before closing the account, you need to withdraw the entire balance in the account. If your account balance is more than Rs 60/-, you will receive a Demand Draft- DD from the bank at your residential address.
Make sure the Account does not have a negative balance and no funds are blocked. There are no active tax saver deposits, DMF, or Demat accounts linked to your account.
Step 2: You need to bring an account closure form from the branch, or you can download the same from the official site of Citibank https://www.online.citibank.co.in/portal/cb/cards/Account-Closure-Form.pdf.
Step 3: Fill up the form providing the personal details and account details without any error. Don't forget to put your signature in the required place. Send the form to Citibank N.A, Mail Room, ACROPOLIS, 9th Floor, New Door No.148, (Old No.68) Dr. Radhakrishnan Salai, Mylapore, Chennai – 600 004 by Speed post. You may also visit the branch carrying the letter.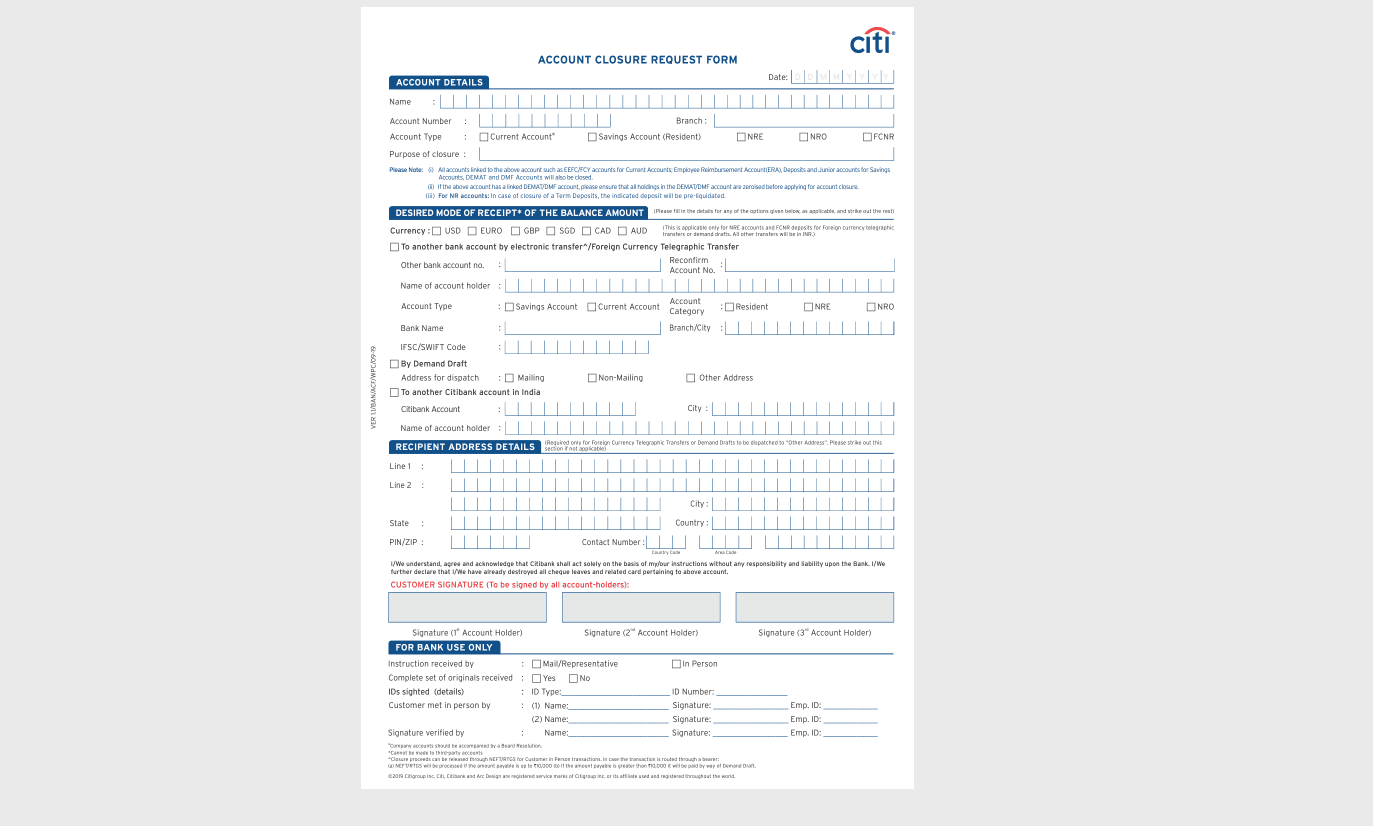 Step 4: Deposit the letter at the desk and ask for an authorized copy of the letter as an acknowledgment of your request for closing the account. Citibank takes around 2-4 working days for closing the account. Citibank will inform you about successful account closure through the post.
Close Citibank Account via Citibank Helpline number or Live Chat
For account closure, you may call the Citibank bank helpline number 18602102484 and dial +91 2249552484 for calling from outside of India. You can also chat with customer support by visiting here https://chat.citibank.co.in/IN/WebChat.
Connect to a Customer care representative via customer care number or live chat, and tell them you want to close your account. They will verify your account-related info and initiate the account closure. Customer care number and a mailing address for different countries are mentioned below:
Country
Customer Care Toll-free Number
Australia
1800252856
Bahrain
 80004884
Canada
18002484674
UAE
8000172122
Hong Kong
800908413
India
+91 22 4955 2484
Singapore
18002257211
Thailand
 001800656196
Europe
08000322484
0080024842484
USA
 18002484674
Email [email protected] for pre-account opening queries
Mailing Address India
Regular Mail:
Citibank,N.A., PO Box 4830, Anna Road Post Office,
Chennai 600 002, Tamil Nadu, India.Registered or Certified Mail:
Citibank N.A., Mail Room, ACROPOLIS, 9th Floor, New Door No.148 (Old No.68), Dr. Radhakrishnan Salai, Mylapore,
Chennai – 600 004.
Mailing Address USA
Citibank NRI, PO Box 431, New York, NY 10013. Please do not send USD (or any foreign currency) cheques or cash to
this PO Box address.
Important Note: The bank may ask you for the Cheque Book or Debit Card for accepting your request for closing the account. Make sure to carry a valid document as identification proof. You may require depositing it with the application form for account closure.
Though the banking sector witnessed rapid advancements within a few years and introduced several convenient banking services and facilities, Citibank doesn't provide an option for account closure online. Account holders can expect the introduction of advanced facilities to close Citibank Account online within a few years.
Updated: 4 Sep 2022