Union Bank of India is one of the biggest public-sector banks in India. After its incorporation with Corporation Bank and Andhra Bank, which came into effect on 1 April 2020, the amalgamated entity suits the fourth largest bank in terms of branch network and fifth-highest in terms of business.
UBI now has about 9500 branches after the amalgamation. Four of these are abroad in Hong Kong, Dubai, Antwerp, and Sydney.
With a bank containing such a huge clientele, it's apparent that at times there can be glitches here and there. To address the same, the bank has come up with online complaints registrations. Here, we would be stating how you can file your complaint with the bank.
Steps to Lodge Complaint in Union Bank of India Online
Step 1: Go to the online complaint form link https://icmt.unionbankofindia.co.in/icmt/LodgeComplaint.aspx. You can fill this up only if you are a registered account holder of the Union Bank of India.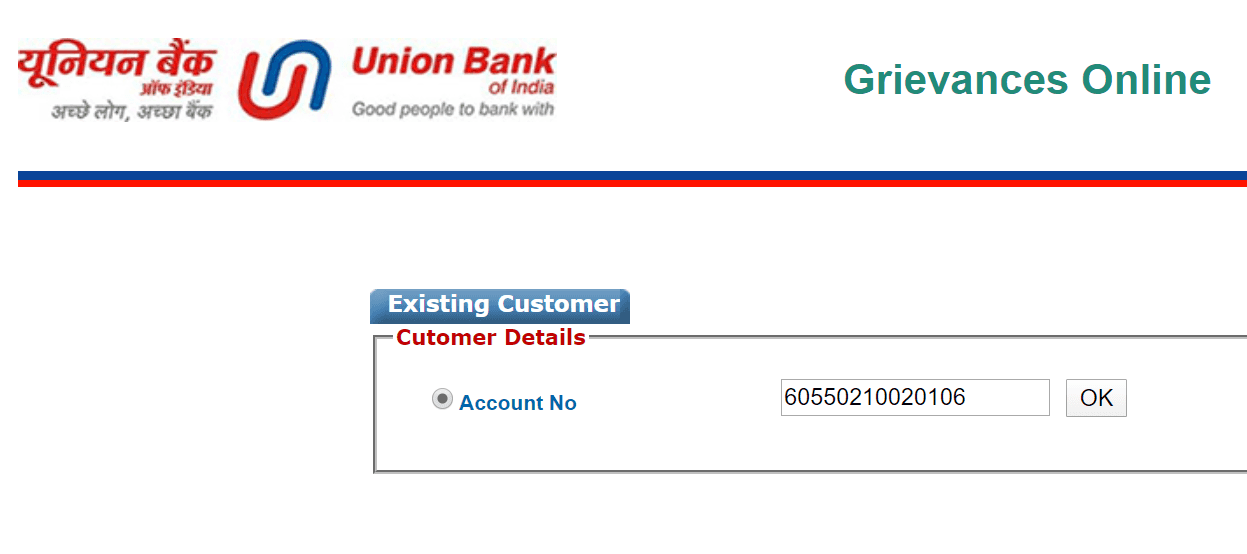 Enter your Account number and click 'OK'.
Step 2: In the next page, you have to select the category and sub-category of your complaint.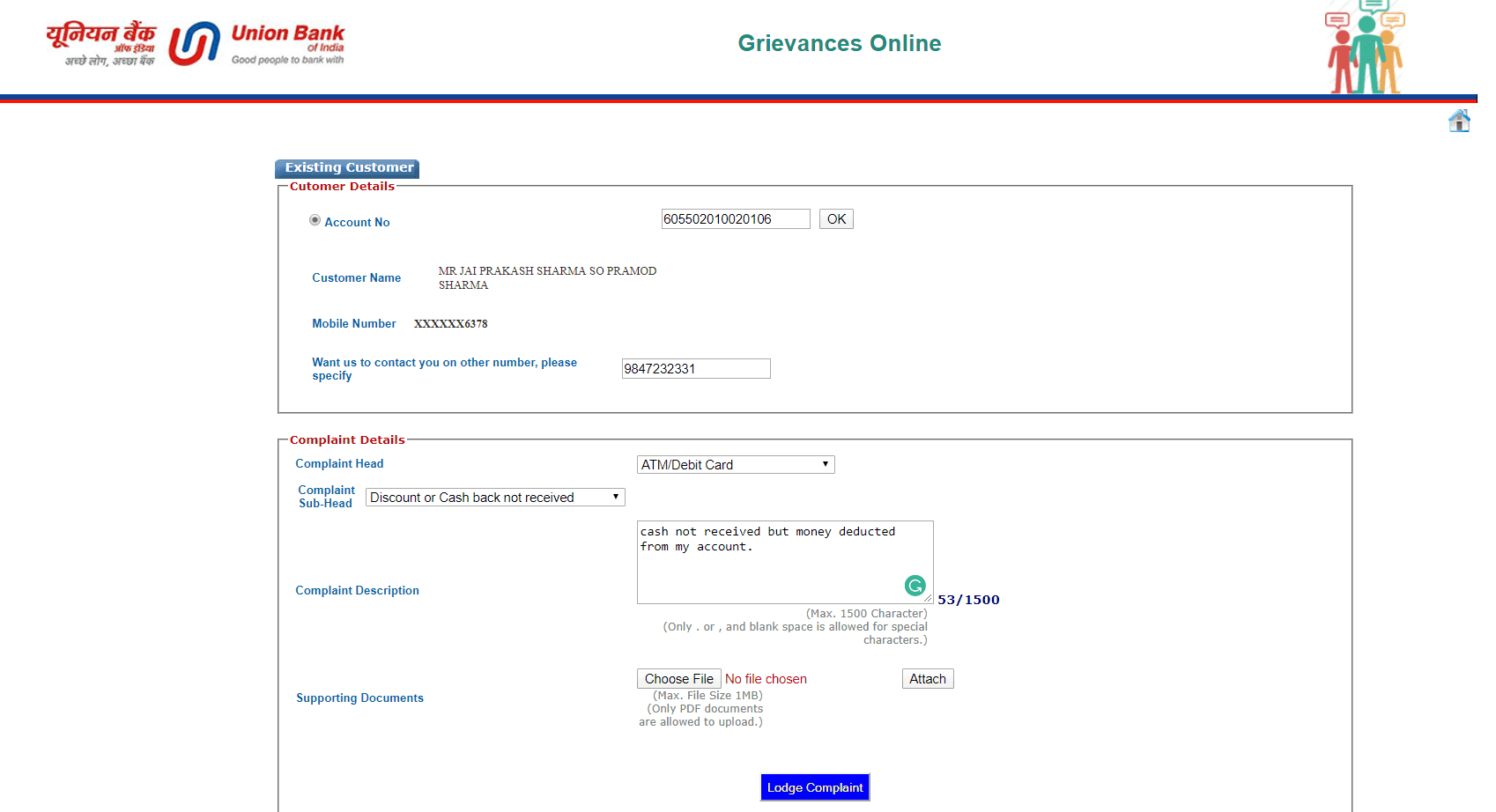 You will be given a grievance ID, using which you can later track the process of recording your complaint. Finally, describe your complaint and attach supporting documents, and click on the 'Lodge complaint' button.
Your complaint will be lodged successfully. Your complaint reference number will be generated. Kindly note down the complaint reference number for future reference. Using reference number, you can check union bank of India complaint status online in future.
OR
You can also mail or write a letter to:
Chief Grievance Officer (CGO)
Mr Shailesh Kumar Singh
General Banking Operations Department
The Arcade, Tower No. 4,
2nd Floor, World Trade Centre,
Cuffe Parade,
Mumbai-400005
Tel: 022-22178871
E-mail: [email protected]
OR
They have a 24×7 customer care toll free number, and their customers, as well as non-customers, can call the following numbers for their queries or issues
1800222244
The customer service team responds to the inquiries in 9 different languages. There is an alternative toll-free number given to the customers if they encounter any trouble in calling the above number.
18002082244
People who enlist in the Pradhan Mantri Jan Dhan Yojana (PMJDY) Scheme have been equipped with a separate toll-free number. They can call at the following number to fix all problems instantly:
1800222243
The bank gives another number for NRIs, which they can call to get all their questions clarified and issues fixed. A Non-residential Indian customer can approach a Union Bank Customer representative at:
+91-8025302510
In case none of the above numbers functions properly, they can place a call at: 080-25300175
However, calling this number is liable, and regular call rates apply for this call. People can also e-mail their inquiries, criticisms, feedback, and recommendations at [email protected] to get their issues resolved through e-mail.
Credit card users can reach the customer service team to get aids related to credit cards or the analysis of issues linked with credit cards by calling the following numbers: 1800 22 32 22 (toll-free) or 022-40426008 (charged)
If your grievance is not approached by the bank within 30 days, approach the banking ombudsman. He is a senior official designated by the Reserve Bank of India to provide a remedy against deficiency in banking services, as per its scheme launched in 1995.
All registered commercial banks, regional rural banks, and listed primary cooperative banks included under this scheme. Right now, there are 15 ombudsmen, whose posts are established mostly in state capitals.
Their locations and communication details are on the RBl website. The ombudsman attempts to make a legally binding settlement between both the parties within a month. Still, if a settlement is improbable, it will pass a citation after conceding both the parties to present their cases to him.